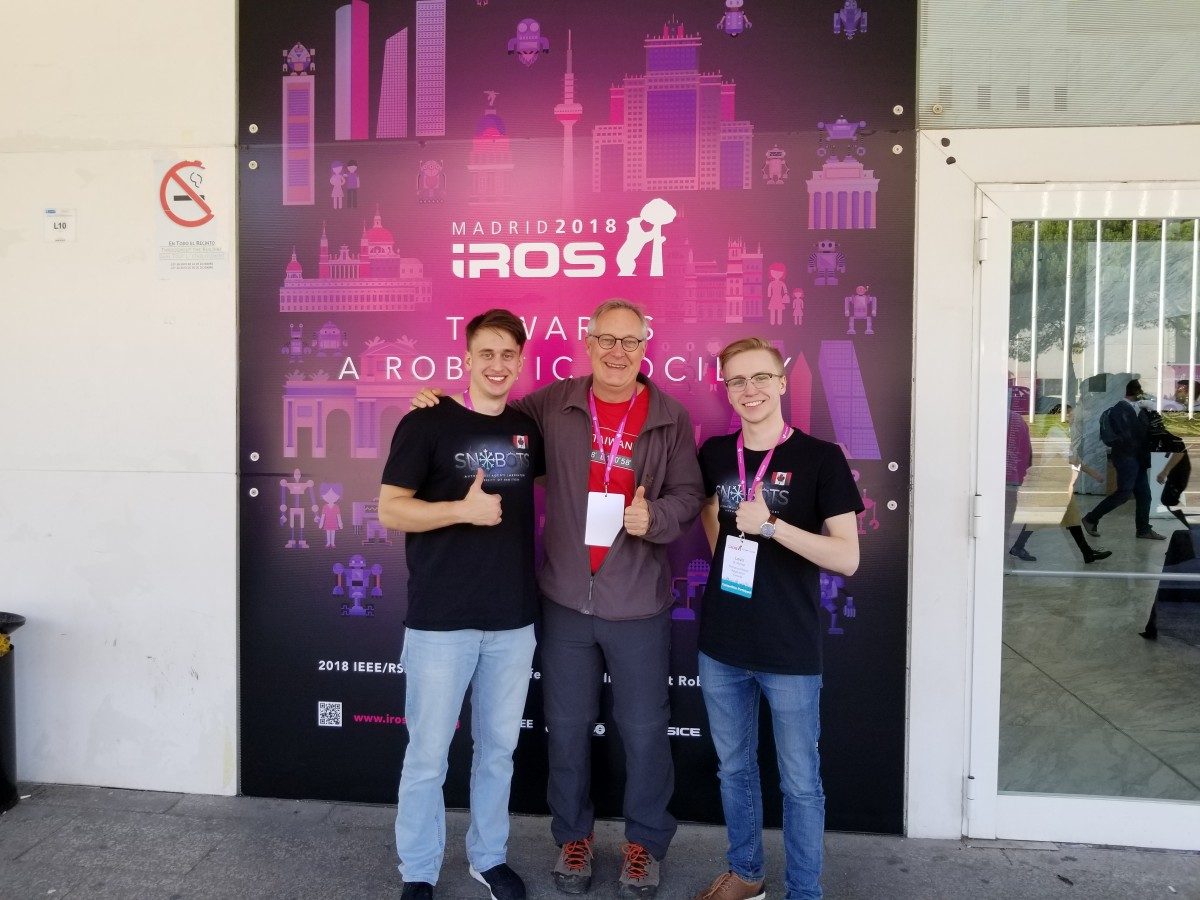 International win for students at the 2018 Humanoid Application Challenge
October 11, 2018 —
Students working in the Autonomous Agents Laboratory in the Department of Computer Science won big again at the 2018 Humanoid Application Challenge, at the 2018 IEEE/RSJ International Conference on Intelligent Robots and Systems (IROS 2018) held in Madrid, Spain, October 1-5, 2018. IROS the flagship conference in the field of robotics is the biggest international event for researchers, companies and end-users.
U of M's Team Snowbots placed second and were one seven teams to qualify as finalists, others who qualified included teams from (Germany, Korea, Taiwan, the UK, Iran, and Brazil). Team Snowbots has consistently placed first or second since the Humanoid Challenge began six years ago.
This year, the Snowbots built on the success of their previous year first-place win, a Humanoid Robot Magic Show. The robot performance showcases a variety of elements: applied computer vision, machine learning, speech understanding, and human-robot interaction. This year, the team incorporated virtual reality (VR) and robot-robot interaction to increase the technical difficulty of the robot's magic trick.
Representing the University of Manitoba at IROS 2018 from the Autonomous Agents lab were undergrads: Louis O'Connor, in Computer Science, and Vlad Samonin, in Computer Engineering. They did a tremendous amount of work, which was supervised by Dr. Meng Cheng Lau (Post-Doctoral Fellow), and Professor John Anderson.
While the lab is exceptionally proud of all of its competition wins, the Humanoid Application Challenge is unique in that the robotics equipment is awarded. This year, the second prize awarded is a robotic hand sponsored by SEED Robotics (valued at around $1,000), an incredibly useful competitive advantage for next year, that will add the grasping capability to the humanoid robot.
The Snowbots team thanks SEED Robotics for sponsoring the prize and IROS, Department of Computer Science, Department of Computer Engineering, and JCA Electronics for sponsoring partial of the travel expenses.
Congratulations to everyone involved and welcome back, Vlad and Louis!
---
Research at the University of Manitoba is partially supported by funding from the Government of Canada Research Support Fund.