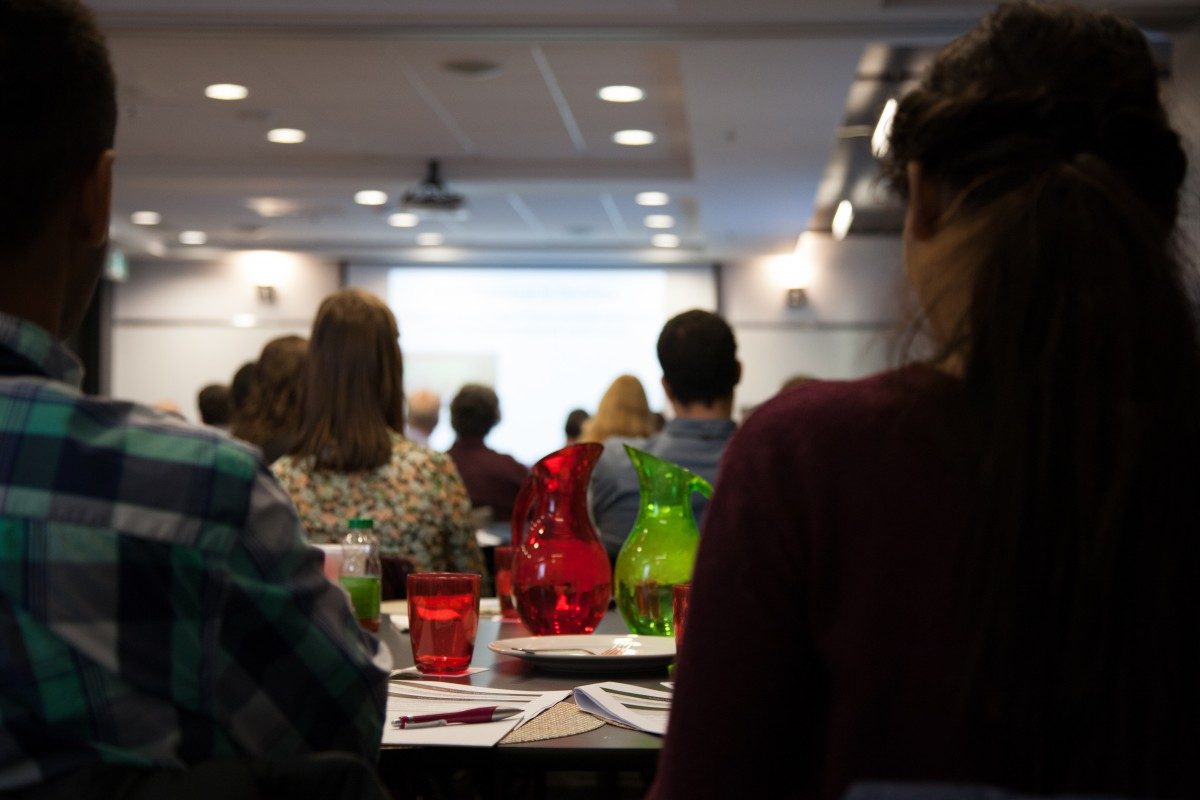 Interdisciplinary plant science conference brings top researchers to Winnipeg
December 19, 2017 —
The latest discoveries and innovations in plant biology were showcased recently in downtown Winnipeg at the Alt Hotel during the Canadian Society of Plant Biologists (CSPB) and Canadian Botanical Association, (CBA) Joint Western Regional Meeting, December 10-12, 2017.
The first event of its kind in western Canada to bring together scientists, professionals, postdoctoral fellows, and graduate students who might otherwise not convene. Together they represented a broad spectrum of research interests in biotechnology, genetics, plant evolution and adaptation, ecology, forestry, and conservation, to name but a few.
Conference chairs Mark Belmonte, a representative of the CSPB, and John Markham, a representative of the CBA, from Department of Biological Sciences, Faculty of Science organized the event. They noted it was fitting for the University of Manitoba to host the inaugural joint conference, with its history of established plant biology research. A history at the U of M that includes the scientific discoveries of Reginald Buller, the first professor of Botany and Geology, a leader in fungal biological research; and renowned graduate Baldur Stefansson, who developed canola to be the valuable crop it is today.
"It's fantastic to be able to build on this rich history and have the opportunity to share current knowledge that will support future discoveries both here and abroad," said Belmonte.
Jill Hamilton, [BSc/06], Assistant Professor, Plant Evolutionary Genomics, North Dakota State University, delivered the opening morning keynote presentation, titled, "
Teasing apart the genetic basis of adaptation in a changing climate."
Hamilton originally from Manitoba was delighted to be in Winnipeg and found the conference to be incredibly valuable.
"There is a real growth in the interdisciplinary approach to plant biology research across Canada and how different tools may be applied to various issues, whether they relate to a changing climate or agriculture. We may all be using different tools but by being in the same room, we begin to learn and think along common lines," explained Hamilton.
Sylvie Renault, Associate Professor, who organized parts of the program and volunteers added that in addition to bringing together members from both the CSPB and CBA for the first time, the conference was innovative in also exposing the work of graduate students. Fifteen graduate students from the department of biological sciences had the opportunity to deliver workshop presentations and participate in the evening poster presentation.
Geoffrey Wasteneys, President, CSPB-SCBV, Department of Botany, University of British Columbia, flew in a couple of days early to get a taste of real winter weather.
"We don't usually get opportunities to come to Winnipeg. It's great to find out what's going on locally in Manitoba, and also from others across Canada, and to see where the cross over in research and thinking exists between the two groups. It is a small event, with members from BC, the Prairies, even as far as PEI, and the US, and it's international none the less. It's been exciting for those from out of town to also explore Winnipeg. Both the conference and the visit to Winnipeg have been fantastic."
Conference chairs Belmonte and Markham note, the success of the conference would not have been possible without the efforts of the local organizing committee, students and staff from Department of Biological Sciences who volunteered their time, especially Sylvia Lapointe and Corinne Mizak. They also thank sponsors for their generous support and involvement: Life Science Association of Manitoba, Department of Biological Sciences, Office of the Vice President Research and International, Faculty of Science, Integrated DNA Technologies, Ag-West Bio, North Star Genetics, BioChambers, Canadian Science Publishing, Stoller Enterprises, Pearson Publishing, New England BioLabs, VWR, ATP Nutrition, and ThermoFisher Scientific.
Photos: Kira Koop.
---
Research at the University of Manitoba is partially supported by funding from the Government of Canada Research Support Fund.