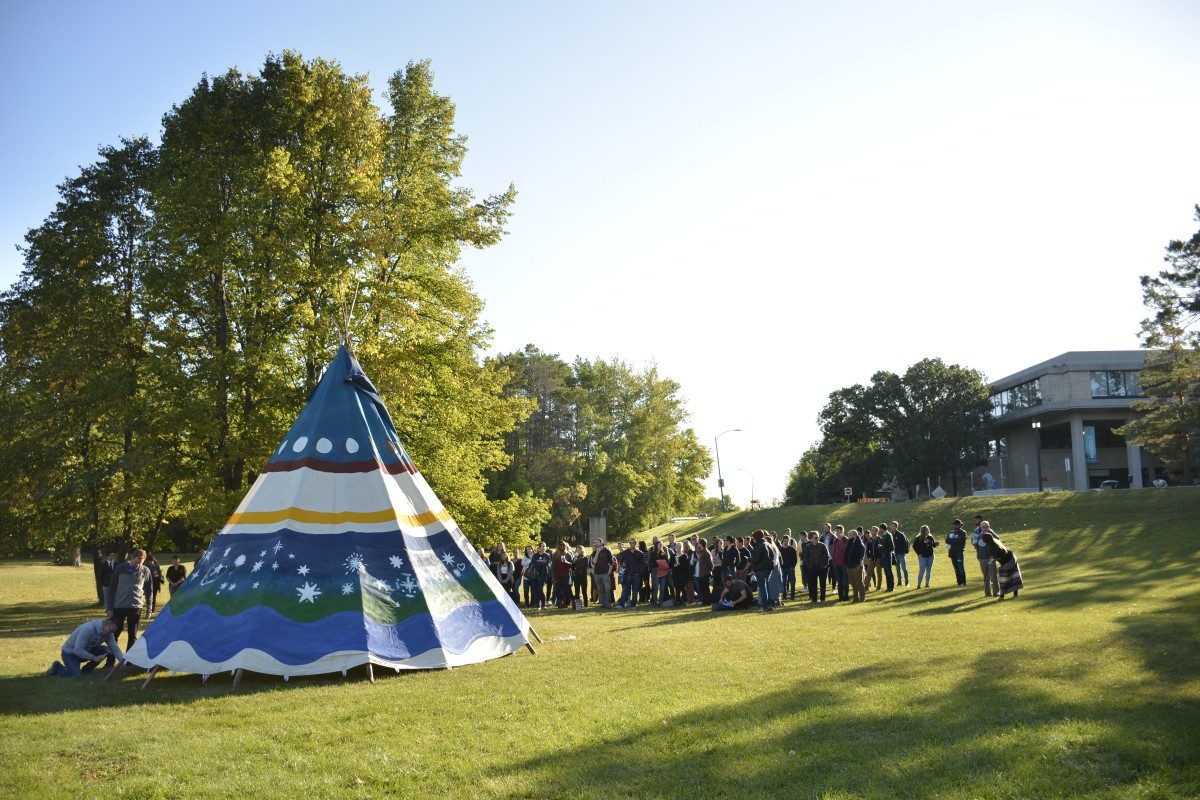 Integrity, Professionalism, Collegiality, is Law Faculty's Welcome Message for First-Year Law Students
September 7, 2018 —
When the Manitoba Law School became the University of Manitoba's Faculty of Law in 1914, Federal Government laws and policies prohibited Indigenous people in Canada from practicing their spiritual and cultural traditions. One-hundred and four years later, first-year law students spent their Orientation week at Robson Hall learning the Seven Sacred Teachings from a Metis Elder, smudging with sage, sharing in a Water Ceremony, learning facts about Indian Residential Schools from Truth and Reconciliation Commission staff, and helping to set up a tipi painted by members of the law student body on the grounds of the University of Manitoba campus.
The University of Manitoba's Faculty of Law has, for a number of years in a row, been moving increasingly in a direction to expand the education of its students with regards to Indigenous people in Canada, their history, traditions and laws. With an active Manitoba Indigenous Law Students Association now thriving with encouragement from Faculty and Staff in this day and age, the Faculty of Law today is very different from what it was 100 years ago.
Elder Norman Meade of the University of Manitoba's Indigenous Student Centre, welcomed the Class of 2021, bringing "greetings from the heart." He advised them, "We come to a place where we haven't been before and we wonder how we are going to do there. You'll do well if you come with a good spirit."
Elder Meade encouraged the students to know themselves and remember that appearance is only part of who they are: "who you are inside is the most important thing."
Along a similar theme, Dr. Jonathan Black-Branch, Dean of Law, cautioned the new future lawyers that beyond a nice suit and a business card, professionalism is about taking responsibility for one's actions, respecting colleagues, clients, and other members of one's community, and conducting oneself in a reputable manner. He emphasised Robson Hall community values of respect, responsibility, accountability, selflessness, understanding, inclusiveness, integrity, and honesty. He especially encouraged students to be collegial and trust their fellow students, indicating that the cut-throat days of The Paper Chase are long over.
Chief Justice Richard Chartier addressed the class of 108 at the annual Welcoming Ceremony, wherein students are presented with their own copies of the Law Society of Manitoba's Code of Professional Conduct. "You're intelligent," he told students, "use it wisely." He also admonished them to act with integrity: "If you mess up, it reflects poorly on all of us."
With these words of wisdom, students spent the rest of the Orientation week engaged in meaningful activities including: a tour of the National Centre for Truth and Reconciliation in addition to a session on the Residential Schools, a Blanket Ceremony that taught them the history of colonization in Canada, tours of the Canadian Museum for Human Rights, and of the Manitoba Museum. Throughout the week, the Manitoba Law Students' Association hosted social events to make students feel welcome.