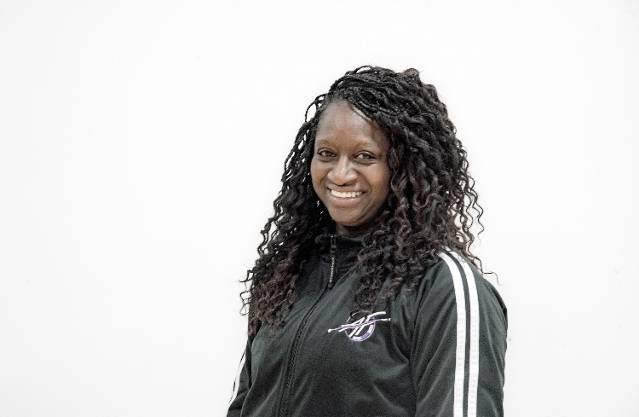 Inspiring a generation
A conversation with Dr. Leisha Strachan
February 8, 2022 —
Dr. Leisha Strachan [BPE/97], [BEd/99], professor in the Faculty of Kinesiology and Recreation Management and associate dean of research and graduate studies, has been named one of the top 100 Accomplished Black Canadian (ABC) Women in 2022. One-hundred ABC Women is an educational publication created by Dr. Jean Augustine, who was the first Black woman elected to the Parliament of Canada in 1993, alongside Dr. Denise O'Neil Green and Dauna Jones-Simmonds. This educational publication intends to highlight and document the accomplishments of Black Canadian women working in all sectors of society, including non-profit, government, the arts, health, real estate and education. The publication was created with the intention to build an archive of influential work by Black Canadian women and in hopes that it would inspire young Black girls to strive for and reach their potential.
In light of being named as a part of this list, Dr. Strachan and I met to discuss her research and coaching at the University of Manitoba, her interest in positive youth development in sport, and what being named as a part of this list means to her at this point in her career. To conclude our conversation, we discussed tangible ways people can engage with Black History Month, and small actions we can take to make sport, training, and education, more welcoming to and celebratory of all.
____________________________________________________________________________
First of all, congratulations for being named part of this list.
Thank you, thank you so much. It's really an honor.
How did the process of being nominated come about?
The nomination had to come from someone in our community. I run a group called Anansi School for the Performing Arts. One of our team members in that group had nominated me for the award. She actually nominated me first in 2020, but I wasn't selected at that time, which is totally cool.
They do this list every two years. It's a group in Toronto that assembles to read through all the nominations and select the list. So, she had nominated me. It was actually a surprise— I didn't know that she had nominated me again. So yeah, it was really, really nice.
What does being named as the part of this list this year mean to you?
You know, I think any time you are acknowledged, particularly by your community, it's always extremely humbling. When I look at the list and learn more about the other incredible women on it, it makes me remember the work of those women who have come before me. Hopefully, we are working to build their legacy as well and remembering all the work and intent behind it, which has allowed us to take the strides that we have now as Black women in Canada.
For people who are not familiar with your research interests and your work, how would you describe them?
My research and the work that I do through coaching and through the community are centered on making things more positive and better for young people. I do my own research work in positive youth development, so I'm really interested in looking at how coaching practices as well as other contextual factors around young people are structured so that they can be more positive for kids. They can have a better experience, they can learn what we would say is in my research is the "four C's": the competence, confidence, connection, and character that are needed in order to build into positive humans and people who want to contribute to our communities.
My sport is baton twirling, and because it's heavily weighted towards women and girls I tend to have a really great opportunity to help build their own confidence and their own competence in sport. That type of influence I take really, seriously. The mentoring piece of it I really enjoy, and even when they're older and no longer twirling, I love when they just reach out and say hi and ask me for advice on some things that I can help them with.
Then, as I mentioned at the beginning, I direct a group called Anansi School for the Performing Arts and founded that with a couple of other friends of mine in 2009. We're on our 13th season of that. We're a group working to teach African and Caribbean culture through the performing arts; through singing, dancing, and drama. That's a big part of me. I love to dance. I still take classes adult classes at Royal Winnipeg Ballet, as do some other of our faculty members who shall remain nameless.
I think we have to create space for kids to find their artistic passions. I think everybody has one. I find particularly with Black youth, because we've been so under-represented in the arts, particularly here in Winnipeg where we don't see a lot of Black actors or Black dancers at really high levels, and they just maybe don't feel like it's for them. And it is. So, this group helps them develop the passions they have, and also learn about who they are, and develop pride in who they are as Caribbean or African people.
I was reading through a list of your publications and I kept coming across the words "high performance" and "elite". So, you've
already kind of already answered this next question, but I was going to ask whether you are an athlete yourself.
Yeah, as I mentioned I competed in baton twirling for 18 years and I had a chance to represent Canada at 7 World Championships in my sport. I'm so, so grateful to have had those experiences. I was on my first national team at 13. Being able to travel on your own, you learn really quickly to grow up. Even if you're with Team Canada with people, there's still so much responsibility.
I think I have a soft spot for high performance athletes. I know it takes so much work and dedication, not just the physical piece of it but the mental wellness piece of it. It takes a lot of work to balance it all. So, I continued to compete through my degree at the U of M until I was 23 and after that, I transitioned to coaching.
But, you know, that's a big part of who I am. I think that's my heart is really with high performance sport. I really want to make high performance sport healthier and more positive as well, I don't think it just has to be (only) in recreational or lower levels of competitive sport where we focus on positive development, I think has to be throughout the whole spectrum. There's a way to do that that honors the athlete as well as the coach and their own development and progress as well.
Considering the fact that February is Black History Month, I was wondering whether you had any advice or recommendations for small actions people can take to make sports more welcoming to Black and diverse athletes, or resources where they can learn more about that.
That's great. I'll start with the resources. There is a website for Black History Manitoba. They're up and running all year. Of course, the joke about Black History Month is that it's the shortest month and we have to try to cram so many things in.
But the tagline I've been hearing a lot more lately is that Black history is Canadian history. Black history is year-round and there are always things happening. But shining a spotlight on it for the month of February is also really important. I think trying to find examples of people in whatever area that you're interested in, for example, finding Black scholars, is really important. There's some wonderful work being done and I think sometimes Black scholars are not as celebrated. So (for professors) finding Black scholars in various areas, and using examples or videos that students might be able to connect to and highlighting Black achievement is a really important part. It takes some effort, but it's worth it.
Of course, even on social media, there are little things that people can do. Just follow some pages that celebrate Black achievement. There's Black North Initiative I believe that is out there. Black History Manitoba has an Instagram that you can follow. They have events happening through Black History Month, mostly virtual, and if you go on their website or on their social media they will talk about everything from learning some Caribbean dishes to learning more about Black history in Canada. There are things that families can do together and I think that's also really important, so I would look into those things.
So just gaining that understanding and appreciation and openness to learning— it doesn't have to be anything revolutionary and big, it can be very small. As I said, just even following a page or trying to attend a session during Black History Month through our community.
If you had to name a few up-and-coming Black people working in sport, or in adjacent fields, whose work you admire who would they be?
As someone who is currently in academic administration, being the Associate Dean of Research at this time, on Twitter I've been following Doris Tunstall. She is a Dean of Design at OCAD in Ontario. I was really inspired by her in a session that I attended in the fall of 2020 that was on inclusion and diversity within university. She's just so knowledgeable in terms of specific actions that she's taken in order to help increase the number of Black professors in her faculty, in her school, and the intentionality that she has with that.
Just generally in sport, I've really admired Kayla Gray from TSN, actually. She's a great follow as a, you know, a young Black Canadian who's in who's out there doing the Raptors games but also who uses her platform really well in terms of social media to talk about Black issues, and I've really admired that a lot as a Black woman. Kayla shares so much stuff. She's definitely been given some accolades for this help that she's been doing lately. And she's so young still, but so passionate about what she does and passionate about using her voice as much as possible.
Learn more about how UM is celebrating Black History Month with the UM Black Alliance.
Visit https://www.bhmwinnipeg.com/ to see what's happening in the province this month.
Learn about Black North Initiative's commitment to anti-racism in Canada here.