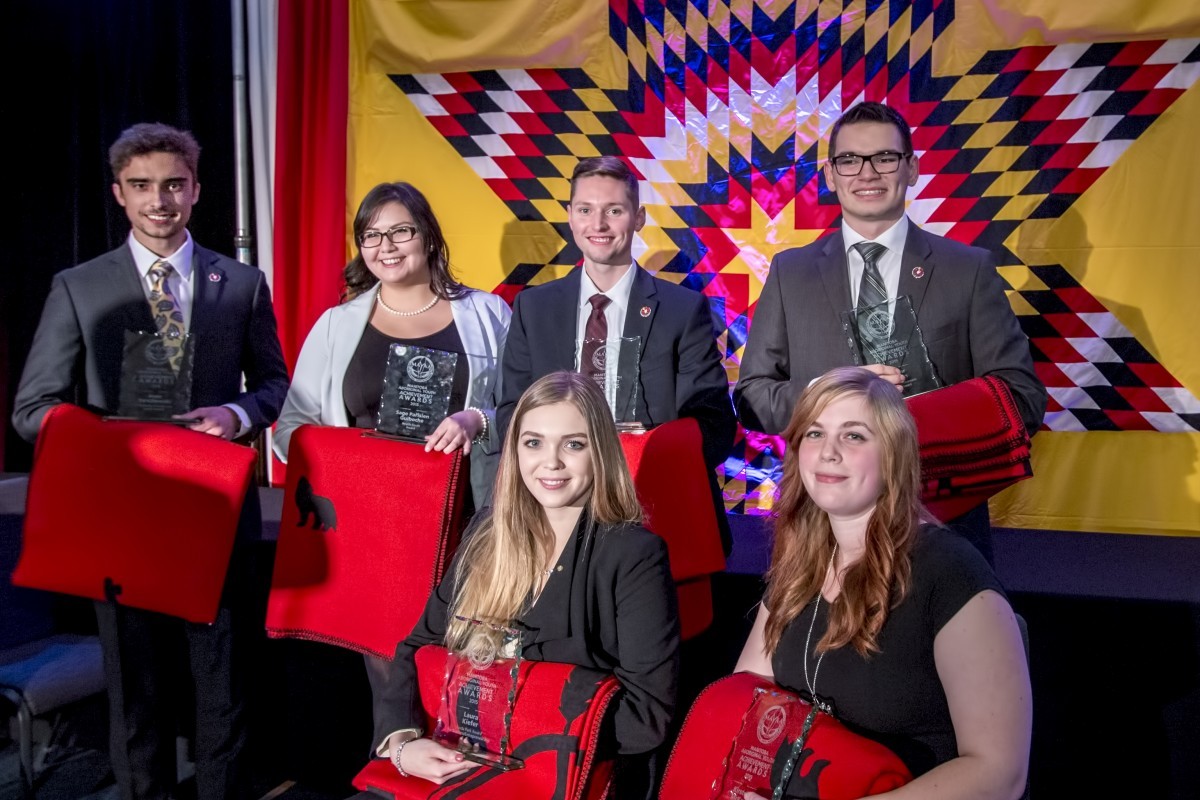 Indigenous students honoured
November 20, 2015 —
Six students from the University of Manitoba were honoured with Manitoba Aboriginal Youth Achievement Awards at a ceremony on November 19.
The Manitoba Aboriginal Youth Achievement Awards is held every year to recognize the accomplishments of youth in the fields of culture, employment, traditional lifestyle, business and academic excellence.
The event was co-hosted by U of M student and past award recipient, Ashley Richard. After overcoming many challenges, including homelessness, Richard is now flourishing in her third year of the Aboriginal Business Education Partners program in the Asper School of Business.
Two of the six U of M students who received the awards are from the College of Nursing. Dean Beverly O'Connell says she's extremely proud of their achievements.
"I am very pleased to hear that these outstanding and hardworking nursing students have been acknowledged for their dedicated contributions to community service and their commitment and hard work towards achieving their qualification of becoming a registered nurse," says O'Connell. "In adversity they have dug deep and achieved beyond expectation. They are an inspiration to us all."
The other four students are in the Asper School of Business as part of the Aboriginal Business Education Partners program.
"These students set an example for all of us. The Asper School of Business and the Aboriginal Business Education Partners are extremely proud of their achievements and commitment to their communities. They represent our future business leaders and I have no doubt in their continued success," says Dean Michael Benarroch.
[rev_slider 2015-mayaa]
The U of M recipients of the 2015 Manitoba Aboriginal Youth Achievement Awards are:
Laura Kiefer – Management – Linda Park Award for Business/Entrepreneurship
Laura is majoring in both Entrepreneurship and Marketing at the Asper School of Business and will graduate with a Bachelor of Commerce (Honours) in May. After graduating she plans to create a firm that provides sustainability consulting services for businesses.
Laura helped establish the Association of Aboriginal Commerce Students, where she is currently Vice President. In this role she is responsible for organizing the Excellence in Aboriginal Business Leadership Awards (EABLA) Gala.
Laura has an impressive GPA while working at the Asper School of Business and volunteering for the Association of Aboriginal Commerce Students and organizing the EABLA Gala. She is definitely equipping herself with skills necessary to be successful as an Entrepreneur.
Sage Parisien Guiboche – Nursing – Health South
Sage is 22 years old and was born and raised in Winnipeg. Her home community is Nelson House First Nation
Sage had to become self-sufficient and self-reliant at 17 years old after her mother died of breast cancer. Her mother was the foundation of her support system but Sage handled this challenge with grace and determination. She completed her grade 12 and Red River College Health Care Aide certificate at the same time. Through this, Sage demonstrated her dedication and commitment to education. Sage credits to be surrounded by incredible, passionate, strong, smart women including her late mother, Donna.
"I am passionate about becoming a registered nurse because I feel I have the potential to becoming a successful and contributing member to the nursing profession. Furthermore, I want to become a nurse so I can provide the same exceptional care my family received while my mother battled cancer to other families and I feel like I am able to make a difference in people's lives."
Sage is currently in her final year of her nursing degree. Her short term goal is to work on an emergency or intensive unit wards. Her long term goal is to give back to her home community in Nelson House.
Kirsten McKay – Nursing – Health North
Kirsten is a 3rd year nursing student from The Pas who plans to return to her home community and work for Norman Regional Health Authority when she graduates.
Currently she is volunteering at the Victoria General Hospital in the Emergency Room. Kirsten has a strong affiliating with Girl Guides which has given her strong leadership skills at a young age and shown her that being involved in your community is important. She has also participated in "Walking with our Sisters" a campaign to honour the lives of Missing and Murdered Indigenous Women. Kirsten looks forward to spending her career working in a variety of positions in the health profession.
Michael Teichrieb – Management – Academic Senior
Michael is a student in the Asper School of Business. He is a 21 years old Métis student who has lived his whole life in Winnipeg.
Michael is currently in his third year pursuing a Bachelor of Commerce (Honours) and later a Chartered Professional Accountant.
He has achieved academic success both throughout high school and continues to do so at University. Michael graduated high school with honours, in the top 5 in his graduating class. He continues to excel at university being inducted into the Beta Gamma Sigma International Honour Society for business students who are in the top 10% of their class. Michael is working towards a U of M Gold Medal for the highest standing in an undergraduate faculty.
He is currently giving back to the Aboriginal community through his leadership as Vice-President of Finance and Cultural Events for the Association of Aboriginal Commerce Students.
Carter Wilson – Management – Personal Achievement Senior
Carter is an amazing athlete with numerous high school awards including 6 Most Valuable Player awards, 4 Players Choice awards, a Defensive Player of the Year award and a Physical Education award. By Grade 11 he was the ranked the 3rd best javelin thrower in Canada.
In university he competed with the Bisons while achieving academic All-Canadian status, an award for athletes who achieve a 3.5 GPA or higher. In 2014 he won bronze at the National Junior Track and Field Championships, competed in the North American Indigenous Games and the Western Canada Summer Games.
He also volunteers on a number of committees at the U of M including the Aboriginal Student's Association, where he gives back to the community, making a difference in the lives of Aboriginal students.
Jesse Yarechewski – Management – Community Volunteerism Junior
Jesse is a nineteen year old Métis man from Winnipeg. He made a made a name for himself volunteering in high school, Manitoba Métis Federation's Liberty Local and Oxford Heights Community club senior Dance Club. He earned the River East Transcona School Division Leadership award upon graduating.
In university, he continued to distinguish himself through his volunteer work through the Association of International Management Studies, Association of Aboriginal Commerce students, Indigenous Circle of Empowerment, Promoting Aboriginal Community Together, and more all while retaining his past volunteer positions.
Jesse is an asset to the U of M's indigenous community, volunteering his time at the Annual Traditional Graduation Pow Wow as an elders helper. At the Volunteer Language Exchange Partner Program he teaches international students about his culture while helping them with learning English.
Jesse has been described time and time again as a hardworking, natural leader. He is currently enrolled in the Bachelor of Commerce (Honors) program at the U of M.
Creating Pathways to Indigenous Achievement is an institutional priority for the University of Manitoba, where over 2,000 First Nations, Métis and Inuit students are welcomed each year. Last spring, the graduation of over 350 Indigenous students was celebrated at the U of M's 26th Annual Graduation Pow Wow.
The U of M is committed to promoting the next generation of Indigenous leaders, and recently announced the newly created Indigenous Leader of Tomorrow Scholarships as part of this commitment, which will result in greater accessibility and opportunity for Indigenous students.
Indigenous Achievement is a pillar of Front and Centre – the campaign for the University of Manitoba, with $65 million directed toward this priority. By collaborating with Indigenous communities and stakeholders, the University of Manitoba is striving to be a welcoming place that translates into success for Indigenous students and their families.