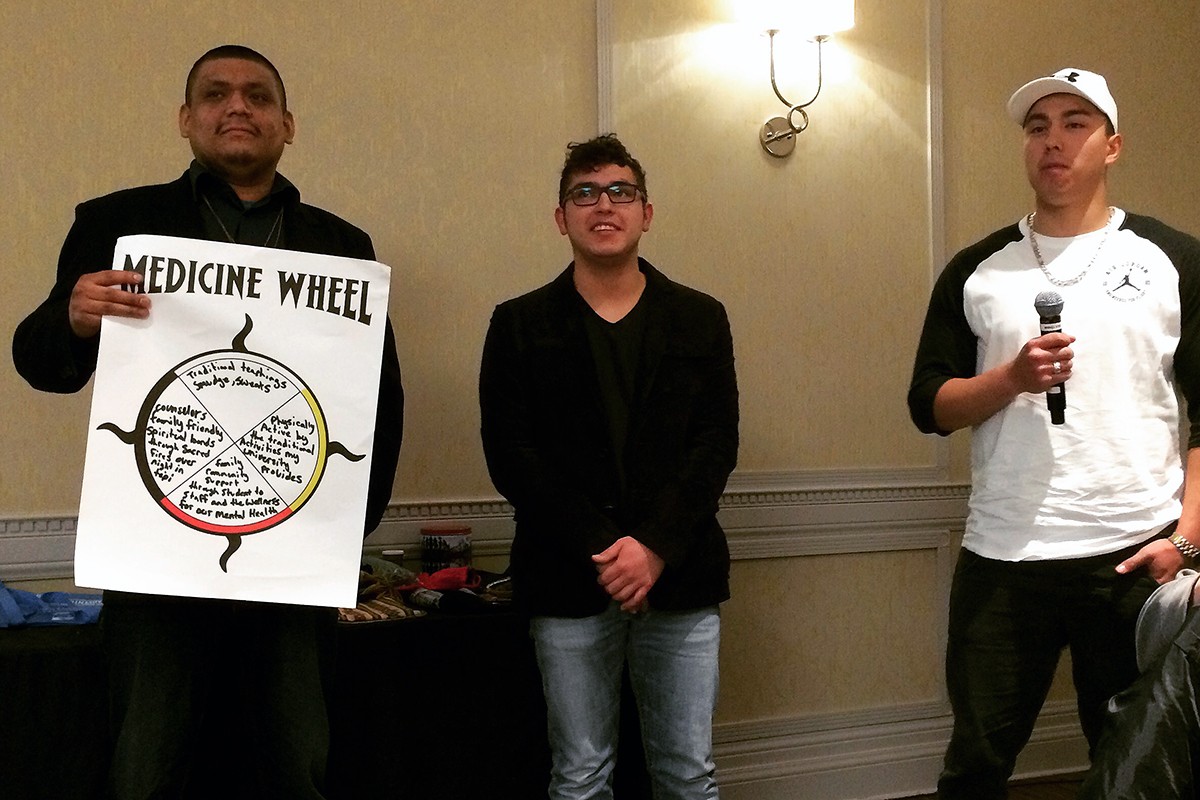 Indigenous student success focus of SEM summit
May 22, 2015 —
More than 120 academic administrators and support staff from post-secondary institutions across Canada have gathered in Winnipeg to attend a SEM (Strategic Enrolment Management) Summit on Indigenous Student Success. At the front of a hotel conference room, three U of M students hold up a poster with a Medicine Wheel on it.
One of the students, Lionel Daniels, tells the conference participants about how he grew up in the care of CFS (Child and Family Services), about the alcoholism in his family and how he, too, has struggled with alcoholism. He talks about getting into trouble with the law and ending up incarcerated, about missing the birth of his second daughter while he was in jail and coming to a point when he knew he had to turn things around.
Now a father of three girls, Daniels is wrapping up his first year at U of M, and he is the newly elected male co-president of the University of Manitoba Aboriginal Students' Association (UMASA). Using the Medicine Wheel as a guide, Daniels describes the physical, mental, emotional and spiritual supports he has found at the U of M that work together to provide him with an academic environment in which he can succeed.
Daniels has the room's full attention. It's Indigenous students like him who are enrolling in post-secondary institutions at a rapidly growing rate, as Indigenous student success is becoming a priority at many colleges and universities.
"SEM plans are being created to ensure learning experiences for First Nations, Métis and Inuit students are positive. Institutions need to do more than just recruit students; they need to have the supports in place to see students through to graduation," says Susan Gottheil, vice-provost (students) and one of the conveners of 2015 SEM Summit.
Daniels credits the family environment he's found at Migizii Agamik – Bald Eagle Lodge with helping him adjust to university life. "A place to smudge, a place/person I can talk to of the same racial background for guidance and counselling for those hard times does lots to lift one's soul," he says.
"In my experience it is the welcoming aspect. Meaning, staff, professors and the front desk workers – having that welcoming feeling simply by knowing one's name. It is the acknowledgement that I, as a student, have a sense of being there, being noticed and accepted."
After a short break, Daniels and six other students from U of M and Red River College field questions from the conference participants. They are each asked what motivates them to attend university or college.
U of M nursing student Laura LaFrance talks about being one of those teens who walked down the street with her hoodie on and hands in her pockets like she didn't care about anything. After a group of Indigenous women visited her school, she was inspired to do something with her life. She now wants to return the favour and inspire young people who remind her of her teenage self.
Another student, Robert Caribou, introduces himself as a "sober-living Indigenous man" who came to university so that he can teach more people about living by the drum.
Yet another student, Jeremy McKay, explains how he came to university to distance himself from his northern community. It wasn't until he found an Indigenous community on campus and realized that he was at school to give back to his home community that he started to succeed academically. He is graduating this year with a bachelor of commerce degree and will start law school in the fall.
"Every student has a different story about what led them to higher education and if there were a hundred students at the front of the room, they all would have just as unique a reason," says Deborah Young, executive lead for Indigenous Achievement at U of M. "It is essential for universities and colleges to keep this individuality in mind when creating SEM plans.
"As the Indigenous youth populations grows at a faster rate than any other segment of Canada's population, it's up to everyone from senior administration, to faculty, to Indigenous counsellors and recruiters, to curriculum developers to also make sure that all Indigenous perspectives, experiences, and ways of knowing are reflected throughout post-secondary institutions," she says.
As for Daniels, who has declared a major in wildlife and fisheries, with a minor in Native studies, he hopes that those at the SEM Summit recognize one commonality: "The biggest concept is we all want a better life for our future, meaning our next generation. Yes we are bettering ourselves, but not for the purpose of self-greed, but to help the youth, our future."
SEM Summit 2015: Indigenous Student Success, which was hosted by the University of Manitoba, took place April 19-21, 2015 in Winnipeg.