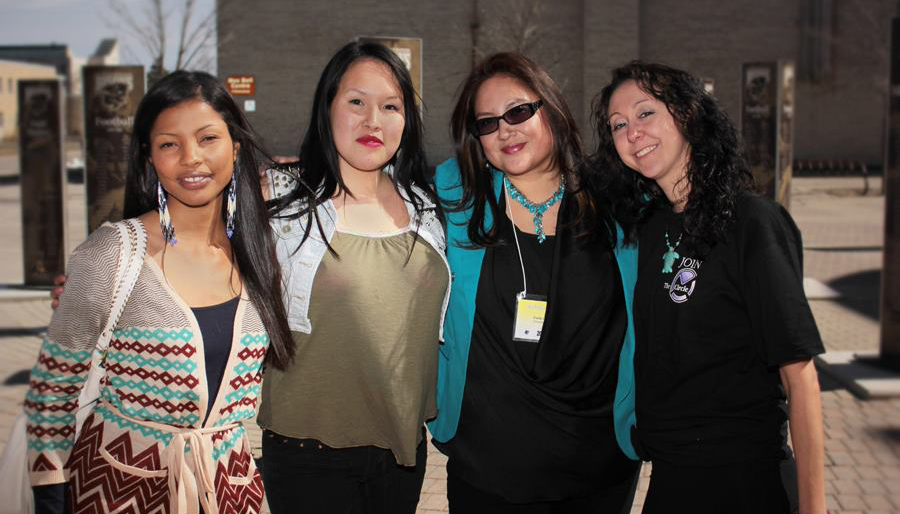 Indigenous student success built on strong programs
April 27, 2015 —
The University of Manitoba is home to a dynamic community of Indigenous students, faculty, staff and alumni. For decades, programming on campus has provided support to Indigenous students, helping them achieve new levels of success.
The University of Manitoba Access Program (UMAP) celebrates its 40th anniversary this fall and provides Indigenous students with a support network designed to increase student success. The program, offered through Extended Education, expands opportunities for students with social, economic, geographic and cultural barriers, or a lack of formal education. Students are given tools to achieve their educational goals such as academic and personal counselling, tutorial services and exam preparation, an expanded orientation, and even a limited amount of financial assistance. Additionally, support is also provided specifically for First Nations, Métis, and Inuit students seeking health care-related education.
The Aboriginal Business Education Partners program (ABEP) celebrated their 20-year anniversary this past November. ABEP, part of the Asper School of Business, offers a community for Indigenous students as well as academic and financial support from application straight through to graduation. The program was started 20 years ago when the then-dean of the school noted that only "a handful of Aboriginal people had earned their [BComm] degrees," said Wanda Wuttunee, former director of ABEP.
The transition from high school to university can be an overwhelming experience, so the Promoting Aboriginal Community Together program (PACT) was established to help alleviate this first-year stress. PACT pairs new Aboriginal students with experienced Aboriginal students to support each other in the university experience.
"I am so grateful to PACT students for taking the time to share their knowledge," said Carla Loewen, who helped set up the program. Carla currently works as a student advisor in the Aboriginal Student Centre. "Aboriginal student success is a team effort, and I am just glad to be a part of it all."
The trailblazing Rec and Read Mentorship program is a culturally-based, community-focused physical activity program for all young people living in diverse communities. Indigenous teachings and worldviews inform Rec and Read's holistic approach to nurturing intercultural mentoring relationships. University and high school students manage the program and receive ongoing support from the program coordinator based at the U of M. Both the university and the high school students work collaboratively to develop their mentorship and leadership skills.
In 2014 the program was the first place winner of the annual MacJannet Prize. This prestigious, international award celebrates university programs that act as models of excellent global citizenship and civic engagement.
Designed to provide Aboriginal persons (Status, Non-Status, Métis, Inuit) with access to university studies, the Engineering Aboriginal Access Program (ENGAP) provides academic, social and personal supports based on the individual needs of the student.
In 2015 ENGAP is celebrating 30 years of successfully providing guidance to Aboriginal peoples pursuing a degree in engineering. This year will also mark the 100th graduate of the program, and each of the ENGAP alumni are invited back to help celebrate this important milestone.