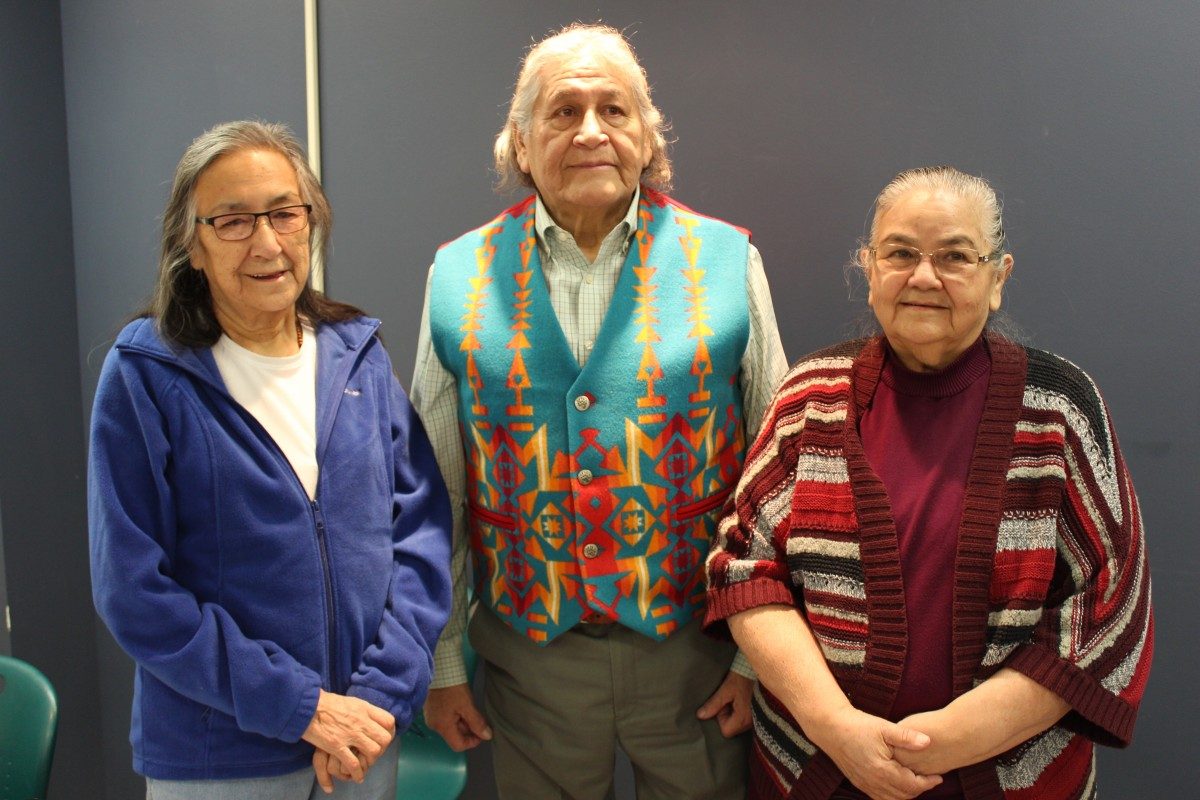 Indigenous stories share culture and identity
Next storytelling session to be held on March 25
March 4, 2019 —
For thousands of years, storytelling was one of the ways Indigenous culture was practiced. In winter, primarily male elders gathered at a house for three to five days to eat and talk.
"We used to have the storyteller come for supper. After the dishes were put away, they would tell their stories. It was only in the last 100 years they started writing them in syllabics but few could write them," says Stella Neff, Cree elder and storyteller from Grand Rapids.
On Feb. 13, eager listeners gathered for the first of two sessions of Indigenous Storytelling: An Alternative Path to Understanding and Reconciliation presented by the Access Program and sponsored by the Indigenous Initiatives Fund.
The next session is set for March 25 in MPR Room 210 University Centre.
The February event featured three storytellers and elders: Stella Neff (Cree), Paul Guimond (Anishinaabe), and Nelliane Cromarty (Oji-Cree).
Sharing the stories
As the oldest daughter in a family of 13, Neff listened carefully to the stories of the elders and repeated them to her younger siblings. "I would tell the stories and sing the songs to them at bedtime."
When she came back to her community after many years of teaching, she found a different place. "We lost our language, and much of our spirituality. The young people don't have the elders we had to visit, come to our homes and talk with us."
Indigenous stories include important information about the knowledge and beliefs people had about their own natural world, she says. "We had our own beliefs about the world. We didn't wait for the stories to come to us. We had our own. There was a lot of wisdom in what the storytellers told to us."
She notes that elders in many Indigenous communities know some of the same stories. For example, a story she shares called The Rolling Head was recorded by a missionary in 1810 because he felt it was important to be preserved. "When we hear a story, we add our own concepts. We see how each community has a different version. But we know the native communities shared stories. Shared stories show a great connection among the native people."
"It's so important to recover and share these stories."
Feeling proud
Young people need to feel proud. Listening to elders talk about their traditional way of life helps them to feel good about themselves and to understand who they are, says Paul Guimond, Anishinaabe elder and storyteller from Sagkeeng First Nation.
"Colonization has affected every walk of life. A lot of cultures have lost their way and lost their language. When you hear about someone else's culture, it gives you interest to go back to yours," says Guimond.
As a spiritual advisor at Red River College and having worked with people battling addictions, Guimond says, "We are all in this together. When we listen and share, we realize we are all in the same boat. How do we heal? If we can share, we can find our place. We can heal together."
He stresses the importance of storytelling.
Releasing pain
"I have spent a lot of time sharing the story of our ways. A lot of old people have told their story. By not telling your story, you are still carrying a lot of pain in your being. It took me a while to deal with that little child in me who saw abuse at home and at school. School was not about education. It was about something else. The shame, and the fear of talking your language, kids feel it. They carry that seed. If they don't talk about it, it carries on. When kids see you express where they pain comes from, they understand and we can continue to break that cycle."
Guimond talks about his history and how spirit names help people to understand their roles in life. The creator gave us spirit. Our spirit never dies."
His spirit name is Okunace or Little Eagle Bone. "It represents leadership. For a long time, I didn't know how to accept it. I walk with people so they can find their way. I find a bit of myself each time."
He says, "To feel good about myself, I went back to the way of life. It gave me a pride about myself. We do have a place. We do have something to offer. It's a beautiful feeling to have a purpose."
In the past, the ancestors had to go underground to light their fire, but today people can light it with pride and without shame, he says. "We can sound our drum, tell the story, and say we are here."
An important tradition
Wanbdi Wakita, Access Program Unkan (Grandfather)-in-residence, notes the importance of the storytelling tradition and bringing it to campus. "Our stories involve language, history, ceremony, song. There is humour, and knowledge all people can use. It's important to introduce them here because some of our students may want to use them as a guide."
Stella Neff adds, "We lost a lot but we didn't lose everything. It's important to talk about our history as it was done before."
Register for March 25 event
Hear from three more Indigenous elders and storytellers on March 25. Sharing their stories will be Fred Shore (Métis), Martha Peet (Inuit) and the Access Program's resident Unkan (Grandfather) Wanbdi Wakita (Dakota).
Register for this free event and lunch by emailing Access Program
The Access Program at the University of Manitoba provides holistic support to Indigenous, newcomer, and other U of M students, empowering them on their path to success.