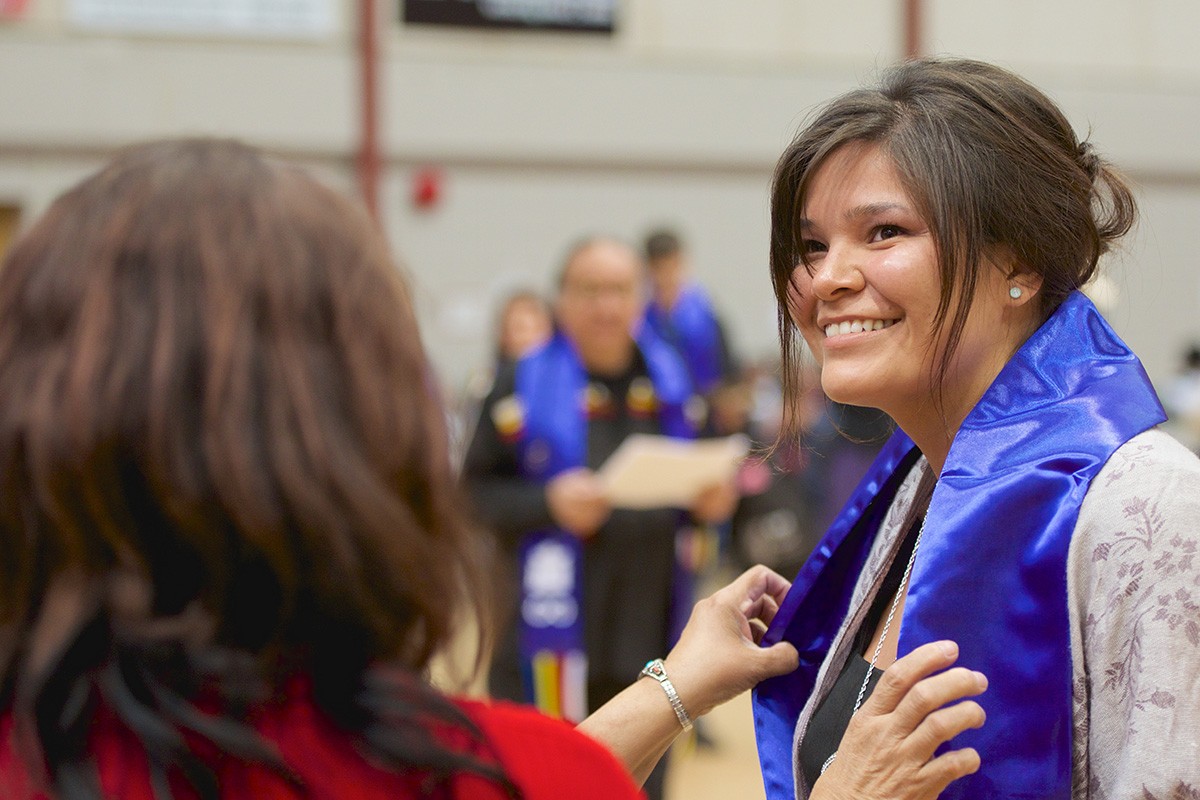 Indigenous scarves approved to wear at Convocation
March 18, 2016 —
Dené Beaudry talks proudly about the purple scarf he received when he graduated from the U of M. In fact, he was one of the people who came up with the idea to give every Indigenous graduate a scarf at the U of M's Graduation Pow Wow.
"For me it's to celebrate all as one," he says, adding that at previous Graduation Pow Wows students were given pins featuring a feather, a Métis flag, or an Inukshuk, depending on the student's heritage. "Instead of individualizing each other, we're all under one blanket, so to say."
The scarf includes each of those three symbols on the left hand side. On the ends of each scarf are four ribbons – one blue, one yellow, one red and one white. Members of the Graduation Pow Wow committee, along with staff, traditional knowledge keepers and Elders at Migizii Agamik – Bald Eagle Lodge helped come up with the design.
About the design
Standing in the Circle Room in Migizii Agamik – Bald Eagle Lodge, student advisor Carl Stone points to four ribbons hanging from the ceiling. The one closest to the door is blue. "When we look back we see life coming in, and the life givers are women and they are also connected to water. When we do our ceremonies, for Anishinaabeg, we always face east because we see life coming," he says.
Stone points to the ribbon on the south side of the room, which is yellow, then the one on the west, which is red and finally the white ribbon on the north side of the room. "These are the colours for us in here, and the teachings that come from this lodge."
Two colours are found throughout the lodge: red for men, keepers of fire, and blue for women, keepers of water. "The perfect combination between the red and the blue is purple, which represents balance," says Stone, explaining why the scarf is purple. "These colours are connected to another sacred item that we have here and that is the Eagle Feather Staff that represents Migizii Agamik – Bald Eagle Lodge and the people in it."
For Beaudry and many other Indigenous students who find support at Migizii Agamik –Bald Eagle Lodge during their time at U of M, graduation is not just about graduating from school, but from the lodge as well.
Loud and proud
Beaudry remembers the day he graduated and how people would notice his scarf and congratulate him. "Our scarves set us apart," he says. "When we wear them out in public to dinner with our families or to a gathering or social event, people ask us about them and we get to tell a story – we just graduated from the University of Manitoba. You know, we're Indigenous graduates and we're loud and we're proud."
His own graduation story is one for the sharing. He was returning from coaching a hockey game. As the players were getting off the bus and getting picked up to head home, Beaudry reminded them to do their homework, stressing the importance of education. "One of the kids said, 'hey preacher, why don't you practice what you preach? We all know you have a Grade 8 education.' They told me to go back to school."
Two weeks later Beaudry applied to go to university. One month later he started attending classes at the U of M. Four years later he graduated with a BA (with major in Criminology and minor in Native Studies). His whole family came to celebrate with him at Graduation Pow Wow. "It was a pretty good thing because my kids got to go, my grandbaby got to go."
Scarves now "official" U of M graduation dress
On May 7, 2016 the 27th annual Graduation Pow Wow will be held. It will be the third year that Indigenous students will receive the purple scarves. The U of M's Senate recently approved the scarves as official academic dress, so this coming spring Indigenous students will be encouraged to wear their purple scarves at Convocation as well. "To hear that now, that's a pretty big thing. That's just beautiful because it shows we get to be loud and proud," says Beaudry.
"Even though I've graduated and moved on, knowing that my friends who are still there are receiving it and the fact that my daughter plans to go to university within two years and that she has the opportunity to receive one of her own, that's glorious for me."
As part of its strategic plan, the University of Manitoba is committed to fostering the development of the next generation of Indigenous leaders by providing an inclusive and supportive learning environment that promotes Indigenous student success from the time of admission through graduation and beyond.