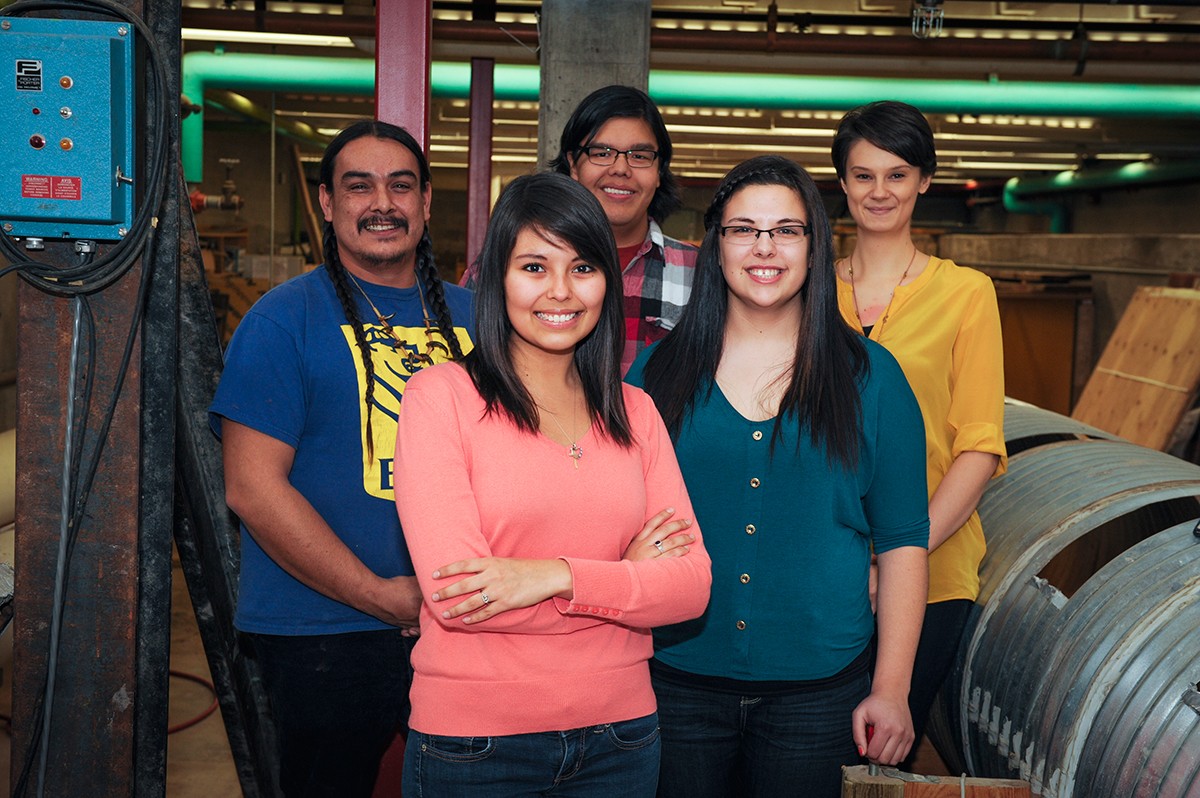 Indigenous Homecoming Celebrates Decades of Success
September 29, 2015 —
Life changing. That's how Jerry Henderson describes his choice to enter the U of M's Engineering Access Program (ENGAP).
Henderson, who grew up in Opaskwayak Cree Nation, will be one of the guest speakers at this year's Indigenous Homecoming, which will mark the 30th anniversary of ENGAP and the 40th anniversary of the Access Program. Henderson graduated from the U of M with a BSc. in Mechanical Engineering and a minor in Arts and Aerospace Option in 2014, and is now a Pressure Equipment Integrity Engineer with Shell Canada.
"The upgrading program that's made available through ENGAP was the biggest help," says Henderson. "They helped me get up to speed with my eventual engineering courses."
Over its 30 years, ENGAP has seen more than 100 Indigenous students graduate with a BSc. in Engineering. The upgrading program is just one of the supports that has made it the most successful program of its kind in Canada. ENGAP also offers counselling, resume and job searching advice, assistance locating daycare and accommodations if needed, help with obtaining financial support through bursaries, scholarships and loans, and social activities that help students build community. It is described as a "bridge from an often small and isolated northern town to the vast university campus."
"The support I received from the staff and students during my time at ENGAP was life defining," says Henderson. "I went to school on a reserve and it was the type of place where you didn't have to do introductions with people because everyone knew each other. I think good advice for anyone from a small community would be to put yourself out there, make the effort to introduce yourself to people and take part in the student or volunteer groups that interest you."
Similar to ENGAP, the Access Program also offers a variety of supports to Indigenous students. Adrienne Carriere is the acting director of the Access Program, which is now integrated with the Aboriginal Focus Program.
"The Access and Aboriginal Focus Programs (AAFP) are critical to both the U of M and the wider Indigenous community," says Carriere. "Its holistic approach to supports ensures that our students emotional/personal, academic, financial and cultural needs are met and this 'wrap around' focus helps them to create the balance necessary to stay grounded in their studies."
For Carriere, who has been working with AAFP for 16 years, celebrating the 40th anniversary is a way to honour past successes and look at ways to improve supports for future students.
"My fondest memories always take place when we welcome new students into our two-week orientation and again when they walk across the stage at graduation four or five years later. The fear and anxiety they experience in such a cross-cultural exchange becomes replaced with a strong sense of confidence, determination and commitment to going out and making positive changes in their families, communities and society.
"As the U of M moves forward with fulfilling its strategic priorities with Indigenous Achievement, it is a positive atmosphere to raise more awareness of the needs of Indigenous and non-traditional students within our campus. I am hoping this will be an excellent opportunity to begin working closer with faculties and departments as they build on their existing approaches to working with our Indigenous communities – locally, nationally and globally."
The Indigenous Homecoming will be taking place Wednesday, September 30, 2015 in Migizii Agamik – Bald Eagle Lodge from 11:30am – 1:30 pm. Everyone is welcome. Along with Henderson, Aboriginal Access Program alumna and family physician Dr. Lisa Monkman will be speaking. ENGAP will also be holding a wine and cheese in the Engineering Atrium on Friday, October 2, 2015 at 1pm.