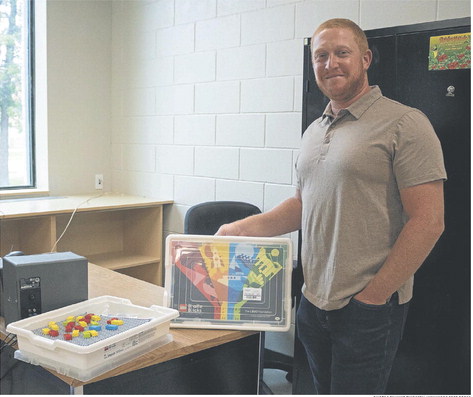 In the news: PhD student using Lego Braille blocks in schools
September 12, 2023 —
Michael Baker, PhD student and resource teacher at Springfield Collegiate Institute is using Lego Braille bricks to foster increased Braille literacy and inclusion.
LEGO Braille Bricks are a building block toward providing play-based accessible and inclusive tools in schools to support students who are blind or visually impaired.
Each toolkit contains more than 300 Lego Braille Bricks that are moulded to reflect the individual letters, numbers, mathematical symbols and punctuation marks with visual text, three base plates, a brick separator and an activity guide.
"There's so many ways educators could implement this into their classroom," said Michael Baker, resource teacher at Springfield Collegiate Institute.
"If there's one thing we need to do more in schools, it's to destigmatize people with disabilities."
During the 2022-23 school year, Baker supported eight students with disabilities and taught a grades 11 and 12 disability-studies course.
He heard about the Lego Braille Bricks through social media and was eligible to receive a free toolkit from the Canadian National Institute for the Blind in partnership with the Lego Foundation.
Using the bricks to teach Braille literacy and numeracy is a beautiful and collaborative display of communication, accessibility and inclusion between blind, visually impaired or sighted classmates and educators, said Baker.