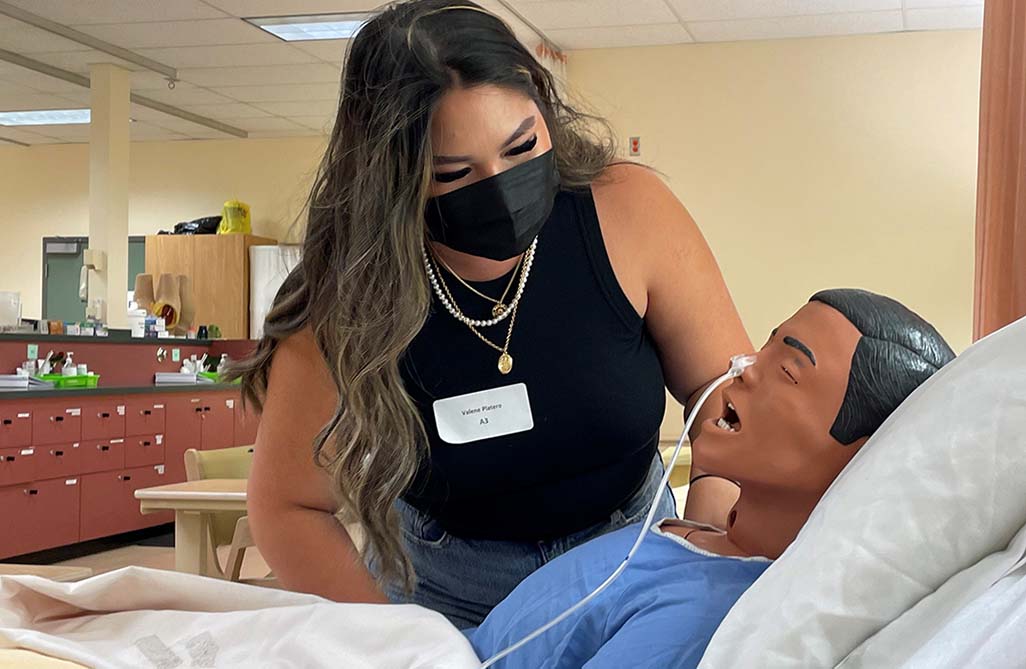 In-person orientations excite new health sciences students
September 21, 2022 —
For the first time in three years, students at the Rady Faculty of Health Sciences were welcomed with in-person orientation events, rather than virtual meetings and tours.
New medical students at the Max Rady College of Medicine had a variety of welcoming activities from Aug. 23-26, including a white coat ceremony on Aug. 24, as well as student panels and anatomy lab tours.
"Being welcomed to the program and learning about all the different things we'll get to do over the next four years was really exciting since I had dreamed of going to medical school and becoming a doctor for so long," said first-year medical student Sheila Le, 20, who is the youngest member of her class.
"The anatomy lab was very interesting to me, partly since it was my first time to see a cadaver. The instructor mentioned that they are kind of like our first patients and that we must always remember to treat them with respect."
The Dr. Gerald Niznick College of Dentistry held its white coat ceremony for the 29 students entering the program on Sept. 8 as part of its opening assembly on Bannatyne campus. There the students recited the Community Code, a pledge to practise with integrity.
On Aug. 30, first-year College of Nursing students were welcomed with a tour of the Helen Glass Centre for Nursing on Fort Garry campus, including the new virtual reality lab and simulation rooms, where they had some hands-on experience with lifelike manikins.
Valene Platero, who also has a bachelor of science degree from UM, described the orientation as "surreal and humbling."
"A lot of my family members are nurses, and that really got me interested in the profession. I'm very humbled to be joining nursing, but I want to show my appreciation and follow in their footsteps," she said. "Seeing and touching the manikins today really makes me want to jump in."
First-year students in the College of Rehabilitation Sciences three core programs – occupational therapy, physical therapy and respiratory therapy – had a welcome lunch Sept. 7 with greetings from dean Dr. Reg Urbanowski.
Each program started at different times since early August, so they all had separate welcome events as well. First-year physical therapy students were paired with second-year students for campus tours following a welcome session on Aug. 8. Respiratory therapy students were welcomed Sept. 6.
Occupational therapy students took part in a "welcome to the profession ceremony" on Aug. 22 at the Frederic Gaspard Theatre. The students were greeted by Urbanowski, occupational therapy department head Leanne Leclair, professor emeritus Dr. Juliette Cooper and Canadian Association of Occupational Therapists (CAOT) Manitoba board member Brenda Semenko.
At the ceremony, students were presented with a CAOT lapel pin as part of their welcome to the profession, as they are now officially student occupational therapists.
"I'm excited about this profession," said new student Kayla Scrimshaw. "For me personally, one of my brothers is born with cognitive disabilities, so I got to see firsthand the experiences with occupational therapy from the family perspective as well as how the individual is affected."
The College of Pharmacy held its first-year student orientation on Aug. 29 at Apotex Centre on Bannatyne campus. The full-day orientation included welcoming remarks from dean Dr. Lalitha Raman-Wilms and a pizza lunch for students and faculty.
The students started classes on Sept. 6, along with second- and third-year students, who have mostly attended classes virtually for their entire time in the program.
"I'm looking forward to actually seeing my class," said third-year student Madison Wong. "I did some labs in person last year, but technically, my class has not been all together in the same building yet."