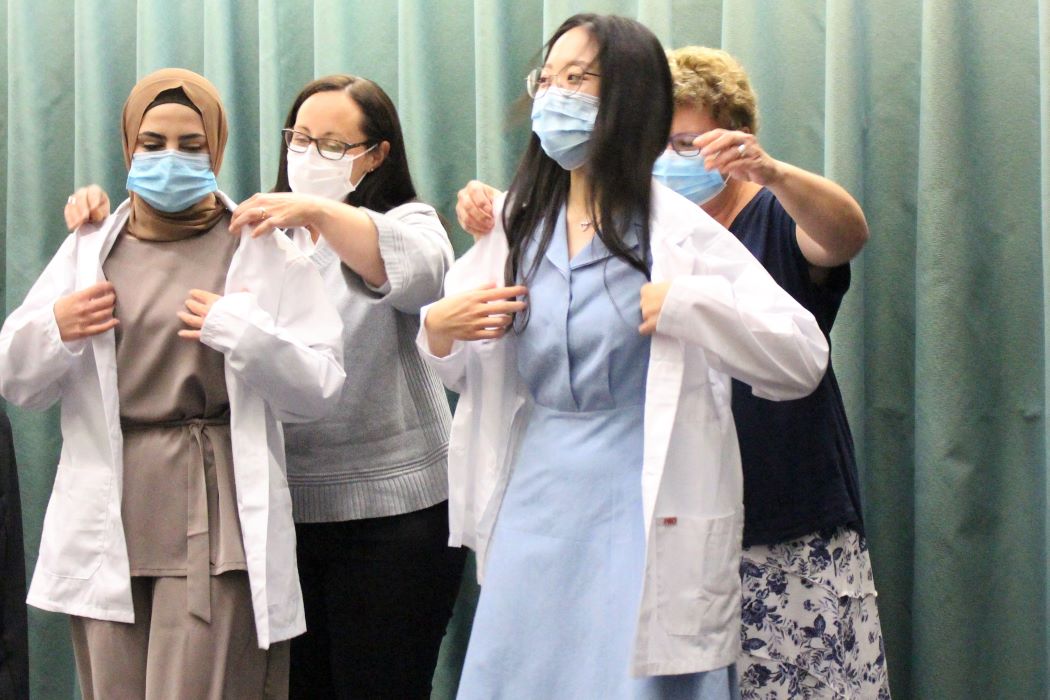 Students from diverse backgrounds embark on dentistry, dental hygiene journeys  
September 13, 2022 —
Shek Hei ("Haynes") Yuan was conducting an experiment in a CancerCare research lab when he learned from an email that he'd been accepted into dental school.
"I screamed so loud that my colleagues came and banged on my door and said, 'Hey, are you OK?'" he remembers. "Then I had to wait another five or six hours to call my parents because it was late at night in Hong Kong."
For Yuan, 28, starting a new journey as a first-year UM dental student caps off a decade of perseverance. Raised in Hong Kong, he came to Canada alone at age 18 as an international student.
He chose UM, he says, partly because he was impressed that Winnipeg is home to the National Microbiology Lab.
He completed his bachelor of science, then his master's in pharmacology and therapeutics at UM, conducting research on potential cancer treatments. He excelled and was hired as a research lab technician at CancerCare Manitoba in 2019.
But after attaining his Canadian permanent residency status in 2021, he decided to take on another challenge and apply to the Dr. Gerald Niznick College of Dentistry. One reason for his keen interest in the profession is that he has an artistic background in sculpture, ceramics and woodwork. "I like to work with my hands and make things look good," he says.
On Sept. 8, as one of 29 students in the Dentistry Class of 2026, Yuan took part in the college's Opening Assembly on the Bannatyne campus. The future oral health professionals were formally cloaked in their first white coats and recited the Community Code, a pledge to practise with integrity.
"I feel excited and proud after so many years of working and planning," Yuan said at the event.
Dr. Anastasia Kelekis-Cholakis, dean of dentistry, told the students they are expected to adhere to high ethical standards, treat patients with respect and compassion, and strive to do what is right and good.
"This lifelong journey of service, dedication and continuous education you're embarking on is thrilling, but also challenging," she said.
Soyeon ("Ann") Ahn, a 23-year-old student in the 26-member School of Dental Hygiene Class of 2024, immigrated to Canada from South Korea at age 10. She loves the feeling of having clean teeth after a hygiene appointment, she said, and wants to provide the same experience for others.
"I felt a sense of responsibility as I put the white coat on," Ahn said. "It's like I entered another world as a health-care provider."
Nigerian-trained Ayodeji ("Deji") Omotayo is one of seven internationally educated dentists who make up the International Dentist Degree Program (IDDP) Class of 2024.
Along with dentists trained in El Salvador, India and South Africa, he will complete two years at UM to earn his dentistry degree, which will prepare him for Canadian accreditation.
Omotayo, 38, graduated in dentistry from the University of Lagos in 2009 and practised in Nigeria for about eight years. Then, encouraged by a former classmate who had completed the IDDP at UM, Omotayo and his wife decided that if he could become a Canadian dentist, they could provide a better future for their two young sons.
After landing in Ontario in 2019, studying hard for admission to the highly competitive IDDP, obtaining permanent residency status and ultimately earning a spot in the program, "I'm blessed to be here," Omotayo said. "It's tough, it's demanding, but it's amazing."
With his wife, Seni, and sons Fire, 6, and Fife, 4, on hand for the ceremony, Omotayo said it felt surreal to be on the path to re-entering his chosen profession in a new country.
"For my wife and kids to see that moment – it was beautiful," he said. "It's so emotional. It's just a beautiful feeling, having the opportunity to get back to doing what you love to do."