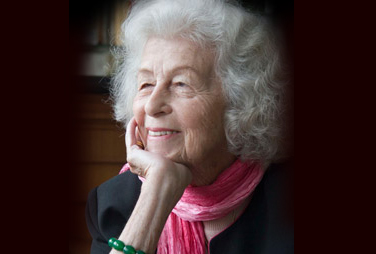 In Memoriam – Remembering alumna Dr. Maria Gomori
December 20, 2021 —
It is with heavy hearts that we share the sad news of alumna Maria Gomori's passing.
Gomori was an internationally renowned family therapist who graduated from the MSW program. Many who knew Gomori have fond memories of her. She recently passed away at the age of 101.
Many of our students have benefited from Gomori's therapy training, whether in the community or during her tenure at St. Boniface Hospital (1966-1991). She founded the social work department at St. Boniface Hospital and was an associate professor at the Max Rady College of Medicine.
"Maria Gomori was my mentor in the earlier part of my career. I knew Maria back in Hong Kong in the 80s when I joined her amazing workshops on family work. I learned the humanistic Satir approach from her. Her work prompted me to write my first peer-reviewed journal article on the social construction of the Satir model during my doctoral years in the 90s," remembers Maria Cheung, associate dean, graduate programs.
"I didn't know Maria was our Faculty's alumna until I invited her to my class to do a family reconstruction demo in the 2000s. When she revealed to me she graduated from our social work faculty, I could sense a bittersweet tone. She was glad to ride on our elevator again," says Cheung.
For many, Gomori was an amazing teacher. She impressed others with her humanistic mind and kindness of heart. Her eyes could speak to others, which is one of the reasons why she was a great therapist. She also had a good sense of humour.
"It's in loving memory that I write about Maria Gomori and honour her work bringing hope and mindfulness even before this word was widely used. We are proud to have an alumna like her," says Cheung.
To view Maria Gomori's obituary, please visit: http://www.mariagomori.com/