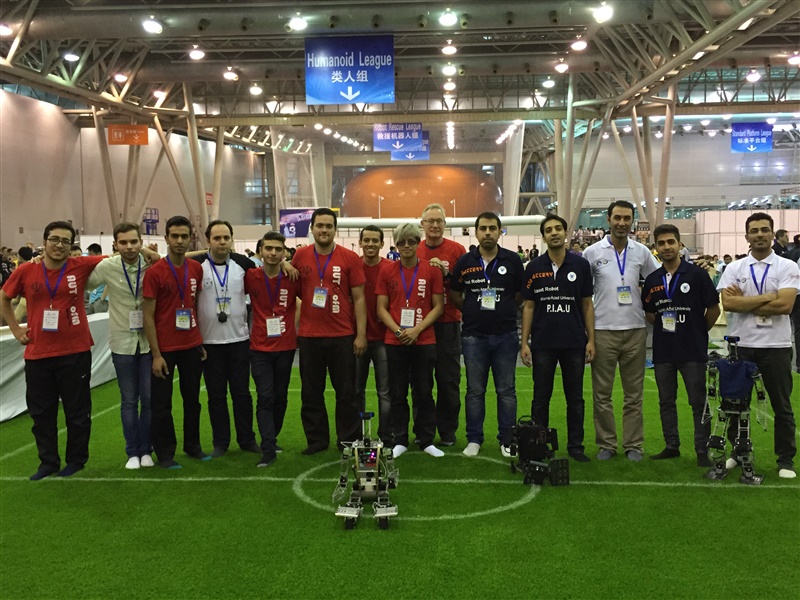 Impressive finish at RoboCup
August 7, 2015 —
Some day the world may be overrun by automatons, but for now the brightest human brains in the world are busy programming robots to play soccer.
In July 2015 researchers from the University of Manitoba partnered with a team from Amirkabir University of Technology (AUT) in Tehran, Iran to create a robot soccer team that competed in RoboCup. With more than 2000 participants from around the world, RoboCup is the largest and most prestigious competition for intelligent soccer robots. This year's competition took place in Heifei, China from July 13 to 23.
The AUT-UofM team competed in the Humanoid League Teen Size competition (two players, max 1.4 metres high), and won an impressive third place in the soccer competition. The team lost their semi-final match to Team Parand from Iran, the new world champion.
"The Iranian team focused on the hardware and the U of M team focused on the software," said John Anderson, head of the department of computer science. "Collaboration with a team with a very different cultural background proved both challenging, but also interesting for all involved."
The team also achieved an excellent second place in the technical challenge competition behind team NTUST Teen from NTUST, Taiwan. The technical challenge is an event to challenge particular player skills, similar to a combine in human soccer, football or hockey. This year the technical challenge involved push recovery (a robot being able to remain on its feet after being pushed), goal kicks from a moving ball, high kicks and high jumps.
"Participating in the Teen size league is more difficult in our experience than using a team with smaller robots, as the larger robots are more challenging to control and power, and physically transporting the robots also becomes an issue," said Anderson.
The U of M side of the team consisted of the following researchers and students: Amirhossein Hosseinmemar, Chris Iverach-Brereton, Brittany Postnikoff, Dewin White, Jamillo Santos, Kiral Poon, John Anderson and Jacky Baltes. Santos, Poon and Baltes represented the U of M side of the team in Heifei for the tournament. Funding for team travel comes in part from the Faculty of Science and the Department of Computer Science, to which the team is very grateful.