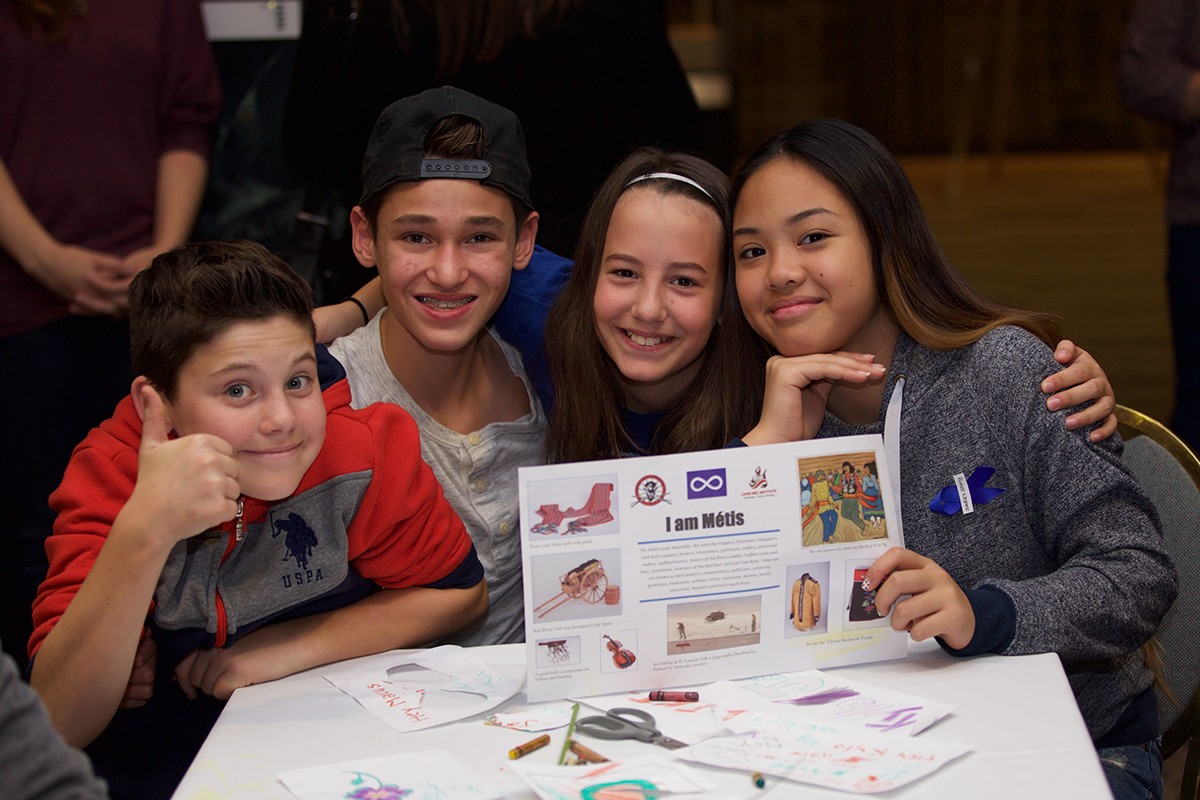 Imagine
Winnipeg youth asked to lead the way forward at the launch event for the National Centre for Truth and Reconciliation
November 5, 2015 —
On Wednesday, November 4 over 2,000 students and educators were asked to imagine a better and brighter future.
During a day-long series of events as part of the opening activities of the National Centre for Truth and Reconciliation at the RBC Convention Centre, schools from across Winnipeg and beyond came together to echo a chorus of hope and unity. Education is the key and Canada's youth are primed to lead the way.
A variety of sessions throughout the day presented reconciliation in different light. While discussions were paramount, students also heard about the Residential School System through music and traditional Indigenous storytelling.
"I am just so happy to see 2,000 students from all around Manitoba here, learning about the history of Canada, Residential School System, relocation, the incredible culture is here on this land," said Olympian and honorary degree recipient Clara Hughes who was one of the guest speakers at the event. Hughes is also an honourary witness of the Truth and Reconciliation Commission.
"I think a lot of young minds today realize that they have a lot to learn but also a lot they can do to make a difference – to make Canada the great place that it can be – a united place," says Hughes.
Throughout the day, students were asked to reflect what reconciliation means for them. The answer may be somewhat abstract and many did not have immediate answers. With the launch of the online portion of the National Centre for Truth and Reconciliation however, more answers are waiting to unfold.
Ry Moran, the NCTR's director echoed these sentiments.
"I think we don't fully know how students will use the database and archives yet, but one thing that is clear and is critical is that it's not going anywhere and it's there for them at the ready for whenever they need it or whenever they need to learn a different element or a different aspect of Canadian history."
The events from the past two days were a culmination of a very long journey, one that took a lot of hard work and dedication. The education day in particular was quite emotional for some. The youth who attended are the age that many of the Survivors were when they entered residential schools. From this perspective, inheriting this type of legacy can also provide hope for the future. This is the theme embedded in a national art and essay competition sponsored by the Governor General's office.
President and Vice-Chancellor David Barnard was on hand to launch the contest, Imagine a Canada, inviting Canada's youth to show the country how important it is for Indigenous and non-Indigenous people to understand and respect each other and stand together in unity.
"We have talked a lot about reconciliation today. It isn't an easy word. It also is something that will take time," said Barnard. "We are working toward it now, but I think it will take many years before any of us can say yes – we are in the place we need to be and you – Canada's young people – are the ones who will make this happen."
"As we discussed throughout the last two days, this is very much the start of the journey rather than the end of it," said Moran. "That's the exciting part, is where we're heading next and the journey that we're all collectively now on. We're just going to follow the road where it takes us."
The NCTR is a cornerstone of the U of M's $500-million Front and Centre comprehensive fundraising campaign: the university is committed to ensuring that Manitoba becomes a centre of excellence for Indigenous achievement – leading to increased social, economic, and health outcomes for individuals, communities and all Canadians.