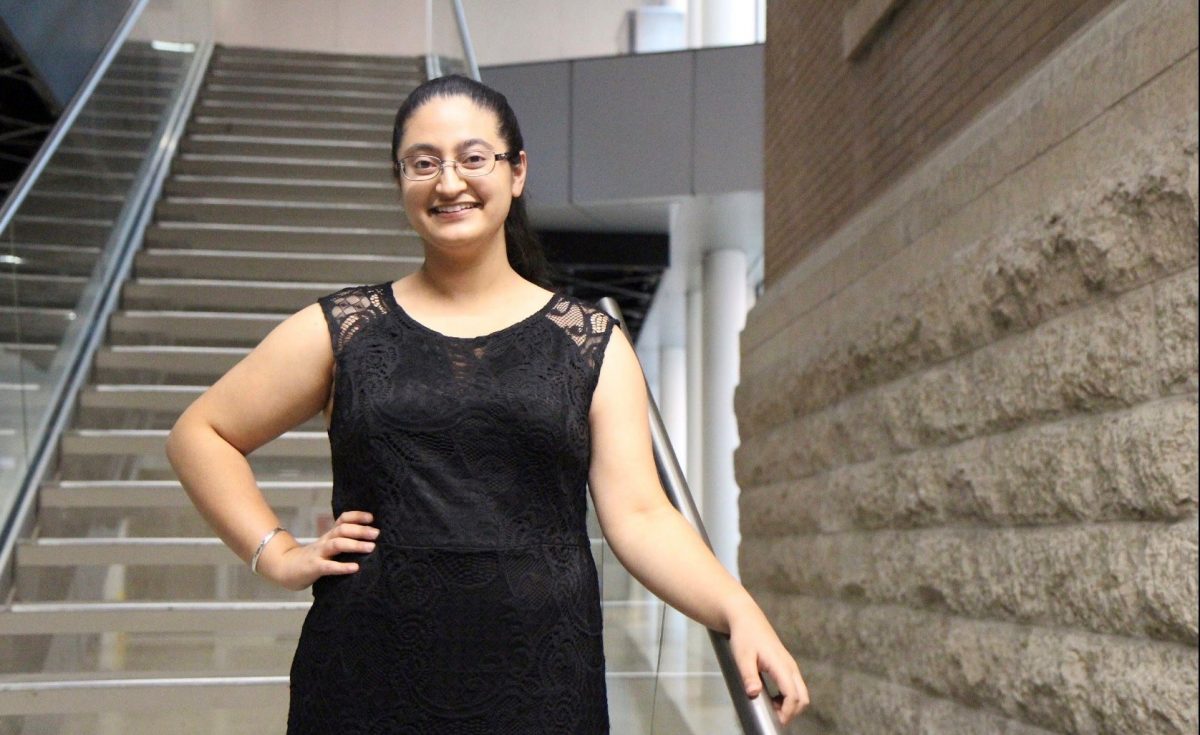 The brilliant Ikjyot Bharaj already has a long list of accomplishments, but is just getting started
June 23, 2023 —
It often takes a village to raise a musician, and sometimes that village grows to city-sized proportions.
"Although I began playing the clarinet in grade seven band, I have always loved singing and making music from as long as I can remember," says Ikjyot Bharaj.
"My family played a large role in fostering my love of music. I have countless memories of them singing and music making with me throughout my early childhood," she says.
Ikjyot's family passed their musical daughter into the hands of music teacher Donna Stone at Chancellor Elementary School, who helped to grow her love of music. From there, Ikjyot's passion for music was passed to band teacher Alena Arnason at Arthur Leach Junior High School, where she picked up clarinet, and studied privately with music instructor Chris Byman.
"By the time I finished grade eight, I felt that I wanted to pursue music as a career," Ikjyot says of this time.
"My junior high band teacher Alena Arnason continuously shared her joy and enthusiasm for music making with each of us, and I hoped to one day be in a position where I could continue to share this same joy with others in some way," she says.
"Over time, I also noticed that every single band teacher I had interacted with felt that they had the best job in the world. Each music teacher I had has made me a better human being in addition to being a better musician. It would mean a lot to have the potential to make a positive impact on another person's life as well. By the time I finished high school I thus felt more confident in my decision to pursue music education," says Ikjyot.
In high school, her resolve to pursue a career in music education was strengthened by her work with Vincent Massey Collegiate band and choral teachers Shannon Little, Matthew Abraham, and Willa Wade.
Ikjyot was ready for her future.
In the faculty
After her successful clarinet audition for the Desautels Faculty, Ikjyot received a number of scholarships, including the UM Queen Elizabeth II Entrance Scholarship, Marcel A. Desautels Faculty of Music Scholarship, President's Scholarship, Don Wright Entrance Scholarship in Music, Margaret H. Tyler Award in Music, Reg and Anne Hugo Memorial Fund Scholarship in Music, MSBI Scholarship Fund, and the Don Wright Scholarship in Music Education.
Ikjyot was also twice awarded the University of Manitoba Undergraduate Research Award for her research into diversity, equity and inclusion in band repertoire. We detailed Ikjyot's research and its results in a UM Today story published earlier this year. Her impressive research was ultimately published in Canadian Winds, the academic journal for the Canadian Band association.
Her publication in a nationally-recognized academic journal only marked the beginning of her journey in music education research.
"I recently shared some of what I had learned from this process when I was invited to present at the May 2023 MusCAN conference alongside others conducting similar research," Ikjyot says.
"I hope to continue further research on composer diversity in wind band music and hope to continue sharing this research with others. By doing so, I hope that more music played in classroom settings provides a better representation of students, school communities, and of our greater society," she adds.
On the performance side, Ikjyot performed with the University of Manitoba Wind Ensemble and multiple chamber ensembles, including a clarinet duet,trio, and quartet, a flute and clarinet duet, a flute, clarinet and oboe trio, and a quartet consisting of three flutes alongside Ikjyot's clarinet.
As if these university ensembles weren't enough to keep her busy, she also performed with prestigious groups external to the faculty!
"I also had the opportunity to be a part of the 2021 and 2023 National Youth Band of Canada and performed with the Winnipeg Wind Ensemble for their last two concert cycles," says Ikjyot.
Ikjyot has so much to be proud of regarding her accomplishments in the faculty, so it might be surprising to some that she has quietly struggled.
"When I first entered the Desautels Faculty of Music, I often dealt with performance anxiety, especially when it came to solos or chamber ensemble playing," she says.
So, Ikjyot's proudest moments in the faculty have involved her victories over performance anxiety.
"By my fourth year of university, I enjoyed performing in chamber ensemble settings more than I ever thought I could," she says.
"A particular moment that made me realize how I felt was in a chamber ensemble performance. Fiona Walker [a fellow 2023 Desautels Faculty of Music graduate] composed a lovely piece for our chamber ensemble – written for piccolo, flute, alto flute and clarinet – which tells the story of a ship's final voyage," recounts Ikjyot.
"Near the end of the piece, there is a beautiful lyrical section. At that moment, I felt that I did not want the performance to end due to how much I enjoyed sharing this music with both the audience and those on stage with me," she says.
Some of Ikjyot's favourite performances have been of John Mackay's "Aurora Awakes," Malcolm Arnold's "Sonatina for Clarinet and Piano," Omar Thomas' "Of our New Day Begun," and Fiona Walker's aforementioned "Ruminations, Movement III."
Giving thanks
Ikjyot is thankful for the help and support she has received during her time in the faculty, especially given the turbulent environment caused by COVID-19.
"I consider many members of our faculty to have been extremely valuable mentors to me," she says.
"I do not know that it would be possible for our graduating class to have learned as much as we did throughout the COVID-19 pandemic without all of their kindness and additional efforts," she says.
"When it comes to music education, Dr. Dawson and Dr. Stark have presented us all with countless opportunities to grow, and have provided guidance over the course of my degree. Their love and support mean the world to me," she says of Desautels Faculty of Music Director of Bands Jacquie Dawson and Music Education area head Jody Stark.
"Ikjyot is a thoughtful and bright person who consistently brings her best to every situation," says Stark of her student.
"I am so excited that she has chosen to teach music for her career! She will be an amazing music educator – because she is already amazing!" Stark adds.
"She's a very intelligent student who pursues her work with incredible purpose and professional curiosity," says Dawson.
"She is engaging in critical conversation and work in the field and already making a meaningful contribution," Dawson adds.
"I would really like to thank my professors, teachers, peers, friends, and family members for supporting me over the course of my music studies," Ikjyot says.
"[My family] has always supported my musical growth, and I have no doubt that they will continue to do so in the future," she adds.
With her Bachelor of Music (BMus) in music education in hand, Ikjyot will now begin work on her second bachelor's degree, this time in education (BEd), at the University of Manitoba's Faculty of Education this fall.
She has some advice to give to the students who will be entering the Desautels Faculty of Music as she departs it.
"Place your efforts into connecting with the lovely faculty and your peers," says Ikjyot.
"You will learn so much from them!"
We, in turn, are so thankful that Ikjyot chose us for her undergraduate education. She will undoubtedly influence the next generation of music students, who will be very lucky to have her.
Additionally, her important research work will help to change the face of music, and make careers in music accessible to all.
Congratulations, Ikjyot! Your accolades have been truly well-earned!