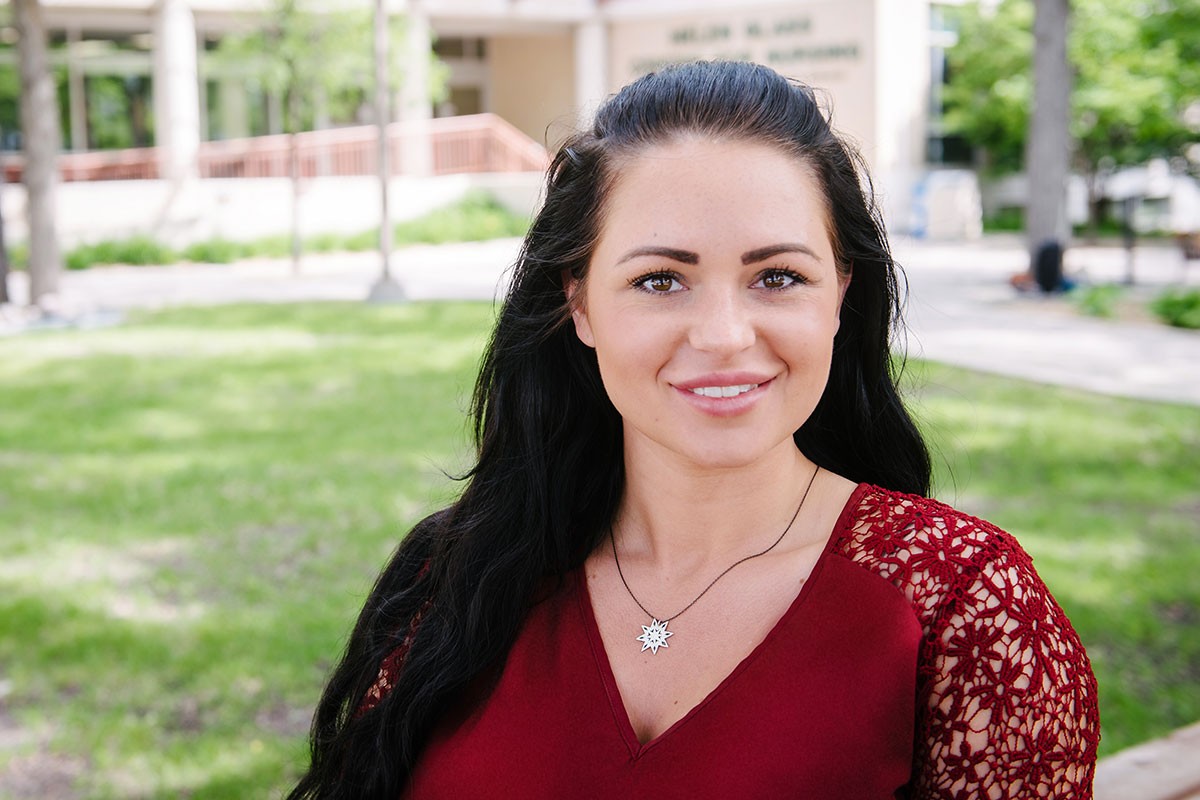 'If you want to do something, you can't let your past or your present define you'
First Indigenous rep for Nursing Students' Association on impact of bursaries, scholarships
June 28, 2016 —
U of M nursing grad Heather Waloshuk remembers the moment she walked into class and came face to face with the woman who transformed her life.
The instructor at the front of the room was the public health nurse who, years earlier, had helped her navigate the panic of becoming a mother at age 15.
The nurse had charted a path for Waloshuk—who was living on her own as a single mom—to take prenatal classes, follow a healthy baby program and enrol in a high school that would allow her to bring her newborn to class.
The support Waloshuk received is what made her want to become a nurse.
"She had a huge smile on her face when she saw me," says the 27-year-old. "I was proud to show her how far I'd come."
Waloshuk grew up in a Manitoba Housing complex where police lights and ambulance sirens were the norm. She'd see kids living with abuse and adults run by addiction.
But she also saw a way out when her mom—who became a single parent at 16—was the first in the family to go to university. She earned a social work degree through the University of Manitoba's Access Program, which provides financial and other support to Indigenous students, Northern residents, newcomers and low-income earners.
More than a decade later, Waloshuk would go through the same program to earn her nursing degree, pushing though late nights of studying once she got her three kids to sleep.
Waloshuk says there's no way she could have juggled everything without the bursaries and scholarships she received. They also allowed her to save the cash she needed so her kids wouldn't have to miss out on back-to-school clothes or school field trips.
"It meant I could give my children somewhat of a normal childhood while being in school," she says.
Her eight-year-old daughter is set on becoming a doctor. Her 10-year-old son—who Waloshuk describes as the artistic one—is thinking about a career in music.
"The idea of pursuing their goals and being a professional is just kind of in their heads now," she says. "It's not a dream, it's a plan."
She is quick to note that Indigenous students often face additional obstacles in their lives that can keep them from pursuing—or completing—their degree.
"Out of the eight or nine Indigenous students I had entered my first year with, only two of us graduated together," says Waloshuk, who is Métis. "That didn't really seem right. Where did everybody go?"
She was the first Indigenous student representative for the Nursing Students' Association, committed to growing a circle of support.
"I know our Indigenous students sometimes go through a lot more than the average Joe. One student's parent had committed suicide, another had a parent who was addicted to meth. A couple of the students were homeless at the time," Waloshuk says.
"I would meet with students on a monthly basis and, through those meetings, I'd share traditional teachings and kind of let everyone vent or share their experience and build peer support—a network within our Aboriginal student group."
She calls the Access Program "amazing" and says she benefitted from having smaller class sizes and a direct connection to advisors for academic, financial and personal support.
"Investing in our Indigenous youth is so important because they are some of the strongest people you will ever meet," says Waloshuk, who has started a job as a public health nurse.
"I am an Indigenous woman who had three children before I was 21—my first at 15. By all accounts I shouldn't be in school. I shouldn't have finished. I shouldn't have done anything—that's what the stats say. If you want to do something, you can't let your past or your present define you."
Indigenous Achievement and Outstanding Student Experience are pillars of the University of Manitoba's Front and Centre philanthropic campaign, which recently announced $394,821,382 raised for students, faculty and researchers.