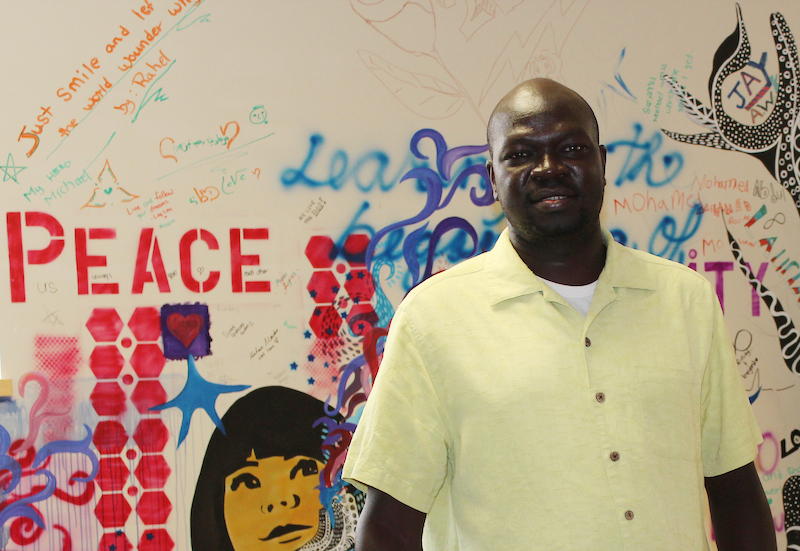 'I never wanted to be a teacher.'
October 21, 2014 —
Daniel Swaka's dream of becoming a doctor didn't exactly turn out the way he'd planned. Instead, the Sudanese-born Swaka, who came to Canada after years as a refugee in war-torn Africa, became a teacher.
But now, Swaka is more than pleased that he found his way to education.
"I never wanted to be a teacher. There was a lack of pay for teachers in Sudan. [But while I was] not meant to be a doctor, I [realized] I could teach teachers," says Swaka, who will receive his Post-Baccalaureate Diploma in Education at this month's convocation ceremonies. Swaka is also the United Way guest speaker at the University of Manitoba's Faculty of Education on Oct. 20.
Swaka was born in 1980 in the Republic of Sudan during the civil war between the North and South. He completed his high school there, but after the fighting escalated, he was forced to flee. Swaka left his family behind and travelled to neighbouring Uganda as a refugee. There, he felt extremely unsafe. He feared the Resistance army and had no money, documents or passports.
Luckily, missionaries provided him enough money to continue his treacherous journey all the way to South Africa in search of safety and the ability to continue his education. While living in a shelter, he applied to Medicine and was accepted.
"With the war in Sudan, people were dying from simple diseases that could be treated," Swaka says, adding he wanted to help out as there was a shortage of doctors.
However, he didn't have enough funds to pay for the program and had to drop out. And that's when Swaka changed his chosen path. He found out about an Education scholarship for young refugees and upon receiving it, completed the four-year program at North-West University in South Africa.
After graduating, Swaka decided the time was right to try to make a move to Canada as he had friends in Winnipeg. He arrived as a refugee in August of 2010.
He was pleased with his new home, though he found it a bit strange. "I've lived in many big cities, so this was much smaller," he said. But he enjoyed the hospitality of Winnipeggers.
Swaka soon received his Manitoba provincial teaching certificate. However, searching for education positions proved difficult. "It was a challenge for me to look for a job just like anybody else."
He sent dozens of resumes to school divisions and groups working with youth, because he was interested in helping immigrant children get ahead. He then heard about The Peaceful Village, a literacy based after-school program for youth run by the Manitoba School Improvement Program.
Swaka began as team lead in 2011 and is now director.
He enjoys working with new refugees and immigrants in the city. "I see myself in them."
Part of his job, he says, is to foster children's love of education. And because he's been a newcomer himself, the young people can relate to him. It's especially important for them to have role models, Swaka says.
He says his studies at the Faculty of Education, were "one of my best experiences, because of the professors I worked with." At the U of M, he felt constantly encouraged and motivated to push ahead with his studies.
And Swaka is committed to motivating others to follow their passions, no matter what the obstacles.
"I love to share my stories."
Swaka will receive his Post-Baccalaureate Diploma in Education at Fall Convocation 2014. He will also be the United Way guest speaker at the University of Manitoba's Faculty of Education on October 20, 2014.