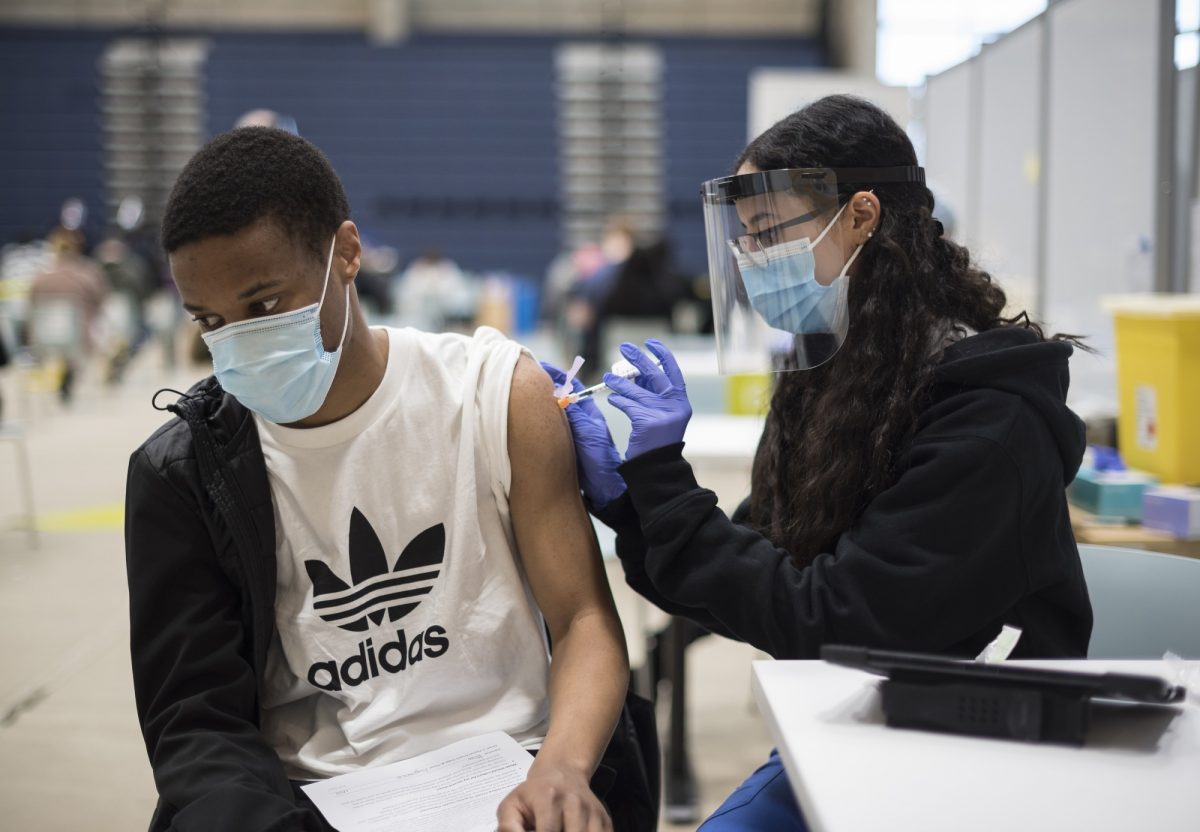 HVAC at UM
Well-functioning HVAC systems support overall COVID-19 safety protocols
July 27, 2021 —
The University of Manitoba heating, ventilation, and air conditioning systems meet or exceed the ASHRAE standards for building ventilation and filtration standards. These standards are supported by the Government of Canada and are part of the guidance for ventilation created by the Public Health Agency of Canada (PHAC) to prevent COVID transmission.
Well-functioning HVAC systems support overall COVID-19 safety protocols (measures such as vaccinations, masking, cleaning) by removing and diluting aerosols that may contain viruses from indoor spaces.
It is important to note that adjusting ventilation will not affect transmission between individuals who are in close proximity. Practicing safety fundamentals—wearing a mask, physical distancing, hand hygiene—is of utmost importance.
To support the anticipated increase of in-person activity on campus in September 2021, UM has enhanced ventilation protocols—many of which have been in place since early 2020—by reviewing ventilation systems and working to optimize the capabilities of these systems.
Some additional measures that have been taken are:
Filters inspected to ensure they are functioning properly.
All demand ventilation systems disabled to keep the air handling operating at full capacity even during low-occupancy periods.
As seasonal conditions allow, mixed air systems are set to 100% fresh air.
With these enhancements in place, operations of the university's ventilation systems align with COVID-19 public health requirements and recommendations, as outlined by COVID safety recommendations.
Read on for details.
Measures for improved ventilation
These measures are being implemented across campus:
Increasing outdoor air intake: Ventilation systems on campus optimized within system capabilities to maximize the amount of outdoor air being supplied to classrooms and other building areas. Increased outdoor air supply to building spaces has been identified by COVID safety recommendations as a key measure which may help in reducing the spread of COVID-19 within buildings.
Increasing air exchanges by extending fan run-times: Operating schedules for ventilation systems on campus extended to include times before and after building occupied hours, and in some cases to run 24/7. This will increase the number of daily air exchanges and ensure that spaces are well-ventilated. COVID safety recommendations recommends this practice to increase the amount of air exchanges within building spaces to help reduce the spread of COVID-19.
Checking filters: To ensure ventilation system filtration is working optimally within system designs, filters are checked frequently as part of the regularly scheduled preventative maintenance routines. Routine inspections and maintenance can be helpful in reducing the spread of viruses. Most Fort Garry campus buildings have MERV 8 filters, with some renovated buildings having up to MERV 14. All Bannatyne campus buildings have been upgraded to MERV 11 filters with many buildings having MERV 14 additional filters. In many cases pre-filters are used to extend the life of the main filter. The ASHRAE recommendations are reviewed and followed as closely as possible https://www.ashrae.org/technical-resources/filtration-disinfection.
Preventative maintenance: All campus ventilation systems are catalogued within our Computerized Maintenance Management System (CMMS) and receive regular preventative maintenance service routines including filter changes, inspections and repairs as needed. Filters are checked monthly and can last from 1-2 months to 6-12 months depending on the area and the outside conditions.
Air purifiers: Local air purification systems may be considered in areas without sufficient ventilation systems. Some users may use a local HEPA filtration unit in their work area as an additional measure, but these are not deemed as necessary for many of the campus areas. For the few buildings identified as unsuitable for use by more than 2 or 3 persons at a time, faculty have been notified.
What you can do
Get vaccinated. Public Health recommends this as a key COVID-19 control measure.
Follow recommended Public Health practices. This may include the use of masks, distancing, hand sanitation and staying home when you are ill.
Open windows. The use of operable windows during favourable weather conditions is encouraged as an additional way to bring more outside air into classroom and other building spaces.
Avoid fans and window AC units. The use of personal desk fans, low ceiling fans, window air conditioners, and other devices which could create high velocity air flows in open office spaces or other shared spaces is being discouraged. If window AC units must be used, the recommendation is to direct air flow away from occupants in the space.
Report ventilation issues. Let the Operations and Maintenance team know if there is a ventilation issue affecting your workspace.
Please direct inquires regarding ventilation the Operations & Maintenance customer service desk at ppwod [at] umanitoba [dot] ca or banwod [at] umanitoba [dot] ca
For any concerns regarding environment, health and safety at the UM, contact the Environment, Health and Safety Office at EHSO [at] umanitoba [dot] ca