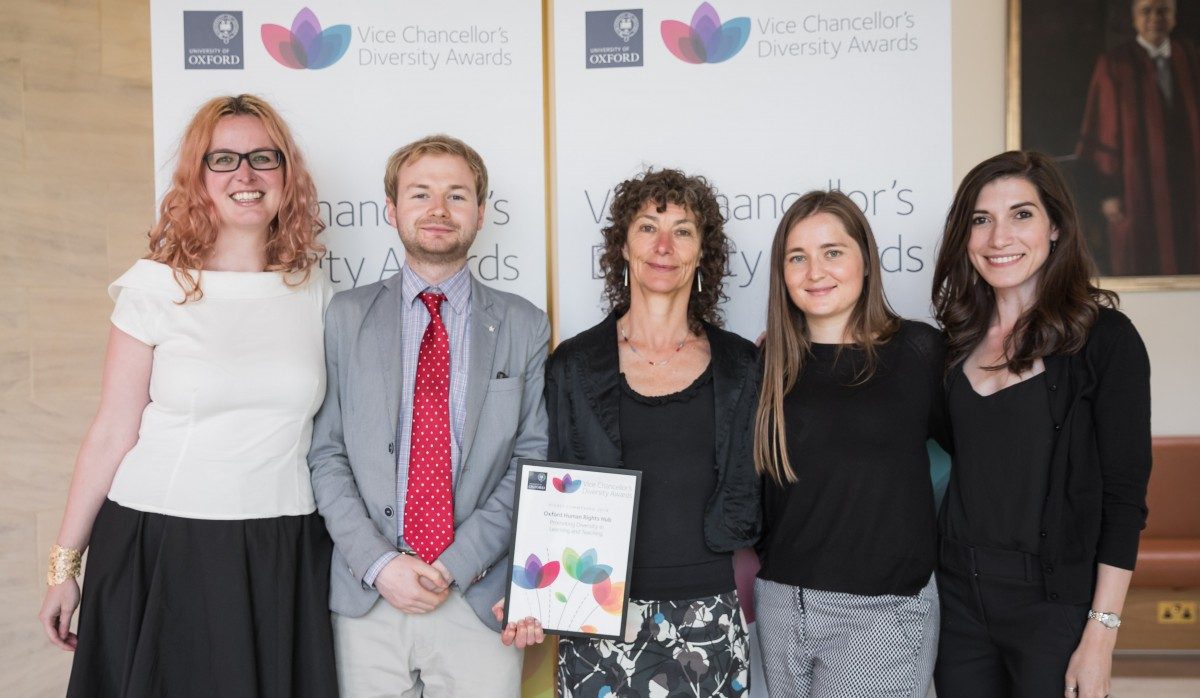 Human Rights scholar brings lessons learned at Robson Hall to Oxford and beyond
November 8, 2018 —
Meghan Campbell [LLB/08] is not afraid to admit that the high-school curriculum courtroom classic, To Kill a Mockingbird did not inspire her legal career. Rather, a summer of watching Law & Order set her on that path. Inspired by the seeming glamour of the job of District Attorney, the determined high school grad was accepted into Robson Hall with two undergraduate years of Classics studies under her belt. She never imagined her actual legal career would be far more exciting.
Today, she is a lecturer in Law at the University of Birmingham and is Deputy-Director of the Oxford Human Rights Hub which is based in the Law Faculty at the University of Oxford, travelling the world in pursuit of gender equality, human rights and poverty. In her current role, she said she has been fortunate to collaborate with her intellectual heroes, working alongside a wide range of engaged students, respected academics, leading senior lawyers (Queen's Counsel or QCs) in the UK, United Nations Special Rapporteurs and Supreme Court Justices from Canada, Rwanda, Germany, India, South Africa and the UK. As part of her job, she has organized and participated in conferences and workshops in Rwanda, Brazil, India, Colombia and Jamaica, exploring "stubborn and emerging threats to gender equality" and enriching her research with comparative insights in gender, human rights and poverty.
Robson Hall caught up with Campbell shortly after she published her monograph (based on her DPhil and a culmination of all her academic study to date), Women, Poverty, Equality: The Role of CEDAW (Hart Publishing, 2018).
Where did the impetus to write this book come from? Do you feel there's more ground you can explore to lead to more books?
The UN stresses using human rights to remedy women's poverty but this advocacy has not been done within a legal context. My monograph takes the next step and situates the relationship between gender and poverty in binding legal UN commitments. Surprisingly, the prominent legal instrument on women's rights, UN Convention on the Elimination of All Forms of Discrimination Against Women, is silent to women's poverty. I offer a sophisticated assessment of how to interpret equality in CEDAW to redress women's poverty and how this interpretation can be integrated into the treaty's accountability mechanisms. You can listen to a Oxford Human Rights RightsUp #RightNow podcast I did discussing the ideas on women, poverty and equality.
My next research project continues to investigate how human rights can break cycles of poverty, specifically the extraterritorial dimensions of poverty. It is focusing on how the duty of cooperation contained in core UN human rights treaties can redress the extraterritorial aspects of poverty. The acts and omissions of states can perpetuate poverty far beyond their borders. There is very little accountability for this cause of poverty. States have agreed to cooperate to realize socio-economic rights but this legal obligation has been overlooked in the evolution of human rights law. As women disproportionately rely on socio-economic rights, understanding how the duty of cooperation can strengthen their protection. This project has strong implications for the future protection of women's rightsand is really exciting as it speaks to intellectual challenges in human rights and government's overseas aid development and international fiscal policies.
In your work, do you look at how Canada can work to improve the situation of Indigenous women living in poverty here?
My work does lay out arguments that advocates in Canada can draw on to demonstrate that a right to equality requires federal and provincial governments to tackle the poverty among Indigenous women. I have also just finished an article advocating that rural and northern life should be included as a ground of discrimination under The Charter. This could have a significant impact on Indigenous women in Canada living in rural areas and Northern communities. Globally, the empirical evidence shows that rural women are more disadvantaged than urban women and urban and rural men. Including rural and northern life as a ground of discrimination can empower rural and Northern Indigenous women to hold the government to account for laws and policies that perpetuate rural disadvantage.
"All these courses opened my eyes to how law can be used to construct and protect privilege and how law can be used to transform power relations and create a more equal world."
What courses that you took while in law at Robson Hall steered you in the direction you've gone today?
My law degree at Robson Hall was pivotal in pursuing an academic career in human rights and gender equality. I came into law school with a lot of energy and passion for social justice. The professors and the courses at Robson Hall gave me the tools to channel that passion into persuasive legal arguments. The optional courses in my third year were particularly influential—Gender and The Law, Poverty and the Law and The Charter of Rights and Freedoms. Reflecting back on my law degree, these courses were truly cutting edge and focusing in on some of the biggest challenges in law. All these courses opened my eyes to how law can be used to construct and protect privilege and how law can be used to transform power relations and create a more equal world.
What teachers had any impact on your career choices that led you to do work in this area of law?
The teachers at Robson Hall – Karen Busby, Lorna Turnbull, Michelle Gallant, Sarah Ludwig and Debra Parkes – all positively impacted my career. At law school, we were taught Gosselin v Quebec, where the Supreme Court of Canada held that drastically reducing social assistance benefits to those under 30 was not in violation of the right to equality in The Charter. This seemed intuitively wrong. Human rights are for everyone, not only the wealthy and the privileged. The interpretation and understanding of human rights needs to account for different experiences, including how poverty acts as an obstacle to equality. The professors at Robson Hall were incredibly supportive and encouraged me to follow this intuition into legally sophisticated arguments.
"My biggest piece of advice to new students would be to whole heartedly throw yourself into the academic community at Robson Hall….Make friends….Read widely. Let yourself be curious."
What can you tell current law students to make the most of their time at Robson Hall?
Law school is a very formative and exciting time. You are engaging with new ideas—judicial review, duty of care, justifications for limiting rights—and being trained in how to "think like a lawyer". You are meeting and becoming friends with a peer group you will be interacting with throughout your professional career. I met so many wonderful people at Robson Hall and to this day I still consider some of those people from law school to be my closest and dearest friends.
My biggest piece of advice to new students would be to whole heartedly throw yourself into the academic community at Robson Hall. It is tempting to see the law degree as merely the means to an end: to focus solely on what you need to do to be competitive on the legal job market. These concerns are understandable, and I definitely was concerned about my career. Looking back, I wish I had been more patient. Attend the seminars, fundraisers, and social and community events. Make friends. Enjoy the experience of being in law school together. The intense work load and the intellectual challenges are truly bonding experiences. Read widely. Let yourself be curious. It is such a privilege to be in law school, to be given time and space to critically reflect on law, and make the most of your time.
Who would you most like to collaborate with in your field – who are your academic or scholarly heroes whose works you would recommend law students to read?
My academic hero is the supervisor for my DPhil, Professor Sandra Fredman (University of Oxford). I came to Oxford wanting to study the role of the right to equality in redressing poverty. Sandy channelled this idea into the UN Convention on the Elimination of All Forms of Discrimination Against Women. This fundamentally changed my academic career and put me on the path of studying gender equality and international human rights law. She has had unwavering patience in helping me form and shape my ideas. Sandy is also a personal inspiration. Her every day kindnesses and efforts to make academia more equal and inclusive are inspirational. Her academic practice is a model on how to live the principles of equality and non-discrimination. She has continued to offer mentorship and friendship as I navigate the waters of early career academia. Working together over the year has been incredibly intellectually stimulating, pushed me to embrace the role of technology in the research and practice of human rights and been a source of joy.
Recommended Reading
Sandra Fredman, Human Rights Transformed (OUP, 2011)—on the constellation of obligations raised by committing to human rights
Martha Minnow, In Brown's Wake (OUP, 2010)—on the legacy of Brown v Board of Education and the limits of law and courts in achieving transformative social change.
Gwen Brodsky and Shelagh Day (2005), 'Denial of the Means of Subsistence as an Equality Violation', Acta Juridica, 149—on the role of equality in poverty alleviation
Karl Klare, 'Legal Culture and Transformative Constitutionalism'(1998) 14(1) South African Journal Of Human Rights 146—on reimaging the role of lawyers and law in constitutional law
For future scholars to Take up the Torch: "[T]here are two pressing areas of research. First, how can the law recognize, reduce and redistribute care work?…Second, how can socio-economic rights be fulfilled by holding government to account for budgets, tax codes and national and international fiscal policy?"
What gaps, or what more needs to be done in your area of research that you would like to see more students engaged in?
The ever increasing backlash and resistance to human rights, particularly socio-economic rights, means high-quality legal scholarship is desperately needed. From my perspective, there are two pressing areas of research. First, how can the law recognize, reduce and redistribute care work? Around the world women are disproportionately burdened with care work and the law has been slow to respond to this lived reality. Second, how can socio-economic rights be fulfilled by holding government to account for budgets, tax codes and national and international fiscal policy? The argument goes that socio-economic rights are too expensive and it is not the role of courts, unelected bodies, to interfere with government's economic policy. However, by refusing to acknowledge the role of courts in holding states to account for socio-economic rights, human rights then become only for the wealthy and the privileged.
How can Robson Hall work to address those gaps – what opportunities are there for Manitoba's only law school to train students in this area?
There are so many opportunities. Equality and human rights will impact everyone's life beyond their time at law school and I think it is crucial that these rights get mainstreamed into core teaching at Robson Hall. Furthermore, the Centre for Human Rights Research at Robson Hall is positioning itself as a world leader on human rights. The work they are doing on the right to water in Indigenous rights is pioneering. It is exciting to see interdisciplinary research on human rights as human rights are not the sole purview of lawyers. And it is getting to the heart of the challenges on holding government to account for socio-economic rights.
See: Master of Human Rights Program
What a 'Friendly Manitoban' brings to Oxford…
What unique Canadian (or even Winnipeg) perspectives do you bring to the faculty at Birmingham?
At the University of Birmingham, I teach Canadian Constitutional Law. It is fun to return back to my own constitution after years of teaching UK public law. In discussions with colleagues and students, I always bring a comparative perspective. Lady Hale, the Chief Justice of the UK Supreme Court recently said that the Canadian Supreme Court was the one to watch. In Canada, we approach this legal problem in this manner or in Canada the courts are pursuing this line of reasoning. I continually draw on the Canadian's approach to highlight the differences, tensions, limitations and strengths in the UK.
I was born in Flin Flon, Manitoba and raised in Winnipeg and hope that in my teaching and research, I bring the friendliness that Winnipeggers and Manitobans are renowned for!
If you weren't at Birmingham, where would you most like to work?
The University of Birmingham is a wonderful institution with academics committed to high-quality scholarship and legal activism. Two of my colleagues were key players in the activism to repeal the 8thamendment of the Irish constitution that banned abortion. With such a great team of academics engaged in cutting edge research and teaching, I cannot imagine being happy anywhere else.
See also: Alumni Abroad: The future is equal