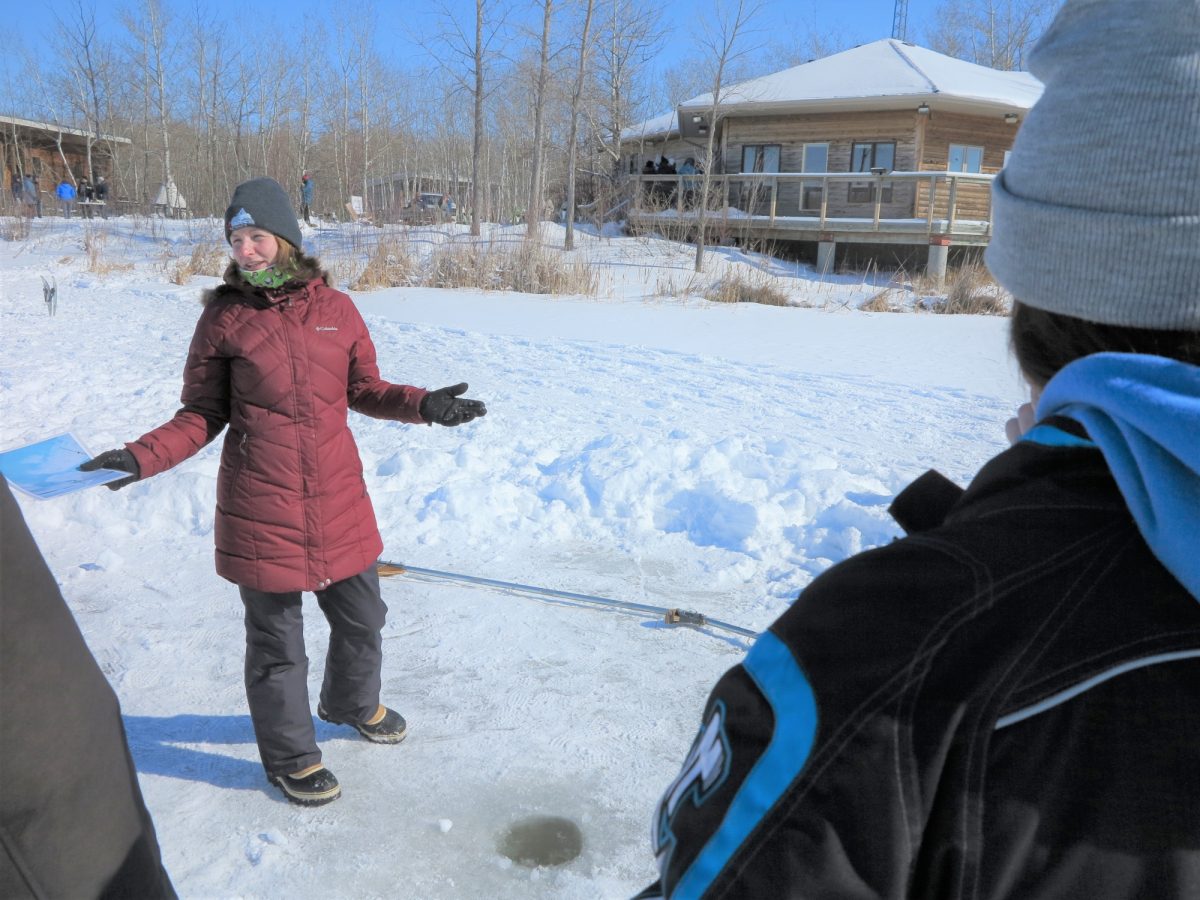 How video games help teach Arctic climate science
Students at Arctic Science Day learn how field research can be like gaming
March 12, 2020 —
It turns out climate research and video games have a lot in common.
More than 150 middle-and-high school learners met with climate researchers on March 5 for Arctic Science Day. Students learned how new knowledge is developed from working in Arctic conditions, and how the learning process can be a lot like playing video games.
Arctic Science Day is a partnership between FortWhyte Alive and the Centre for Earth Observation Science at the University of Manitoba. It connects students from grades 6-12 with climate scientists involved in various forms of environmental research, from physics to chemistry to playing with video game joysticks.
But first, the kids had to learn the basics.
Over 100 grade 6-8 students from three schools learned about the challenges of oil spill clean-up in the Arctic. After PhD candidates introduced students to the interactions between freshwater and saltwater in the Arctic Ocean, students got engaged in an oil-spill response workshop.
Next, Postdoctoral Research Fellow Dr. Michelle McCrystall initiated the youth with climate models with a computer simulation. "Climate modelling is the process which aims to allow us to further understand important interactions in the climate system and to project these in to the future to predict potential changes in Earth's climate," she says.
"The predictions are based on a number of factors such as future energy sources, population size, projected socio-economic growth and land use change of varying degrees to give a range of possible future climate scenarios," Dr. McCrystall adds.
More than 60 high school students from 15 schools spent the day visiting research stations on FortWhyte's Lake Cargill, learning about sunlight reflection and absorption through sea ice, remote sensing of ice thickness, and how to take ice core samples.
Students also learned how to age a narwhal by counting the growth lines on its tusk, and about technology used in marine mammal research. Other topics included impacts of ocean acidification and contaminants like methylmercury.
Research Associate Maddie Harasyn showed how drone piloting is part of collecting climate data through remote sensing. Harasyn operates a drone like a real-life video game to collect land surface data.
"The students were really interested in the technology, and how cool and exciting drones are. And then they were even more excited to learn about how scientists apply the data to mapping vegetation or finding caribou in the forest," Harasyn says.
Maddie Harasyn showing the sensors on a drone used in Arctic research
It's not only drone pilots like Harasyn who get to operate joysticks for science. High-scoring gamers couldn't help but hear PhD candidate Lisa Matthes compare the underwater navigation methods of her research to playing a video game.
"When we visit the North for field measurements, we no longer only drill small ice holes for single measurements. We want to study larger scales to understand what is happening to the Arctic sea ice under a climate change scenario. To do so we use underwater drones, called remotely operated vehicles, or ROVs, that are equipped with large sensor arrays and can be driven below the ice for hundreds of meters. ROVs are connected through a long tether to a computer and a joystick, sitting in a tent on top of the ice," Matthes explains.
"My job as a researcher is now to play a three-dimensional underwater video game by driving a very expensive ROV along sampling transects without bumping into ice chunks or getting off-course."
Students left 2020's Arctic Science Day with a sense of some of the career opportunities in Arctic science – and not just the ones related to gaming. In the words of some inspired high school students:
"I learned how many different branches of science are present in Arctic research –a wide variety of careers."

"Environmental science must be studied from different angles – biology, chemistry, physics – to gain a full understanding."

"I realized that Arctic research is going to be forever on-going and with the research we are doing today, we can use it to determine how we should be acting or supporting actions around climate change."