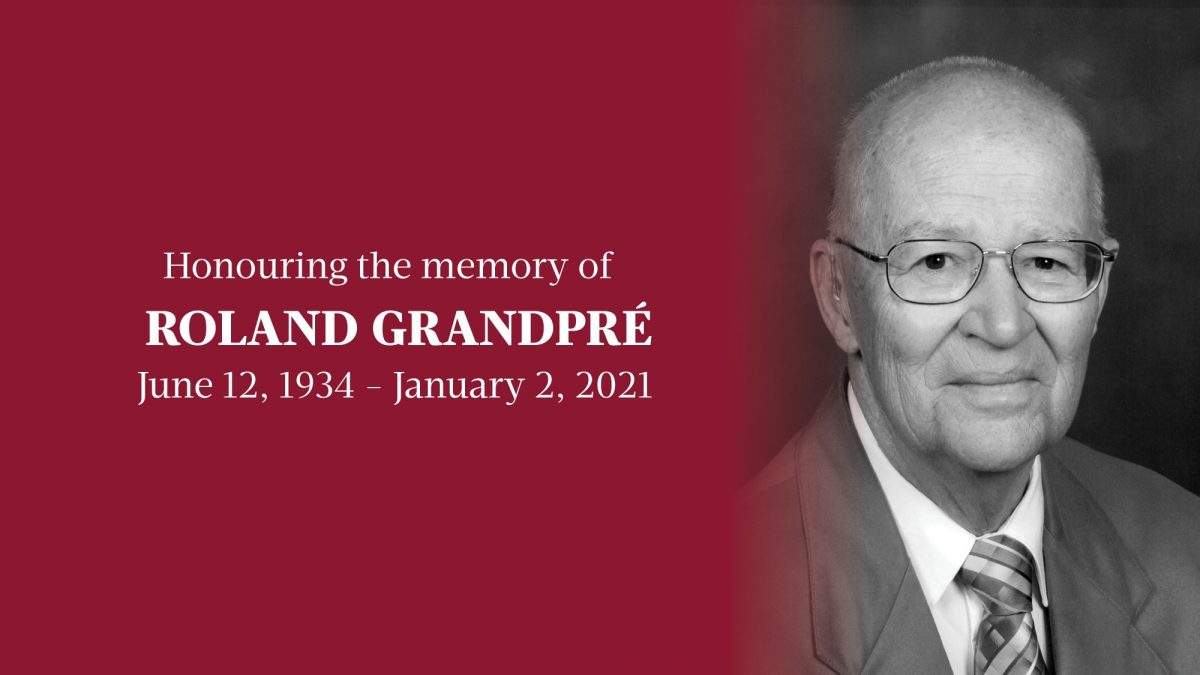 Honouring the Memory of Dean Emeritus, Roland Grandpré
Asper School of Business Dean Emeritus mourned by community on his passing on January 2, 2021
January 8, 2021 —
The Asper School of Business is mourning the loss of Dean Emeritus, Roland Gerard Grandpré, who passed away on January 2, 2021 at the age of 86.
Grandpré served as Dean of the Faculty of Management from 1981 to 1987. During this time, he had a strong vision for the School, with a focus on cultivating relationships with the business community.
Grandpré played a leading role in establishing The Associates, which may be considered as one of the most important events in the history of the School. Thanks to Grandpré's initial vision, The Associates have grown to become one of the most effective business support groups in Canada.
Another of Grandpré's goals was to create a new building, the time the School had reached its capacity in its present location. To support this vision, The Race for Space, a 10 km run around campus, was created and this initiative played a central role in funding the construction of a new building. At the end of his tenure in 1987, the Drake Centre opened.
Dean Grandpré had a number of other important accomplishments including an overhaul of the undergraduate curriculum, the establishment of an endowment fund to support a chair in actuarial science and the creation of the IDEA dinner, which has grown to be known as one of the premier events in Canada's business world.
Prior to becoming Dean of the School of Commerce, Dr. Grandpré was an Associate Dean of Continuing Management Education at the Owen Graduate School of Management at Vanderbilt University in Tennessee. He graduated from Merrimack College in Massachusetts and Columbia University in New York and was executive director of the Manitoba Institute of Management from 1967 to 1977.
Roland Grandpré played a central role in making the Asper School of Business what it is today and we will continue to enjoy his legacy for years to come.
Grandpré is survived by his wife of 63 years, Jacqueline Anne (Racicot); his brother Robert; his three daughters, Anne Marie, Clarice and Denise; his son-in-law Gregory Bihn; five grandchildren; three great-grandchildren; and numerous nieces and nephews.
The Asper School of Business and the Associates will be honouring the memory of Roland Grandpré at a virtual memorial on Friday, January 22, 2021.
To honour Dean Grandpré's legacy, The Associates have created a fund to support Asper students with financial need. If you'd like to make a gift in Dean Grandpré's memory, please donate here.