Honouring the groundbreaking legacy of Marshall McLuhan
The 'Winnipigeon' comes home
November 26, 2019 —
A bronze bust of U of M alumnus Herbert Marshall McLuhan (1911-1980) will be unveiled at a special symposium and reception at U of M Archives & Special Collections on Thursday, Nov. 28 from 1 to 4 p.m. The WinnipegREALTORS selected the communications giant as the 2019 Citizens Hall of Fame Inductee.
Michael McLuhan, youngest son of Marshall McLuhan, will give an illustrated talk at the symposium about his father's Winnipeg roots.
Visitors are welcome to drop in and view the bust at the archives, where it will remain in the Archives until next year when Assiniboine Park will reconstitute the Walk of Fame, currently suspended by the construction of Canada's Diversity Gardens.
McLuhan's influence on ideas about communication and information is widely acknowledged; his concept of a "global village" created by technology predicted the World Wide Web almost 30 years before it was invented. His work heavily influenced many cultural thinkers and media theorists such as Neil Postman and Timothy Leary, as well as politicians such as Pierre Elliott Trudeau and artist Andy Warhol.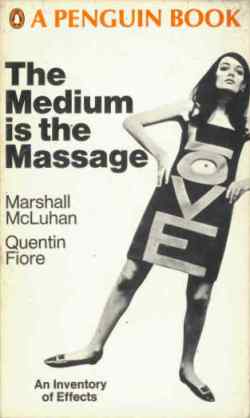 His phrase "the medium is the message" likewise revealed the intertwined relationship between technology and informational content. It was introduced in his 1964 book, Understanding Media: The Extensions of Man. A later book, entitled The Medium is the Massage: An Inventory of Effects, was published in 1967; the changed title, said to be a printer's error, was embraced by McLuhan as a playful and generative extension of the original idea.
The medium is the message. This is merely to say that the personal and social consequences of any medium – that is, of any extension of ourselves – result from the new scale that is introduced into our affairs by each extension of ourselves, or by any new technology.
-Marshall McLuhan
McLuhan's ideas saw a meteoric rise in the mid 1960s after the release of his most famous treatise Understanding Media (1964).
"Marshall McLuhan has also had a major effect on archival thinking, which is explored in his writing; this symposium will give listeners a new perspective on McLuhan's work," notes Shelley Sweeney, head of the Archives & Special Collections.
The 'Winnipigeon' comes home
Born in Edmonton, McLuhan grew up in Winnipeg after his family moved here in 1915. Upon graduating with a Masters of Arts degree in English at the University of Manitoba in 1934, he went on to the University of Cambridge (U.K.) to obtain a doctorate in 1943. He began teaching at the University of Toronto in 1946, where he remained for the rest of his career.
Some have argued that McLuhan's formative years in Winnipeg had a permanent effect on his thinking and writing. McLuhan converted to Roman Catholicism 1937, and much has also been written about the influence of his faith on his views.
He always considered himself a Winnipegger. In a 1970 interview with CBC's Danny Finkleman, he said, "Let's remember some of our happy days out west! Now [that] they're having their centenary, why, we think happily of returning with rest of the Winnipigeons, flocking back to the old spot." The interview was published in the 1974 collection of interviews Speaking of Winnipeg.
McLuhan's roots in Winnipeg will be explored at the symposium this Thursday. All are welcome.
Exhibit of Winnipeg-related McLuhan archives and artifacts curated by Howard R. Engel and Shelley Sweeney.
McLuhan Symposium Program
University of Manitoba Archives & Special Collections
1-1:30 PM Michael McLuhan, featured speaker, "Things My Father Told Me"
1:30-2:00 PM McLuhan Bust unveiling
Howard R. Engel & Esther G. Juce: Presentation of McLuhan nomination for Winnipeg Citizen's Hall of Fame
2-2:30 PM Jarrett Cole's documentary video on McLuhan's Winnipeg roots, Marshall McLuhan Lived Here.
2:30-3:00 PM Presentation of the Medium and the Light Award
3-3:30 PM Soft launch of McLuhan Faith and Works Conference Proceedings book, Of a Certain Winnipigeon and Religion: McLuhan's Faith & Works Conference Proceedings
3:30-4:00 PM Richard Altman's new abridged version of his avant-garde video McLuhan Unclaimed: I Am a Winnipigeon
4—5:30 PM Reception