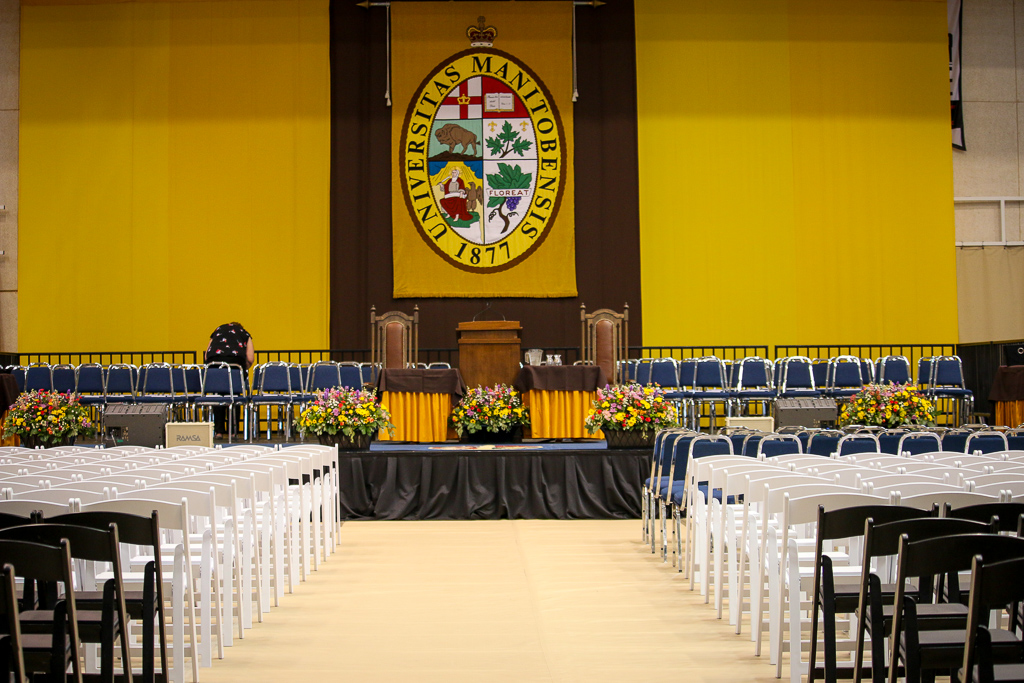 Honorary degrees bestowed upon exceptional individuals at Fall Convocation 2021
October 13, 2021 —
Convocation ceremonies at the University of Manitoba celebrate new graduates as well as bestow honorary degrees upon exceptional individuals who have achieved pre-eminence in the advancement of science, culture, scholarship and leadership.
At the university's upcoming 54th Fall Convocation ceremonies on October 18-21 and November 10, 2021, the following remarkable individuals will be awarded honorary degrees:
The Honourable Patricia Bovey, appointed to her present position by Prime Minister Justin Trudeau in 2016, is the first art historian and museologist to be appointed to the Senate. A native Winnipegger, over her more than 45-year career in the fine arts, Senator Bovey has revitalized galleries and community arts organizations, promoted Canadian artists and helped guide cultural policy at both national and provincial levels.
Senator Bovey has served on many national committees including as Deputy-Chair of the Senate's Transport and Communications Committee, its Social Affairs, Science and Technology Committee, and the Special Senate Committee on the Arctic.
Growing up in a family that valued art and history, Senator Bovey became a curator of traditional art at the Winnipeg Art Gallery in 1970 before heading west to B.C. As director of the Art Gallery of Greater Victoria from 1980 to 1999, Ms. Bovey turned it into a major tourist destination that was largely self-sufficient—an incredible feat for a Canadian art gallery. She guided the direction of Canada's best-known arts organizations, serving on the boards of the National Gallery of Canada (2005-2009) and the Canada Council for the Arts (1990-1993).
Locally, Senator Bovey changed the landscape of fine art in Winnipeg as director of the Winnipeg Art Gallery (1999-2004) and as a founder of St. Boniface Hospital's Buhler Gallery, serving as its director and curator (2007-2016). Ms. Bovey was also a member of the Public Art Committee of the City of Winnipeg (2003-2007) and the Mayor's Task Force on Public Art (2002-2003).
At UM, Senator Bovey established post-secondary programs, led in governing the University of Manitoba on the Board of Governors (2007-2016, Chair 2013-2016), and was a dedicated member of the President's Campaign Team for the Front and Centre campaign.
Among her many accolades and honours, Senator Bovey is a Fellow of the Royal Society of Arts (UK), and a Fellow of the Canadian Museums Association. She received the Canada 125 Medal, the Queen's Golden Jubilee Medal, was Winnipeg's 2002 Woman of Distinction for the Arts, and received the Canadian Museums' Association Distinguished Service Award, and the Winnipeg Arts Council's 2015 Making a Difference Award.
An independent Senator, Senator Bovey is arguably Canada's leading government advocate for the visual arts. She has spoken in the Chamber about the impact of the arts, especially on health and crime prevention and has stated her goal is to ensure the voice of arts and culture is heard in the Senate and in every sector of our society.
The University of Manitoba is proud to recognize Senator Bovey for her work advocating for the visual arts by bestowing upon her its highest honour, a Doctor of Laws, honoris causa.
Diana DeLaronde-Colombe demonstrates the impact one person can have on a community. She is being recognized for her dedication and commitment to Manitoba's northern communities and their people, addressing issues such as food security, access to health care, job training, transportation, and housing.
In 2001, wanting to make an impact in her community of Wabowden, Manitoba, Ms. DeLaronde-Colombe created the community development office. She quickly began facilitating programs, such as Truck Driver Training, to help others find employment.
She soon realized, however, that if she brought more communities together, their collective voice would ring louder in the ears of funders and they could achieve greater goals. So she brought together Councillors and other leaders from six communities along the rail line, from Ilford to Cormorant, and they created the Bayline Regional Roundtable.
In this new enterprise, Ms. DeLaronde-Colombe gave herself the title of "Animator" because that is how she views her role in all endeavours: as someone there to empower and impassion others. And she did. And she does.
Solving food security issues in Northern communities had troubled many before her, yet she saw an elegant and sustainable path forward. Following her vision, the Roundtable sought and received funding from the Public Health Agency of Canada and other funders, which facilitated the purchase of a shipment of freezers to store the fish and meat hunted along with bulk food purchases. These freezers were provided to community members at cost, and the repayments were used to purchase even more freezers. To further help people maintain healthy diets, she facilitated programming that taught people how to garden, raise poultry and then preserve and can their food.
She championed this Northern Foods Initiative, and it led to the development of the Manitoba Food Charter, which then grew to become Food Matters Manitoba. Today, the legacy of her original project is astounding: in its modern form, it helps 80 per cent of Manitoban communities. Recognizing this impact, in 2007 she received the Capturing Opportunities-Outstanding Community Leadership Award from Manitoba Agriculture Food and Rural Initiatives.
Ms. DeLaronde-Colombe is also active in the community in other ways, fundraising and helping start new recreational opportunities for children and youth. Indeed, in 2007, after receiving the Women's World Summit Foundation Prize for Women's Creativity in Rural Life from an international NGO (the first Canadian to earn such an honour), she used her prize money to purchase playground equipment for children in Wabowden. And last year, she led a fundraising campaign which helped the local musicians purchase audio equipment that has allowed them to continue to benefit the community.
"Anything that is going to empower someone else to make a difference, is where I will put my energy," she says.
Ms. Diana DeLaronde-Colombe is a compassionate leader who always acts in the interests of others. And the University of Manitoba is honoured to celebrate her creativity and commitment to improving the lives of countless Manitobans by awarding a Doctor of Laws, honoris causa.
For details on Fall Convocation 2021, click here.