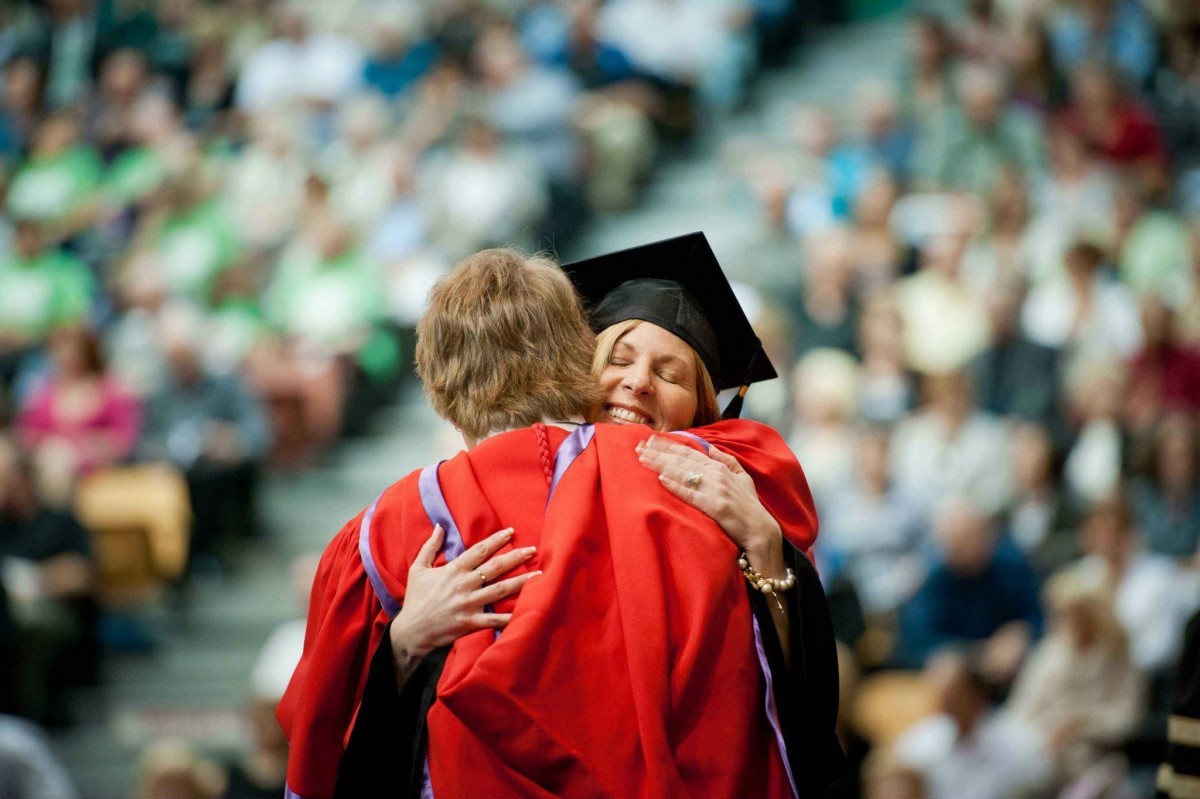 Honorary degree recipients for 2017 recognized as advocates for marginalized people, Indigenous rights, philanthropy, and passion
May 30, 2017 —
Each year, the University of Manitoba bestows honorary degrees upon individuals who have achieved preeminence in the advancement of culture, communications, education, administration, scholarship, leadership, philanthropy, mentorship and business.
During the 138th annual Spring Convocation of the University of Manitoba, the following noteworthy individuals will be awarded honorary degrees:
Her Excellency Sharon Johnston, CC, BA(Western), BSc(Toronto), MSc, PhD(McGill), LLD
Sharon Johnston has given her formidable knowledge, a sympathetic ear and a visible platform to those living with mental illness. Her Excellency, wife of Governor-General David Johnston, has advocated for all Canadians, from our children to our nation's civil service, and urges us to consider mental illness in the same way we would any other illness. Beyond her mental health advocacy, she served on the Board of Governors for the Collège Marie de France and Bishop's College School, and co-founded Friends of the Neuro at the Montreal Neurological Institute, which provides support for patients and their families.
Doctor of Laws
Medicine Convocation, Bannatyne Campus, May 18, 2017, 10:30 a.m.
Tomson Highway, CM, BMus(Western), LLD
Cree dramatist, novelist, and performer Tomson Highway is one of Canada's most celebrated playwrights, and a vocal advocate for Indigenous peoples. Born on the tundra in December of 1951, he is the proud son of caribou hunter and avid dogsled racer, Joe Highway, and artist Pelagie Highway. He enjoyed a rich, early childhood in the northern reaches of Manitoba. His father wanted him to receive the education he could not access so he sent him to Residential School. That's where a young Tomson found music and developed a love for playing the piano. He earned a degree in piano performance, but chose a career in social work. He devoted himself to developing cultural-educational programs and passionately working with Indigenous peoples on issues such as crime, addiction, and family separation. Highway became a Member of the Order of Canada (1994) and in 2000, Maclean's named him one of the 100 most important people in Canadian history.
Doctor of Letters
Investors Group Athletic Centre (IGAC), Fort Garry Campus, June 6, 2017, 9:30 a.m.
Sandra Pitblado, BA(Toronto), LLD
Sandra Pitblado is one of Canada's greatest patrons of our dance and theatre communities. Her support of The National Ballet of Canada has been particularly profound. During her term as chair of the Stratford Festival from 1999 to 2001, she helped to facilitate the launch of the highly respected organization's endowment foundation, as well as establish the Conservatory for Classical Theatre Training. The Avon Theatre was rebuilt and the Studio Theatre was constructed thanks to a significant leading gift from Sandra Pitblado and her husband Jim Pitblado. They are loyal supporters of The Hospital for Sick Children and its SickKids Foundation, where they established a Chair in Cell Biology, in memory of their son, David, who lost his battle with cancer in 2004.
Doctor of Laws
Investors Group Athletic Centre (IGAC), Fort Garry Campus, June 6, 2017 3:00 p.m.
Gerry V. Price, BSc(ME), MSc(Manitoba), PhD(Lehigh)
Gerry Price is chairman and CEO of the Price Group of Companies. Since he became president in 1986, the company has grown from 250 employees to more than 3,000, and sales from $30 million to over $550 million, with 19 sales offices and 13 manufacturing sites across North America. At the University of Manitoba, Price has established and contributed to scholarships for engineering and architecture students, supported facilities in the Faculty of Engineering and recently established a bursary fund for Indigenous engineering students. In 2015, Dr. Price joined the President's Campaign team for the Front and Centre campaign.
Doctor of Laws
Investors Group Athletic Centre (IGAC), Fort Garry Campus, June 7, 2017, 9:30 a.m.
J. Derek Riley, CM, BComm, CA(Manitoba)
Mr. John Derek Riley is a former Olympic athlete and war veteran, beyond his career as a businessman and a philanthropist of the highest order. He saw challenge and opportunity in Dominion Bronze & Iron Limited, and spent over 25 years turning the firm into a highly profitable architectural metal company as president and CEO. In 1987, at the age of 65, he became a founding investor and first chair of the North West Company, and was instrumental in brokering its purchase from the Hudson's Bay Company. His generosity to his community has improved the lives of Manitobans through organizations such as the Assiniboine Park Conservancy, Canadian Museum for Human Rights, United Way, Winnipeg Foundation, Royal Winnipeg Ballet, and Royal Manitoba Theatre Centre.
Doctor of Laws
Investors Group Athletic Centre (IGAC), Fort Garry Campus, June 7, 2017, 3:00 p.m.
Jennifer Jones, OM, MSM, BA, LLB(Manitoba)
Born and raised in Winnipeg, Jennifer Jones grew up watching her parents curl at the local rink in their Windsor Park neighbourhood and by age 11, she started playing the popular winter sport in earnest. By age 16, she had won her first of three Manitoba Junior Championships. She is a seven-time provincial champion, with an inaugural win in 2002; a five-time Canadian champion, with her first victory in 2005; and has achieved bronze, silver and gold medals at the world curling championships and Olympic gold in Sochi in 2014. A corporate lawyer, she is currently a senior advisor and community ambassador at National Bank Financial and serves on the board of the Health Sciences Centre Foundation.
Doctor of Laws
Investors Group Athletic Centre (IGAC), Fort Garry Campus, June 8, 2017, 9:30 a.m.
Thomas Denton, OM, BA(Acadia), LLB(Dalhousie)
Thomas Denton has been called "the godfather of the refugee settlement sector in Canada." From 1984 to 2000, he was the executive director at the International Centre of Winnipeg, supporting the needs of government-aided refugees. When he became frustrated by the number of people still turned away by the government, he created a platform through his church to bring in privately sponsored refugees. He has served on the Council of the Sponsorship Agreement Holders of Canada; the Canadian Council for Refugees; the Premier's Economic Advisory Council Immigration Task Force; and as chair of the Manitoba Immigration Council. In 2006, he became executive director at the Hospitality House Refugee Ministry.
Doctor of Laws
Investors Group Athletic Centre (IGAC), Fort Garry Campus, June 8, 2017, 3:00 p.m.
Maria Chaput, Certificat en gérontologie (Manitoba), Certificat en administration (Saskatoon), Certificat en gestion culturelle (Banff)
Mme Chaput was instrumental in establishing legal rights to accessing schooling in both official languages, leading to the creation in 1994 of Division Scolaire Franco-Manitobaine, which today educates more than 5,000 students in 24 schools province-wide. In 1984, Mme Chaput expanded her advocacy to the arts as executive director at Centre Culturel Franco-Manitobain. She understands the need to create in one's native language, and has said, "If I couldn't speak French, part of my heart would be missing." In 2002, Mme Chaput was the first Franco-Manitoban woman appointed to the Senate.
Doctor of Laws
Université de Saint-Boniface, June 12, 2017, 2:00 p.m.
Each session of Convocation will be streamed online. Follow #umanitoba2017 on Twitter and Instagram.