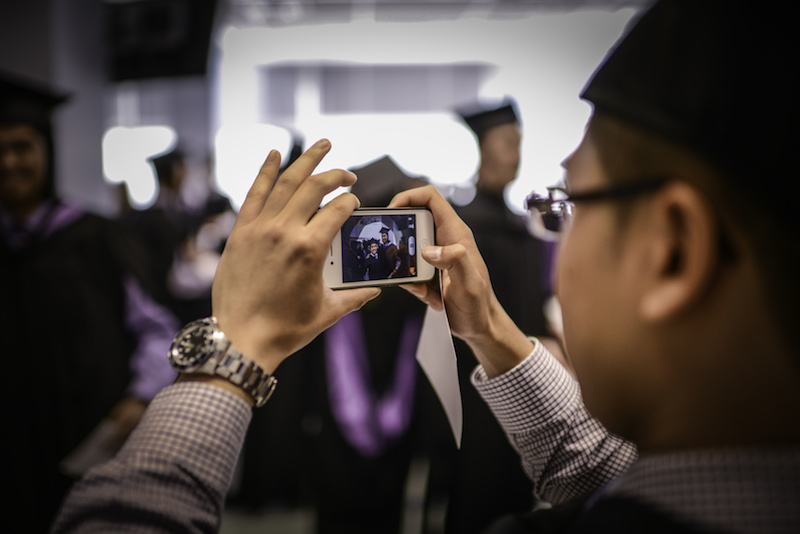 High number of self-identified Indigenous students among 107 Med grads
All nine self-identified Aboriginal physicians to stay in province
May 13, 2015 —
Manitoba's medical school will graduate its first class of MDs since integrating into the Faculty of Health Sciences. Tomorrow morning 107 students from the College of Medicine will be surrounded by friends and family as they take their final steps toward earning their medical degree.
College of Medicine Convocation
Thursday, May 14, 2015, 10:30 a.m.
Brodie Centre Atrium, 727 McDermot Avenue
University of Manitoba Bannatyne Campus
Within the graduating class is the largest number of self-identified Aboriginal students in the past five years; all nine self-declared students will stay in Manitoba to complete their residency with five grads proceeding into family medicine (two within the Northern/Remote Stream).
Of the grads staying in Manitoba, 34 are proceeding into family medicine. This year all 11 spots in the Northern/Remote have been filled by U of M grads.
"Our society, undoubtedly – and perhaps now more than ever – needs family physicians to provide patient-centred care, to treat our aging populations, to advocate and navigate the complex medical system on behalf of individual patients," says Brian Postl [MD/76], Dean, College of Medicine.
"We're very fortunate to see a steady growth in the number in medical graduates who will go on to become highly specialized family physicians able to diagnose and treat our most vulnerable patients."
The Honourable Sharon Blady, Minister of Health will join President David Barnard, Chancellor Harvey Secter, graduates, faculty, award winners and guests at the College of Medicine Convocation ceremony.
The Convocation also includes the presentation of an Honorary Doctor of Laws degree to Canada's foremost public health reporter André Picard.
Honorary Degree recipient André Picard
In 1987 journalist André Picard put a human face on the AIDS crisis, forever changing the way the disease and its victims are perceived and treated. Three years later, he exposed the Canadian tainted blood scandal, prompting a complete overhaul of the national blood system and ensuring a safer, more transparent health-care system for all Canadians.
This is what defenders do. This is what challengers do.
For almost 30 years, Mr. Picard has been one of the most admired, respected and relevant journalists in Canada. The Franco-Ontarian from North Bay never imagined he would stay at the Globe and Mail for long, but it's been decades since he began writing for the national newspaper and people still want to know what André Picard has on his mind. He has a loyal following that continues to grow among young and emerging generations who read his articles, listen to his radio interviews, watch him on television or read his thought-provoking tweets.
Mr. Picard was a business student at the University of Ottawa when he was first attracted to journalism. It took some persuading from a friend, but he soon started writing album reviews for the Fulcrum—an independent English-language student-run newspaper. He'd go on to become the paper's arts editor, then editor-in-chief.
When Mr. Picard joined the Globe and Mail in 1987, he focused his reporting on the AIDS crisis – specifically on the men and women suffering from the fatal disease and the stereotypes which went along with the diagnosis. It was a time when most media outlets didn't explore the human side of the disease, and many reporters avoided the subject altogether. Mr. Picard's bold AIDS reporting changed our national attitudes and our public policy. By 1990, Mr. Picard assumed the health beat and continued to challenge the system. It was Mr. Picard and a colleague who discovered that provincial governments across Canada conspired to deny compensation to victims of tainted blood transfusions. Within weeks, provinces changed their policies and provided $159 million in victim compensation. For this reporting he won the 1993 Michener Award for public-service journalism.
That was only the beginning of the awards and accolades to come: Mr. Picard was honoured with the Outstanding Leadership in Cancer Control Prize from the International Campaign to Control Cancer. He was celebrated as the top health reporter in the Americas by receiving the Centennial Prize of the Pan-American Health Organization. He was named Canada's top newspaper columnist in 2010, and is a six-time finalist for the National Newspaper Awards.
Mr. Picard has achieved success for many reasons, his integrity and intelligence being key contributors. But his ability to gain and hold trust cannot be overstated. Many health-care professionals are wary to speak with journalists, but Mr. Picard stands as one of the most trusted.
It is why the University of Manitoba's College of Medicine solicited his expertise to contribute to the Evidence Network of Canadian Health Policy. This network was created to bridge the gap between academics and journalists so that mainstream media can support their stories with the best science possible. In true Picard style, André Picard provided invaluable insights that improved the network, resulting in our nation being better informed.
Mr. Picard is a leader in health-care journalism in Canada. Throughout his career he has given a voice to the voiceless, defended the truth, and challenged our thinking. It is with pride that the University of Manitoba bestows upon him an honorary Doctor of Laws, honoris causa.