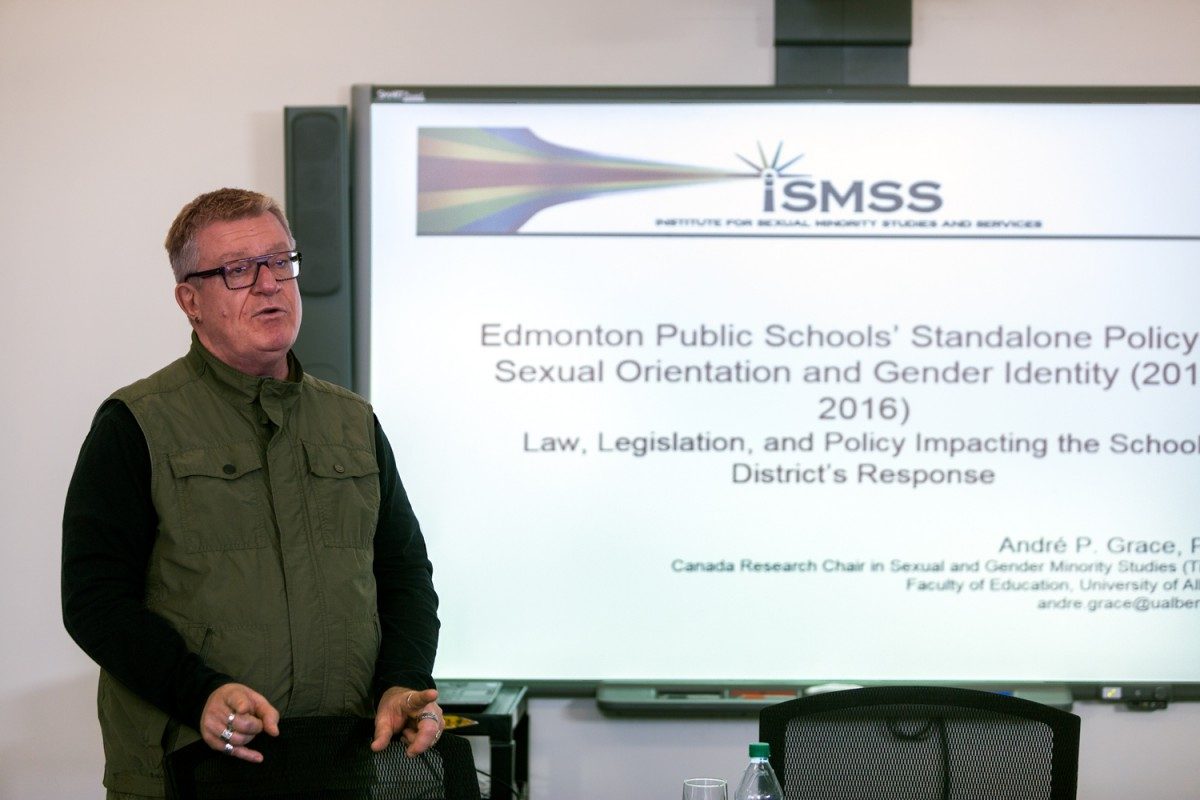 Helping youth to grow into resilience
Prof. urges teachers to develop networks of support
November 1, 2017 —
Having experienced first-hand the trauma associated with homophobia growing up, Dr. Andre Grace felt obligated to give back to make life better for the LGBTQ community.
"I just know from my own personal history, and from doing this work over the years that so many people who are LGBT go through isolation and disconnection, and just the trauma of growing up LGBT, dealing with internalized homophobia or internalized transphobia, which then takes a toll on your health," Grace said during a one-on-one interview before a presentation to Arc Education, a gay-straight alliance at the University of Manitoba's Faculty of Education.
Now, as a Canada Research Chair in sexual and gender minority youth at University of Alberta, Grace is currently sharing his concept of "Growing into Resilience", an idea that arose out of research and experiences with Comprehensive Health Education Workers (CHEW), a project supporting street-involved and homeless youth in inner-city Edmonton.
The project highlighted for Grace how LGBTQ youth experience trauma, and consequently develop emotional and social resources for coping with adversity.
"I looked at this notion of stressors and risk-taking that really impact their lives because resilience actually has to start from a deep of experience of adversity and trauma," Grace says, adding that CHEW works with youth whether or not they identify as LGBTQ.
The project delivers government-funded wraparound services, providing support for mental and sexual health issues, and also social supports, such as getting the youth back in school or reunifying them with family, if appropriate. Grace says the services are based on what he calls a 3Cs model that includes comprehensive health supports, community intervention and outreach, as well as compassionate policing. CHEW works closely with Edmonton police, vice and remand, all of the units that these vulnerable youth are likely to encounter.
"If one of our youth commits a survival crime, they don't charge the kid, they call us, and we are able to get interim services for that kid, a place to sleep, food if they're hungry, help them deal with their issues," Grace says, adding that in cases serious crimes, the project helps the youth to navigate the legal system, and then supports them when they get out of jail to help reduce recidivism rates.
For those attending his talk, Grace wants practising teachers and pre-service teachers to take away the lessons about the benefits of CHEW's wraparound network of supports for youth, but moreover, to be aware of the issues that students in their classroom may be coping with issues related to trauma.
"They will have kids in their classrooms who are couch surfing because they don't have a home to go to," Grace says. "They may be in foster care or in a group home, and then they'll experience homophobia or transphobia, and they leave the foster family or the group home because they just feel safer on the street."
Grace urges teachers to be sensitive to youth living with adversity, who he says are doing their best to navigate schools.
"Teachers have an ethical responsibility to be teachers, but they don't necessarily have the skills to be counsellors or social workers," Grace says, adding that teachers can help these students by networking with other caring professionals to create teams of support as a part of a holistic wraparound approach.