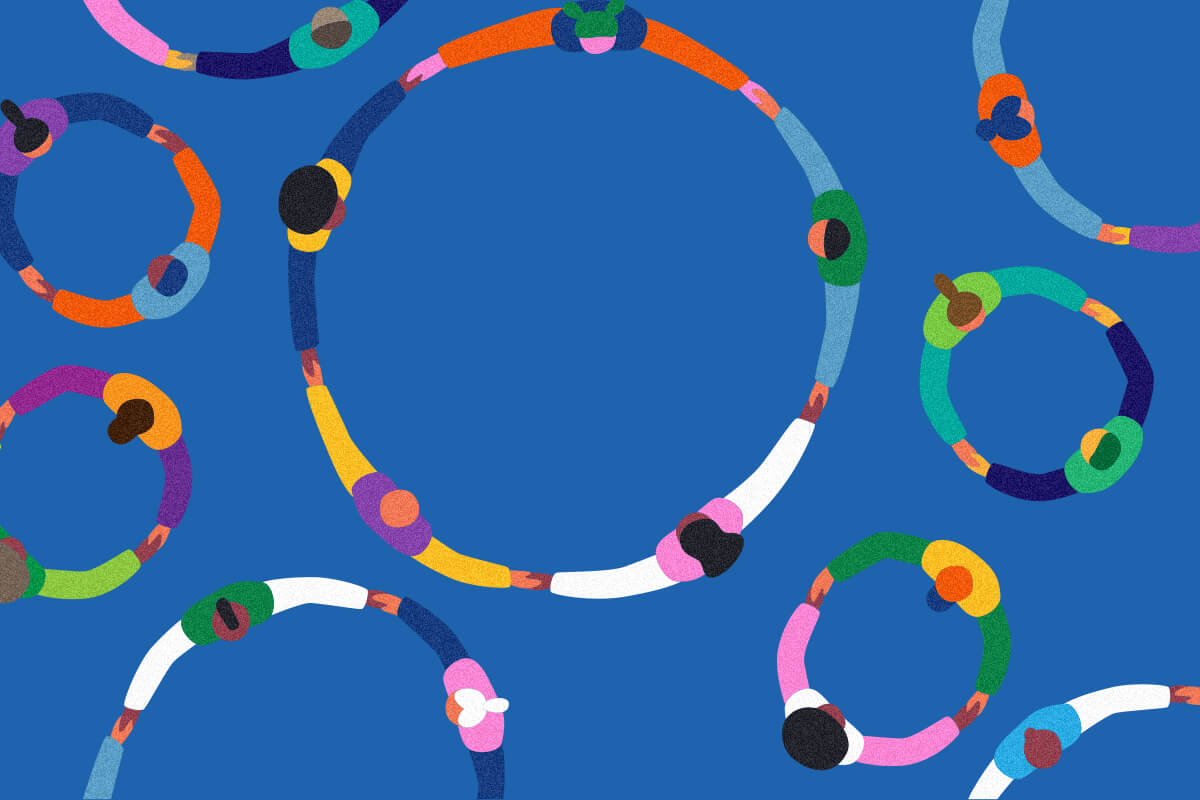 Hello, Haiku
UM community members give us their best Haiku on the theme of connections
September 11, 2023 —
In 2011 we didn't break any poetic rules, but this year we are, and we may very well face some poetic justice. Back then, the president's office held a haiku contest to select the annual winter greeting card's inscription. The late Barbara Crutchley, former director of research services, won with her entry: Crystalline flowers/drifting peaceful reflections/giving is joyous.
The haiku style dates back to 17th century Japan and is intended to focus on nature, which Crutchley's poem does. But this time around, to capture the spirit of Homecoming celebrations, Town Halls and 'How-was-your summer?' catchups, we asked UM community members for their best Haiku on the theme of connection through their lens. Meet these somewhat reluctant poets as they bring us together, 17 syllables at a time.
Packing and unpacking
Every year our campus swells to the size of a small city as students and faculty return from all parts of the globe. Hang out by any residence on move-in day and you witness a great academic migration as 1,350 excited students from over 75 countries meet new friends and settle into fresh dorms. It's an energy Barry Stone, director of student residences, loves. And these students are deeply connected to this community: living on campus provides unique engagement opportunities, cultural connections and support systems that all contribute to student success and an unparalleled sense of belonging.
This is Stone's haiku:
Futures far and near
Alone together at once
Connections untold
Growing joy
Trust Beta, a Canada Research Chair in Grain-Based Functional Foods in the Faculty of Agricultural and Food Sciences, explores how food, especially whole grains and cereals, connects to health. She understood this connection even as little girl drying corn under Zimbabwe's sun for her mother. Today, her lab has catalogued more than 30 phytochemicals—non-nutrient chemicals, like antioxidants, made by a plant—in wild rice, wheat, barley, corn and rice, and companies such as Kellogg and Heinz seek her expertise to make their products healthier.
This is Beta's haiku:
Produce diverse food
Enriching lives everywhere
Planting health and joy
Show kindness
Knowledge Keeper Kim Guimond returned to her alma mater in early 2023, having graduated from the Faculty of Education in 2000. She is a proud Anishinaabe Ikwe from Sagkeeng First Nation, who taught junior high students there for 17 years, following in the footsteps of her mother. In 2017, Guimond took on a new challenge and worked with four other teachers from different communities to launch the Ojibwe Bilingual Program at Seven Oaks School Division—a first of its kind in Winnipeg. Today she's honoured to be in Migizii-Agamik (Bald Eagle Lodge) providing support, guidance and connection to students who need it. (She is available Wed-Fri from 8:30 a.m. to 4:30 p.m.)
These are Guimond's haikus:
Ancestors guide us.
Threads of culture intertwine.
Roots, everlasting.
And a haiku in Ojibwe, with translation:
Anishinaabe. (Indigenous).
Mino-bimaadiziwin (Lives a good life).
Minode'e win (if you show kindness).
Men-tor
Warren Clarke, an assistant professor of sociocultural anthropology who came to UM in 2021, is interested in a broad range of topics from race to masculinity to liberalism, paying particular attention to how Canadian social norms continue to affect the social development of African and Caribbean Black men. He refers to himself as a public scholar as his research and outreach takes place in public spaces, from barbershops where he runs The Barbershop Talk Series: Black Men & Misconceptions, to high schools where he has students learn about anti-oppressive behaviours through theatre. The theme of all his work is helping Black youth overcome social barriers and so he founded The Afro-Caribbean Mentorship Program, which operates a variety of programs that build connections.
This is Clarke's haiku:
Inspiring and
Paying it forward to Black
Youth is my passion
Flowing
Barry Prentice, professor of supply chain management in the Asper School of Business, has spent his life studying literal connections: how we flow goods, how we move people, how we bring A to B. He's been in the media for his work on airships, airports, and sea ports and has even weighed in on how Winnipeg bus routes should work.
This is his haiku:
Buoyant flight is green
What is old is new again
Let's join North to South
Needful things
Back in April 2020, when COVID was severing our in-person connections, anthropology professor Kent Fowler published a paper that defied such isolationism. The paper in PLOS One described how he accurately dated and identified the sex of fingerprints left in ancient pottery. His quote then still rings true to him today: "These are the fingerprints of 4,700-year-old people! Right there to see. To connect with. It is very intimate."
This is his haiku:
They work together
with mud in the summer sun
to make needful things
Ancient bond
Meghan Azad, Canada Research Chair in Developmental Origins of Chronic Disease in the College of Medicine, studies how experiences in utero and during infancy shape lifelong health. One of the most enlightened people when it comes to our ancient, foundational, beautifully mammalian connection between mother and child, Azad researches breast milk and secured a $6.5 million grant from the Bill and Melinda Gates Foundation. She's also the first female UM researcher to receive the prestigious Steacie Prize.
This is Azad's haiku:
Breast milk is not just
food but also medicine
and a lifelong bond
Paper coffee
If you're not near retirement age, the University of Manitoba Retirees Association (UMRA) is an organization you might not be aware of, but it has over 800 members. UMRA is a community of university retirees that focuses on enriching the lives of its members through advocacy and community. In addition to defending the interests of retirees in the pension and benefits plans of the University, UMRA encourages retirees to support the United Way (in 2022 retirees' donations totaled nearly $350,000) and it sponsors the student competition 3MT, as well as bursaries and scholarships.
Dennis Cooley, professor emeritus in the department of English, Theatre, Film & Media, wrote this haiku on behalf of UMRA:
Whenever they meet
there is plenty of coffee
plenty of paper