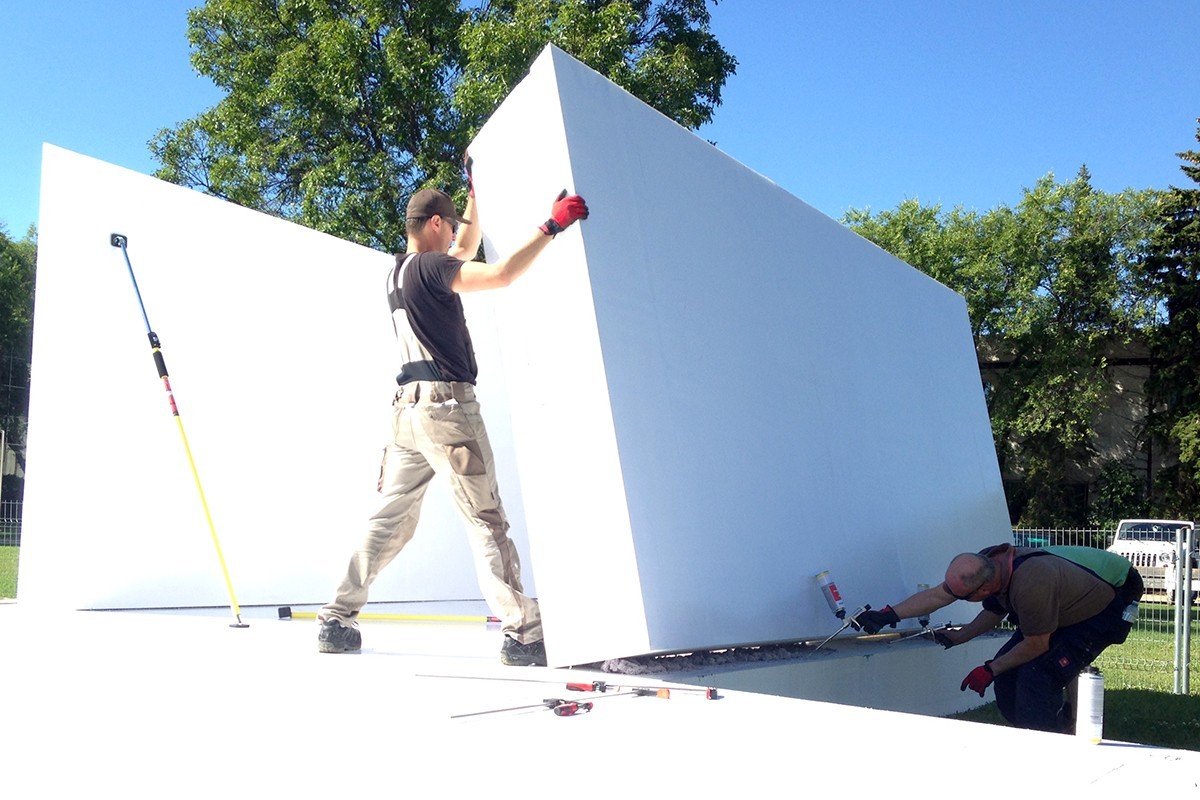 Heating your home with only one light bulb
August 26, 2015 —
A "testbox" building has been set up on the lawn outside the Faculty of Architecture to demonstrate low-cost, high-efficiency building construction that may someday be used in remote locations. 
The Faculty of Architecture, University of Manitoba, the Partners Program, Partner–in–Residence and Manitoba Hydro are working with IQ Tec of Luxembourg to test their novel building material SkinTec, a fiber-reinforced composite assembly that can be formed into insulated sandwich panels for economical pre-fabricated housing.
The technology purports to have a higher strength-to-weight ratio, enabling structural sandwich panels to be installed quickly and easily, without using mechanized lifting equipment. The "Permafrost Testbox" is a temporary installation of the ThermoTec panels on the University of Manitoba Fort Garry campus that will be monitored and examined as a sustainable system for durability, thermal performance and demountability. Numerous sensors will be installed in the testbox, and the resultant data will be supplemented by blower-door and infrared tests to determine whether the material has a viable application for economical, high-performance housing in severe climate conditions with extreme cold events and warmer summer temperatures at challenging annual fluctuation.
"The Faculty of Architecture is thrilled to host an innovative program in materials research on the premises of the John A. Russell Building," says Ralph Stern, Dean of the Faculty of Architecture. "We have been working with Manitoba Hydro over the last few years in identifying areas of common ground for innovation and materials such as those utilized by the Test Box—materials that are lightweight and high performance with regard to insulation values—point the way to an energy-efficient future. Such materials are of particular significance in the Canadian North, where transportation costs are often of particular concern with regard to overall construction costs. It is also, of course, of potential significance to the University as it continues to work towards realizing its vision for the Fort Garry Campus Master Plan."
There have been examples of innovative architecture made out of this material before, and if testing of the box is positive, SkinTec could have broad usage in urban, rural and especially northern communities. The cost of the material is no more expensive than conventional construction material, but depending on volume it could be more cost effective.
The advantage of ThermoTec panels for building are:
Very simple panel construction: the SkinTec comes in rolls and can be delivered near the jobsite. The insulation panels can be purchased locally, and are readily available around the world. The composite panels can be manufactured at the site, with minimal equipment and expertise required.
Lightweight: The ThermoTec panels are essentially the weight of the insulation material alone (Styrofoam) so they are very easy to work with. A one-story house can be built without the use of cranes or heavy equipment.

Simple panel connections: Connection of the panels into a house is done very simply

―

by using a foaming glue/sealant that connects the panels and completes the air/vapour barrier. Expert tradespeople are not required for basic construction.

Thermal performance: with the continuous insulation and minimal material interfaces, a ThermoTec house will be very well-insulated and require minimal energy for heating. For example, a 800 ft² house built out of 45cm-thick panels could be heated by a single 60W light bulb.
IQ Tec has donated the material and labour for testing purposes. Testing strategies include:
Air tightness testing to measure air leakage

Thermal testing to measure heat loss
Infrared camera testing to visually identify air leakage/heat loss
Data loggers to measure passive solar heating
Durability testing: monitoring the joints and connections
Demountability: can the material be taken apart and re-attached at a different location without difficulty?