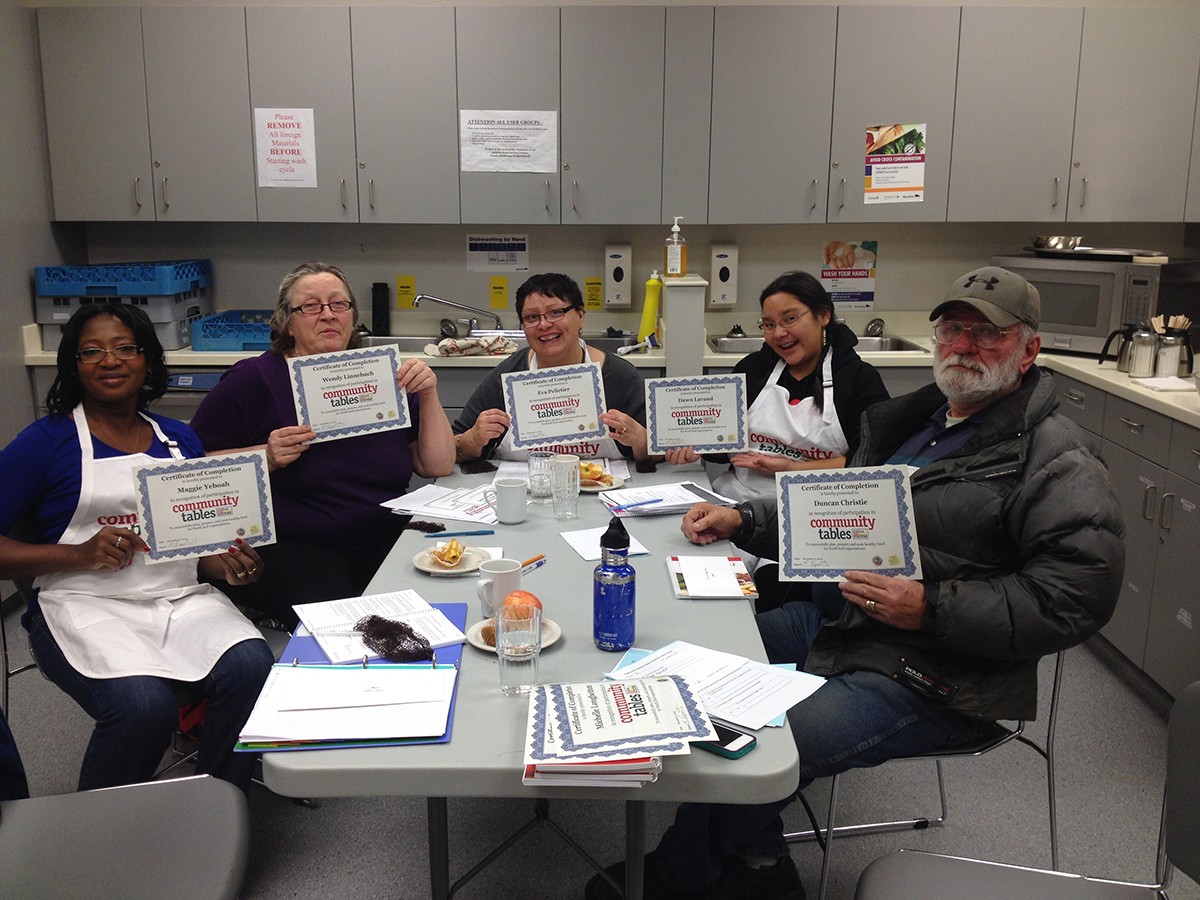 Healthier meal programs: Working with community organizations in the North End
February 18, 2015 —
WHAT: In 2007, the United Nations declared February 20th as the World Day of Social Justice to promote the collaboration between international communities to eradicate poverty, unemployment, gender inequality and other global justice issues. The United Nations invites the global community to promote activities that promote social well-being and justice for all.
In the spirit of World Day of Social Justice, Dr. Joyce Slater, Professor of Human Nutritional Science, works to promote social justice through the Community Tables program. She has successfully partnered with Food Matters Manitoba and the North End Food Security Network to equip community organizations in Winnipeg's North End with the knowledge and practical tools to run healthy snack or meal programs.
HOW IT STARTED: In 2011, Slater and student research assistant Jennifer Bewza teamed up with Food Matters Manitoba and the North End Food Security Network to do a community food assessment in the Winnipeg neighborhood. Food Matters partners with northerners, newcomers, farmers and families to harvest, prepare and share good food. The North End Food Security Network is a non-profit organization that aims to improve the health of its residents by making the local food system more sustainable, accessible and equitable. The assessment showed high levels of poverty and food insecurity, with many community-based agencies providing area residents with emergency and supplemental food through food banks, and meal and snack programs. The individuals running the programs said they wanted to improve the quality of food they were serving and improve staff and volunteers' knowledge of healthy eating.
HOW IT WORKS: Community Tables—which is just one of several projects done in partnership with the trio—consists of a training manual and a five-module training program focusing on basic nutrition, food safety, and traditional Indigenous foods with an urban focus. The 'students' are staff and volunteers of community-based North End agencies serving food as part of their programming. In addition to learning about healthy, safe and culturally-acceptable foods, participating organizations are guided to develop their own healthy food policies. "This could be anything from no longer serving pop and restricting juice, to ensuring that traditional foods are part of the menu," says Slater.
THE GOAL: To improve the food security of North End community-based agencies by increasing their capacity to serve healthy, culturally-acceptable foods to their clientele.
ITS REACH: Community Tables was pilot-tested in spring 2014, modified, and to date has trained 14 community agency staff members and volunteers, with another 20 enrolled in a session now underway.
WHY IT'S IMPORTANT: "Winnipeg's North End is a vibrant, energetic community with diverse populations. Unfortunately, the North End has disproportionately high levels of poverty and food insecurity," says Slater. "Community Tables is one of many initiatives that have developed in the North End in recent years to improve the food security of residents."
THE INSPIRATION: "Working with the community—agencies, organizations and community residents—is immensely rewarding," says Slater. "This work allows us to see real change in our city, allows us to develop meaningful relationships, and challenges us to listen to residents as experts in their communities. It also pulls us off campus to engage with the real, often messy world which doesn't always conform to our research 'models'. Working with community is sometimes unpredictable, but always exciting and rewarding."
A MOMENT THAT MATTERED: "A Community Tables graduate was very excited after implementing a healthy food policy in her organization because she saw a positive reaction from the community. Another stated, 'If this is healthy eating, I'm in!'" says Slater.
NEXT STEPS: Kerry Spence, a University of Manitoba human nutritional sciences master's student, is undertaking a full evaluation of the program for her thesis research. "Early results indicate the program is a success," says Slater. "We intend to hold further training sessions in 2015 and hope to secure funding to expand Community Tables to other parts of Winnipeg, and possibly beyond."
---
FUNDERS: Public Health Agency of Canada, Food Matters Manitoba, and North End Food Security Network (in kind)
---
LEARN MORE
To see the impact the University of Manitoba has on the global community take a look at this map. If you have a community-minded story to tell, please do so by submitting your story here.
---
About World Day of Social Justice