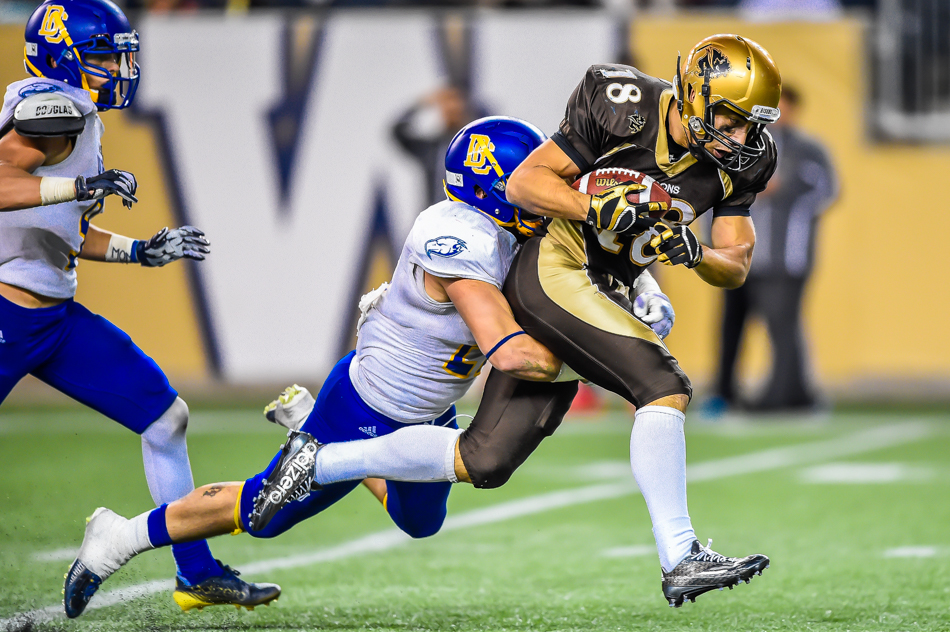 Heading to the CFL
Four Manitoba Bisons picked in Canadian Football League draft
May 11, 2016 —
Four Manitoba Bisons were selected in the 2016 Canadian Football League Draft on May 10.
The Saskatchewan Roughriders selected David Onyemata in the fourth round (35th overall). Onyemata made history as the first Manitoba Bisons football player selected in the NFL as he was drafted by New Orleans Saints in the 4th round on April 30. Onyemata also topped the third and final prospect list released by the CFL's Scouting Bureau in April 2016 after producing 38.5 total tackles and five sacks in 2015 conference regular season.
The Roughriders also selected Alex McKay in the sixth round (52nd overall). McKay, 25, played in all eight conference regular season games plus one playoff game in 2015.
"I worked my entire life for this moment. I'm a proud Prairie boy and staying a Prairie boy as I am excited to be going to Saskatchewan," said the 6'5", 285-pound McKay.
The Winnipeg Blue Bombers selected home-grown Alex Vitt in the seventh round (55th overall). Vitt was a first-time captain in his fourth year with the Herd and finished fourth in conference receiving yards with 711. In his career with Manitoba, the Vitt accumulated 61 receptions for 1,254 receiving yards while adding nine receiving touchdowns during the regular seasons.
"I am real excited to be picked by the Blue Bombers. It is great to stay in my hometown and play professional football in Winnipeg," said Vitt.
The Edmonton Eskimos selected DJ Lalama in the eighth round (70th overall). Lalama, 22, was a co-captain for the first time with the Bisons in 2015 in his third season at Manitoba. The 6'1", 230-pound linebacker had a breakout season as Lalama led the team and second in Canada West with 52.5 total tackles. Lalama was recently invited to the NFL's New York Giants rookie mini-camp.