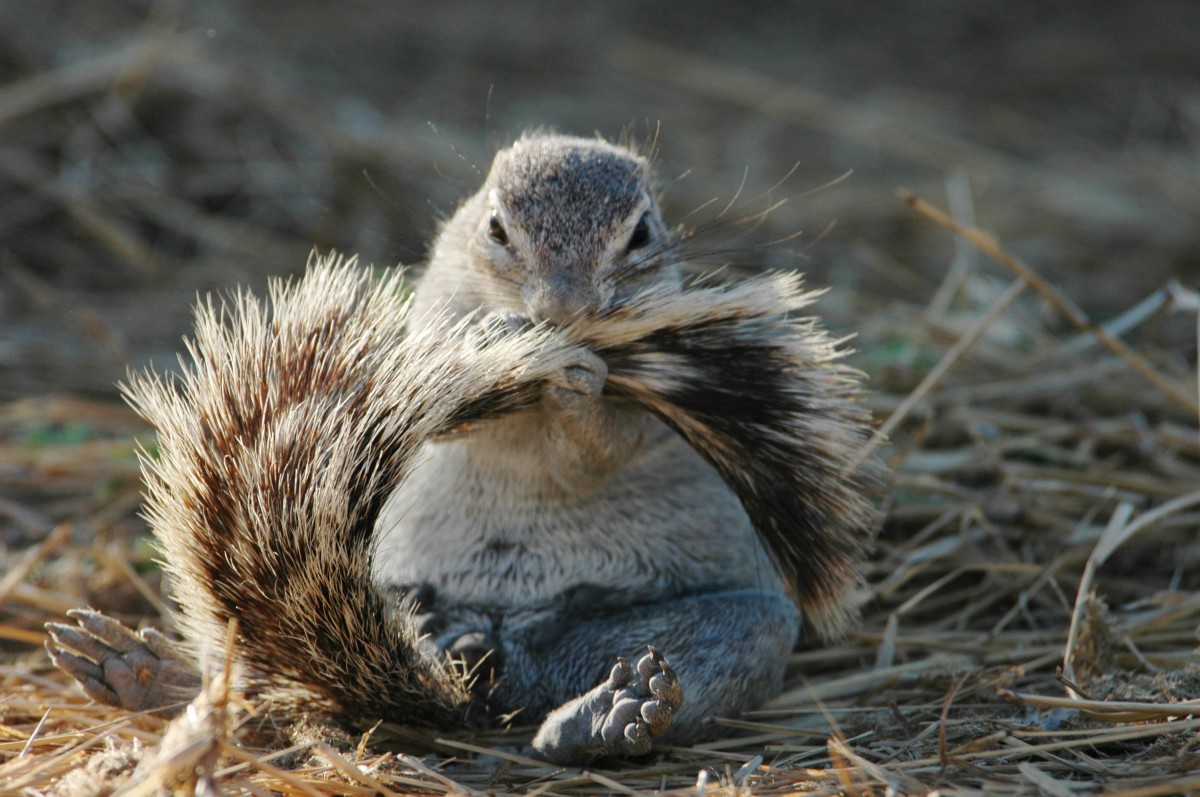 Happy squirrel appreciation day
January 20, 2016 —
January 21 is Squirrel Appreciation Day. Yes, this is really a thing, and UM Today has written about it before – in great depth. So, it's fair to ask, what more could we possibly say about these mammals? Lots.
Unfortunately, one of our foremost squirrel researchers, Jane Waterman, is currently on the Canary Islands doing field research on that population of squirrels so UM Today was unable to reach her. But we have more than one global authority on squirrels, and professor James Hare provided us with a research update.
"I suppose the latest news on the squirrel front from my lab is the paper with my student Levi Newediuk and U of M biological sciences instructor Isobel Waters that is about to be published in the Canadian Field-Naturalist. It calls into question the common perception that ground squirrels adversely impact pastureland forage quality. Perhaps just the thing for squirrel appreciation day!," Hare writes in an email to UM Today.
The good, the bad and the not so ugly
As the soon-to-be-published study's abstract reads:
Although Richardson's Ground Squirrels (Urocitellus richardsonii) are considered pests throughout their North American range, their impact on forage in Canadian aspen parkland has not been explored. we investigated the effect of Richardson's Ground Squirrel density on forage quality and plant community composition in an intensely grazed cattle pasture in the aspen parkland region of manitoba, Canada. we detected no significant differences in forage protein content or legume, grass, and litter biomass among ground squirrel density levels. However, ground squirrel density did influence the abundance of invasive and forage plant species; greater squirrel density reduced the prevalence of Smooth Brome (Bromus inermis Leysser) and Red Clover (Trifolium pratense L.) and increased the abundance of Quackgrass (Elymus repens (L.) Gould) and Black medick (Medicago lupulina L.). Plant community diversity also increased with ground squirrel density. There were no differences in soil bulk density or ammonia content among squirrel density levels; however, soil nitrate content was highest at low ground squirrel density. Changes in available soil nitrogen and relative abundances of forage species on this pasture may affect cattle diet by altering both the availability and quality of forage. our findings highlight the need for further investigation of the role of Richardson's Ground Squirrel on rangeland in the aspen parkland region to ascertain the generality of the effects documented in our study. Until such effects and their implications for cattle production are understood, land managers should refrain from exterminating colonies of Richardson's Ground Squirrel.
U of M's newest 'squirreler'
Colin Garroway recently joined the department of biological sciences as an associate professor. Next to professors Waterman and Hare, he is the third squirrel researcher to call U of M home. UM Today wanted to know why he likes studying these animals, and why others should appreciate them.
"The diversity of behaviours they exhibit and the variability of the habitats they live in makes them both fun to watch and interesting to study. I'm beginning work here to try to find out what it is about grey squirrels that allows them to do so well in human modified environments. We're comparing the genetics, demography, and behaviour of city squirrels to populations in more natural habitats. We think that by studying squirrels in this way we can learn something general about how animals adapt to humans and everything else our presence brings with it."
Research at the University of Manitoba is partially supported by funding from the Government of Canada Research Support Fund.