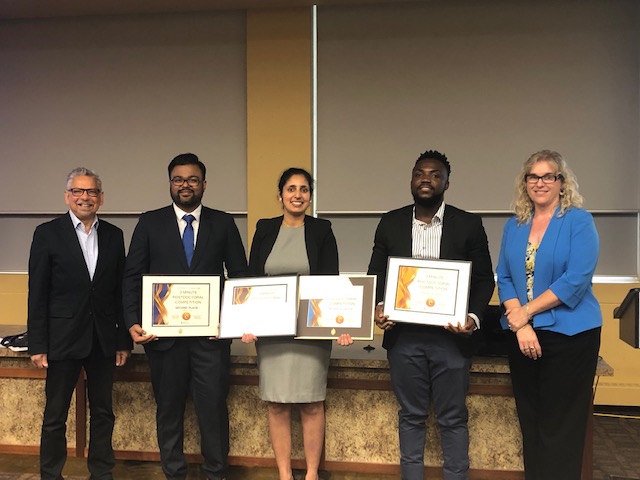 Groundbreaking research in plant-based protein production wins the top 3MP award
September 27, 2023 —
Last week the Faculty of Graduate Studies hosted the first ever UM 3MP (3 Minute Postdoctoral) competition. This event challenges postdoctoral researchers from diverse fields to present their complex research in an engaging and understandable manner to a non-specialized audience, in only three minutes.
The panel of judges, comprised of experts from various fields and communication specialists, expressed their admiration for the participants.
Dr. Loren Oschipok, Director of Partnerships, Knowledge Mobilization & Innovation at the University of Manitoba who participated as a judge shared: '"In today's world, the ability to describe complex research topics in a way easily understandable by the general public is a key skill for academic researchers. The finalists did a fantastic job at presenting their research to the audience in a form that was both inclusive and understandable. But just as important, they also conveyed both the critical significance of their research as well as their personal enthusiasm for the work. The finalists are all rising young researchers here at UM and I look forward to following their future research accomplishments'.
1st Place:
Oladipupo Olatunde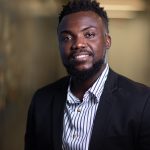 Research Title: Novel and ecofriendly methods for sustainable protein production.
Olatunde research delves into novel techniques that promote sustainability and reduced environmental footprint in plant-based protein production.
Dr. Oladipupo Olatunde is an accomplished and driven food safety expert, holding relevant certifications and backed by a robust foundation in food science and technology. Currently a postdoc researcher under the guidance of Dr. Nandika Bandara within the department of food and human nutritional sciences, Olatunde's research focus revolves around the development of sustainable protein ingredients sourced from Canadian crops. His leadership skills are evident in his roles as the pioneer and president of the Postdoc and Research Associates Organization within his department. His proactive stance extends to advocating for the establishment of a broader postdoc association at the university level, showcasing his commitment to fostering a supportive and collaborative academic environment. He dedicates his time and expertise as a research associate for the Myera Seafood project, contributing to the advancement of fish farming and value enhancement for local fish farmers as part of the Ocean Supercluster initiative. His dedication to knowledge dissemination is demonstrated through his involvement as a member of the student organizing committee for the Annual Manitoba Sustainable Protein Research Symposium.
2nd Place:
Abhay Srivastava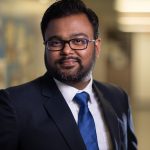 Research title: Stem cell based personalized drug selection platform can help choose the most effective therapy for patients with rare genetic disorders.
Srivastava's primary research is to understand the disease pathophysiology and drug screening in rare metabolic disorders patients using induced pluripotent stem cells.
Dr. Abhay Srivastava is a post-doctoral fellow with Dr. Sanjiv Dhingra at Institute of Cardiovascular Sciences, Department of Physiology and Pathophysiology. He was recently awarded a CIHR post–doctoral fellowship and has published more than 30 articles in international peer reviewed journals. Srivastava is in the peer review committee for CIHR graduate scholarship program and has received many awards and distinctions such as Arnold Naimark young investigator Award in 2021.
3rd Place and the People's Choice Award:
Niketa Sareen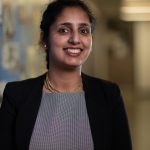 Research Title: Modulating immunogenicity of stem cells to enhance their post transplantation survival.
Sareen's project involves studying the mechanisms for rejection of bone marrow derived allogeneic mesenchymal stem cells in ischemic rat hearts.
Dr. Niketa Sareen is currently a post–doctoral fellow in Dr. Sanjiv Dhingra's lab at the Institute of Cardiovascular Sciences, St. Boniface Hospital Research Center. She has prior experience as a post–doctoral fellow with Scuola Superiore Sant'Anna, Italy, which was a collaborative work between Dr. Vincenzo Lionetti's lab and Dr. Dhingra's lab. From her post–doc and PhD research, she has published over 20 peer reviewed publications in prestigious journals and presented her research at national and international conferences. She has many awards and distinctions to her name, some of which include Arnold Naimark Young Investigator Award, Major Award for Excellence in Cardiovascular research by St. Boniface Hospital foundation, Edwin Kroeger Award for Excellence in Cellular Physiology and CIHR IMPACT Doctoral award and Research Manitoba.
The 3-Minute Postdoctoral Competition serves as a shining example of how science can be made accessible, exciting, and relevant to all, leaving a lasting impact on both the participants and the audience. The challenge to convey years of research and discovery in such a short time frame was met with enthusiasm, creativity and impressive skill.
When asked about his experience, first place winner Olatunde shared, 'Presenting my research in front of a diverse and engaged audience in just three minutes was a thrilling challenge. This experience has reinforced my belief in the importance of effective science communication. It's not just about the discoveries we make in the lab; it's about our ability to convey those discoveries to the world, inspiring curiosity, and fostering a deeper understanding of the incredible work happening in the scientific community. Winning the competition has opened new opportunities and connections within the academic and scientific community. It has allowed me to broaden my network, collaborate with like-minded individuals, and explore avenues for further research and outreach."
Dr. Kelley Main, Dean of the Faculty of Graduate Studies expressed her admiration for the 3-Minute Postdoctoral Competition, saying, "This event showcases the remarkable capacity of our postdoctoral researchers to distill their extensive knowledge into an accessible format. It exemplifies our commitment to fostering cutting-edge research while ensuring that its significance resonates with a wide audience. These researchers are not just advancing their fields; they are also advancing the cause of science communication, and we couldn't be prouder."