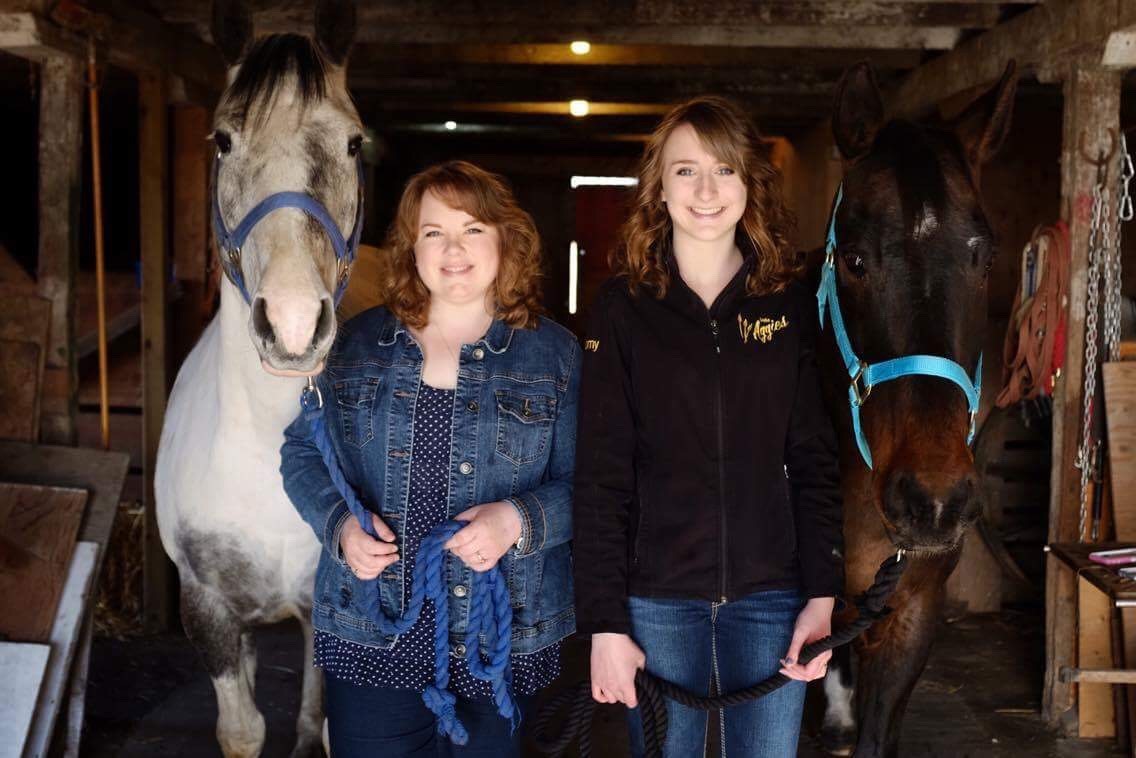 Grads who know farming as a way of life
May 5, 2017 —
Friday, May 5, 2017, is the official beginning of the 138th Annual Spring Convocation at the University of Manitoba. That afternoon, the School of Agriculture in the Faculty of Agricultural and Food Sciences will confer diplomas on 75 graduands in its Diploma in Agriculture program. It's the highest number of grads from the past 30 years of the Diploma in Agriculture program.
Jennifer Mueller and Chris Delaquis are two diploma in agriculture students who are graduating at convocation. They started dating in high school, after which Mueller went to the Asper School of Business while Delaquis went on a somewhat different path and became a Journeyman Electrician. But Mueller was born into a farm family, and Delaquis grew up in a small town, so the lure of the fields was always there.
"Once in our careers we both quickly realized that we loved working together on the farm much more then these other careers. It was then that we decided to complete the agriculture diploma program together as a team," Mueller says.
"Together we learned so much through all the courses we took, like how to learn together and how to apply what we learned on our farm. We managed on getting great grades – both of us are on the Dean's Honour Roll – and are great friends. We work together every day, whether we pull out calves, seed our fields, or harvest. We are a team," Mueller says. "We are still learning lots on the farm and plan to continue to learn from my parents. We hope to one day take over the family business and successfully continue to grow and run our farm together."
This last point will no doubt be relatively easy to envision. While in the Agriculture Diploma Program together, they got engaged and are planning to be married the month after graduation.
Mueller adds: "I hope to be an inspiration for other women in the agriculture industry in showing that it doesn't always have to be the son that takes over the farm, and that you don't always need to marry a farmer to become a farmer!"
The increasing number of women in the Agriculture Diploma program is also underscored by two soon-to-be-grads, Alice Guimond and Alana Bruneau. They are graduating this spring and both have mothers who are "Dip" grads: Candace Grier (DipAgric/92) and Danielle Duval-Bruneau (Dip/Agric/94).
In fact, Alice Guimond is so proud of her farming heritage, she has a YouTube video about her farming life that was produced for Why I Farm, a series sponsored by an American seed company, Beck's Hybrids.
"I grew up on the farm; it's my life. Ever since I could walk, I was out helping in the barn, riding in the tractor,"Guimond says. "Growing up on the farm, you learn to appreciate the simple things in life: being able to see the sunrise, to watching it set, to learning how to drive a tractor for the very first time, or feeding a newborn calf."
She adds: "Farming taught me the most important lessons, such as having a good work ethic, being patient, kind, honest and loyal – for farming is not just a career choice. It's a way of life."
Bruneau's farm history is somewhat different. She says: "My parents bought the family farm in January of 1997 from my grandparents, just before the Great Flood of the Century that spring. We fought a hard battle with the Red and Roseau Rivers but were defeated. This led to our moving the farmhouse into town in 1999 and harvesting our last crop in 2001."
She adds: "I would have been the 4th generation to have farmed that land."
However, Bruneau's attraction to farming was rekindled when she entered the "horse world," fostering her love of the outdoors and reconnecting her with agriculture.
The Diploma in Agriculture Convocation Ceremony is in Investors Group Athletic Centre on May 5, 2017, beginning at 3:30 pm, with the Reception at 4:30 pm and a Dinner in 5:45 pm in University Centre.