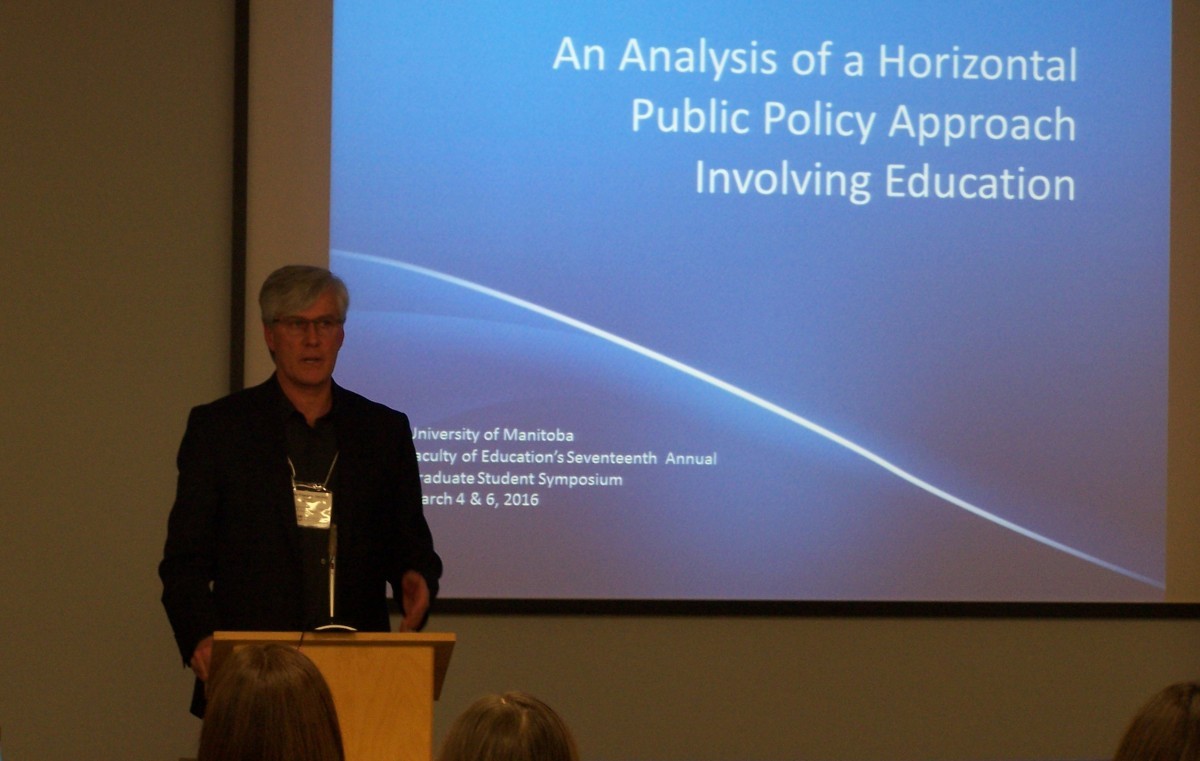 Grad Symposium focused on education for creative and responsible citizens
April 5, 2016 —
The 17th annual Education Graduate Student Research Symposium was the most well-attended in several years, with 16 presenters and a large crowd who came out to hear research presentations by graduate students.
Held March 4 and 5 in the Education building, the sessions were divided into several categories: Responsible Governance, Creative Research Approaches, Approaches to Decolonization, Promoting Quality in Post-Secondary Education and Healthy Communities. 
The following is a summary of the presentations compiled by Gerald R. Brown former chief librarian of the Winnipeg School Division.
Responsible Governance
Duane Brothers' dissertation was entitled Complex Poverty and Education Systems: An Inquiry into the Work of Superintendents Informed by Critical Theory. His research shows that the challenges of racism and poverty are large in our systems, and that they demand different thinking and different work. Schools can reproduce inequalities, but they can also be sites of struggles in which poverty and the consequences of poverty can be mitigated. He reminded us that learning about the causes and effects of complex poverty, building trust and framing the nature of organizational learning can be important to help educational leaders to focus on these issues. It is vital that the nurturing of an ethic of care, an ethic of critique, and an ethic of social justice be managed so professional and community environments can be characterized by trust, critically informed professional learning, and coalition building.
Jean-Vianney Auclair reported on his Analysis of a Horizontal Public Policy Approach to Involving Education. His research is on-going at the doctoral level, and is an investigation of ways in which ten government departments are working together (or not) to implement Healthy Child Manitoba (2000) policy. A qualitative case study methodology will be used to investigate policy, factors external to the educational system, public administrative responses to issues, and the management of highly tenacious social issues. The results could be very important for changes in implementing HCM more widely.
Heather Krepski is an M.ED student investigating Evidence-based Decision Making in Manitoba Schools: A Critical Race Theory Perspective. She deals with the issue of educational data used to inform the decision-making process. The question is based in a belief that empirical evidence is an efficient indicator of knowledge and learning. A qualitative collective case study approach is being used to gain insight into individual and school level processes involving educational data. The results of study are pending.
Nadine Bartlett reported on The Wraparound Approach in the Context of a Community School (for children with emotional and behavioural disorders [EBD]. The presentation was stimulating and encouraging. The research supported the integration of services for EBD children & youth. Results that were noted include: (1) structure of the community school; (2) climate in the school; (3) resources available in the school, and in the community; (4) continuum of collaborative support integrated at the team, organizational and support level. The leadership in the school was also a key factor, in the continuation of the supports for EBD students within the Healthy Child Manitoba protocols.
These papers generated lots of questions to be taken to the individuals directly. The sharing was impressive.
Creative Research Approaches
Zane Zalis is a dynamic music teacher at Miles McDonnell Collegiate. He is working towards a PhD based on an Arts-Based Educational Research Study of "i believe: A Modern Oratorio for Empathic Learning." Zane brought his choral ensemble Prodigy to demonstrate various parts of the oratorio, which he has researched and written. They were effective in relaying the emotions in the piece based on the Holocaust. His thesis examines "knowing and knowledge at the intersection of feeling and reason." This oratorio is an ABER study of genocide, human rights, hatred, and hope in an attempt to vicariously "walk in the shoes of others" to gain deeper understanding human "beings." The following website gives more information and examples.
Gail Cormier submitted a research proposal (on the way to a Ph. D program) entitled An Ethical Approach to Cross-Language Research. Her work will be focused on French education in Manitoba. For this session, she presented several issues and suggested solutions for interviewing children and families whose first language might be different from the interviewer. She dealt with issues such as fluency, ethics, respectfulness, and code shifting for emotional issues or for ease of discussion. There were several questions from individuals who are working in other languages in their research at the moment. The roundtable format worked well for this presentation.
Alison Wells-Dyck is a PhD candidate. She shared her experiences in The Adventures of Collaborative Action Research as one of the roundtable sessions. Her research is purposed to assess a guided inquiry model (Kulthau), coupled with collaboratively developing and implementing a new, inclusive pedagogical planner. She recognizes the problems faced by teachers who are trying to implement a mandated curriculum, and including students with special education needs in their classroom. Her aim is to help teachers participate actively in their own professional development as they work through issues as a team of colleagues.
Jordan Laidlaw is in the M.Ed. program, and is working on Fostering Creativity via Music Composition: An Action Research Study on the Implementation of the Baritone Ukulele in SOSD. The roundtable format encouraged important discussion of the value of having students compose two pieces of music (a) a textual /rhythmic composition, and (b) a melodic/harmonic composition. Feedback from the students has been particularly helpful to the researcher for helping the students transfer to the guitar and other instruments. This thesis will be defended in April.
Saturday morning began with an address by Frank Deer, director of Indigenous initiatives at the faculty, whose experiences were helpful in seeing First Nations perspectives on current education programs. This presentation provided an interesting framework of the next session.
Approaches to Decolonization
Ben Akoh explored Understanding Adaptive Orienteering Using Mobile Technologies in First National Communities as prelude to his PhD research. He hopes to show how technology might become a mediator to benefit their ability to transition from one cognitive world to another and back again. He is particularly interested in working with First Nations Adult Learners, and assisting them to engage with policy makers on policies on educational technologies. Akoh is working particularly with the Oxford House Community "Bunibonibee" to look at the challenges faced by this community, to examine the Fist Nations School Net system, and to consider the issues that are unique to Manitoba, as compared to his previous experiences with technology in Africa.
Orest Kinasevych introduced his working PhD study title as Technology as a tool of colonization in Indian Residential Schools. He is focusing specifically on how photography was used as a colonization tool, and the views that it projected and perpetrated in the hands of the colonial culture for the purpose of justifying residential schools. He used a wide range of photographs to illustrate how photography could be a benefit to the consumer, or could have commercial value. Then there was the inappropriate or unethical use, as well as editing being done. This will be a very interesting study, and may have significance in the Truth and Reconciliation Commission implementation.
Nora Murdock has been working on her PhD Exploring the Work of Manitoba First Nations Directors of Education. Hers is a qualitative study examining selected aspects of their experiences, perspectives, preparation and training, among twelve FN Directors of Education. She has observed that their work is influenced by many factors including underfunding, lack of resources, high teacher turnover and the ongoing impact of the residential schools and colonialism. She indicated a concern that several of the people interviewed felt that their focus has been on managerial and political functions, rather than on educational leadership. She provided some specific areas that need to be addressed in the training for directors for them to be effective in evolving a curriculum and pedagogy that is important to the FN Schools.
Promoting Quality in Post-Secondary Education
Joanne Struch is also a PhD candidate. Her topic was Considerations of Feedback on Academic Writing in Post-Secondary Settings. The author plans to investigate students' perceptions of feedback on their academic writing and the assumptions about knowledge that are reflect in instructor feedback on this writing. She presents the point that in second language writing errors may not necessarily be barriers to good writing, but a way of negotiating language in a globalized, post-colonial world. Discussion ranged over the issues instructors felt when they appreciate that students need to be helped to negotiate the high-stakes, power laden, processes of academic writing.
Stephanie Crook presented a paper that she hopes to continue in her M. Ed. studies entitled Moving Beyond Transgressions: Viewing Patchwriting Simply as Writing. The considerations included: plagiarism, definitions, controversies, and implications. It became clear that issues such as institutional attitudes, complexities of rhetoric, different requirements among disciplines, acquiring a new language, new discourses vs cultural frameworks, linguistic competence, linguistic legitimacy, and inferior power positions. There are significance differences in the issues between first language students and second language students that must be addressed too. We ran out of discussion time in this roundtable.
Healthy Communities
Barbara Borges is a PhD student from Brazil. She is doing a comparative study of Promoting Health for Older Adults Through Education [in Campo Grande, Brazil and in urban Manitoba]. Her comparison of demographics was informative. Her review of the programs offered was exciting, and will present many alternatives to what we currently have at U of M and U of W. Considering the changing age issues in our population, the concepts of successful aging, health promotion, and education opportunities sound very exciting. It will be interesting to hear the results from her interviews and field work with 32 participants.
Crystal Lynch, an M.Ed., student is embarking on a very broad topic in A Global Perspective: Investigating Human Rights Education in Higher Education Institutes. Using semi-structured interviews she hopes to contact HEI around the world to get a picture of what is currently being done to integrate HRE across their curricula, based on accessibility, acceptability and adaptability.
Kazutoshi Yoshino presented a powerful case for The Pursuit of Sustainability through the Self-Transformation and the Collective Well-being. This Ph. D. student gave an outstanding presentation on sustainability, attaining oneness with nature, transforming self, and collective well-being. He concluded it with a pedagogy for the sustainable self, including: inner virtues and collective actions; awareness of nature; practical applications of collective well-being, and transforming self from problems to solutions.
Lauren Norquay gave a spirited presentation on the M. Ed. research she is undertaking. Her topic was Experiences of Manitoba Science Teachers in French Immersion and Francophone Programs. In this study she will investigate the dropout rate for teachers in French programs, the workloads for these teachers, the lack of instructional materials, as well as teacher knowledge in the science field in bilingual and unilingual French schools. She will focus particularly on the Grade 10 science curriculum in her semi-structured interviews. Her energy at the end of the symposium was quite inspiring.
This academic forum gave opportunity to share the research, and for the public to react and ask questions.  For more information about the forum, check out this website. Abstracts for this year will be posted shortly. You can also read the abstracts for many previous years.  Heartiest congratulations to the presenters and the organizers.  I look forward to attending again next year.
Submitted by Gerald R. Brown.
BA 1964, B. ED 1965, MLIS (Western Michigan) 1968, M. ED 1972, chief librarian, Winnipeg School Division, retired 1992, consultant, School Library & Information Services.