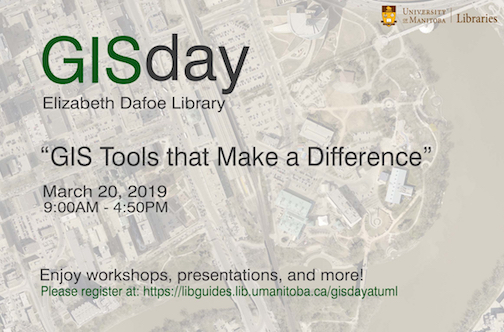 GIS Day celebrates real-world applications making a difference
March 5, 2019 —
It can track wellness, bird populations and territories, slave trade migrations, road maintenance, or agricultural production.
GIS, or geographic information systems, can identify neighbourhoods at risk, follow political donations, select real estate sites, improve communication among emergency services, and monitor oil spills and/or resource extraction. It can be used in combination with multimedia to track journeys of artists or fictional characters, or trace the advance of civilizations through archaeological evidence.
On March 20, GIS Day provides an international forum for users of geographic information systems (GIS) technology to demonstrate real-world applications that are making a difference in our society.
Geographic Information Systems (GIS) are computer and mobile based systems used to capture, store, manage, analyze, use and display spatial or geographic data. With GIS, researchers can monitor trends and see what is happening in geographic space via electronic maps and 3D views, communicating information pertinent to specific locations.
GIS has emerged as an important technology for decision-making and analysis and has wide-spread use in many applications. The University of Manitoba is well equipped to help faculty, staff and students learn about and use GIS. The UM offers degrees and programs in environmental studies, geography, geomatics and remote sensing. GIS software is installed in many labs on campus and free one-year GIS licenses are available to UM faculty, staff and students.
GIS Day at the Libraries this year features powerful GIS mapping and analysis tools from UM researchers across several academic disciplines. Other presentations feature GIS and data visualization tools that expose patterns and trend in geospatial datasets quickly and effectively.
Come join us on March 20, 2019!
GIS Day 2019
Wednesday, March 20, 2019
9:00am – 5:00pm
Elizabeth Dafoe Library, Archives Classroom (300 level)
Read more here: https://libguides.lib.umanitoba.ca/gisdayatuml
Register here: https://libguides.lib.umanitoba.ca/gisdayatuml/registration