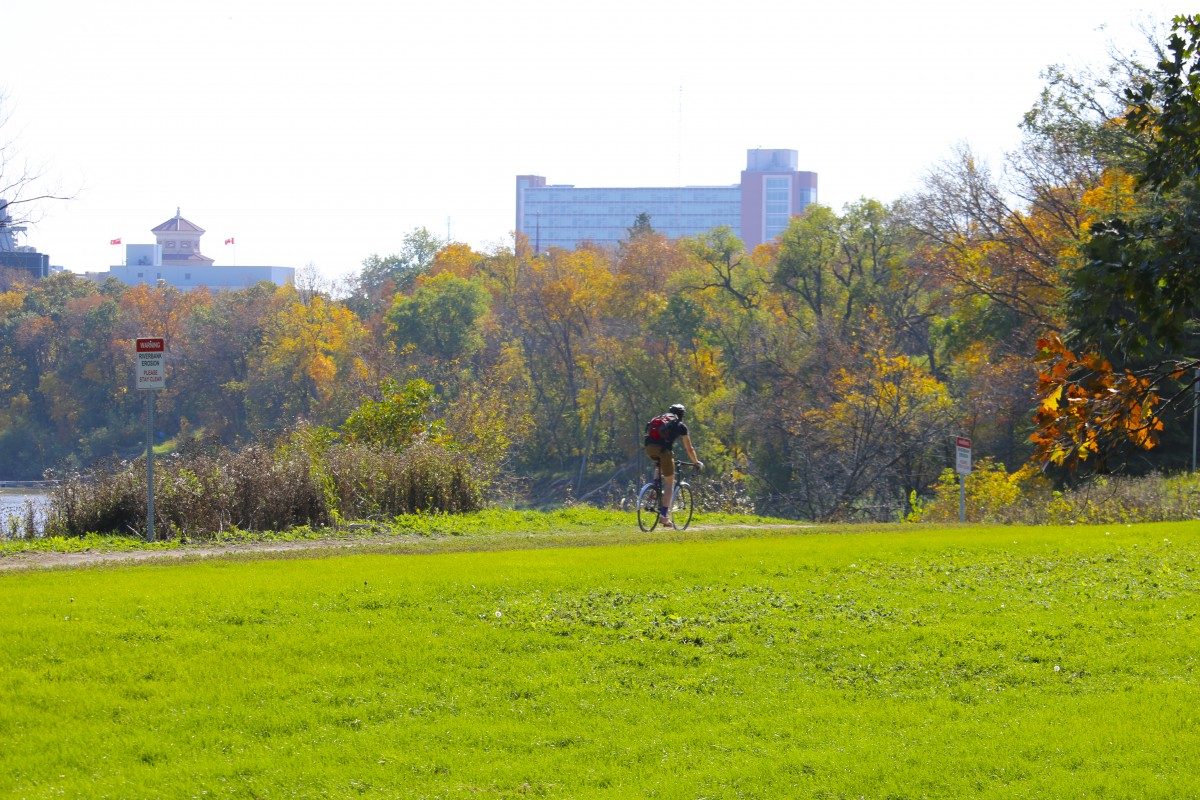 Getting to and around the Games
There are plenty of ways to sustainably get to the games – pick what works best for you!
July 21, 2017 —
Getting to the University of Manitoba has never been easier. Walking, cycling, taking transit or carpooling are all great options for getting to campus. Once you are here, enjoy architecture, green space and events on campus, and travel between all with ease. Being mindful of the effects transportation has on the environment is also important. During the games, be adventurous and try something new! Find a friend and try cycling or taking the bus – you'll be surprised how enjoyable your commute may be.
Here are a few tips and tricks to make your commute to the games and around campus as sustainable and relaxing as possible:
Get Outside
Read an overview of places to check out on campus!
Walking
Parking nearby campus and walking is a great option if you are looking for a little extra exercise in your day. Once you are on campus there are plenty of major walkways and tunnels, to get around campus on foot. Wear comfortable footwear as the campus covers over 279 hectares of land for you to explore! Here are a few helpful resources for walking on campus:
• Sustainability Walking Tour
• Get Outside at the University of Manitoba – Green Space Guide
• Campus Map
Cycling
Cycling can be a fast, fun, and inexpensive way to travel to and around the University of Manitoba campus. Here are a few tips to make your ride enjoyable:
• Plan your route. Visit the City of Winnipeg site to map your route to the University. Alternatively, plan your cycling route and find potential cycling buddies on umanitoba.gomanitoba.ca.
• Once you are here, you can lock your bike up outside more facilities. Here is a map of bike parking on campus.
• If you need bike repairs while on campus, visit the UMCycle Bike Kiosk. The Bike Kiosk is a full-service bike shop operating at Curry Place and Sidney Smith, in the heart of the Fort Garry Campus. They have parts and accessories for sale and do installations, adjustments and overhauls of all styles of the bike. Open Monday to Friday, 10:30 am to 1:30 pm.
Transit
Jump on a bus and you can leave the stress of driving in a new city or in rush hour behind you. Winnipeg Transit currently operates thirteen transit routes to Fort Garry campus. Here are a few tips to make your commute by transit easier:
• View your transit route options to the U of M using the UManitoba mobile app.
• If you aren't staying within walking distance of a great transit route, you still have options. Winnipeg Transit has 11 designated Park & Ride locations around the city. Simply park your vehicle in a designated space and hop on a bus. No need to worry about traffic or parking.
Carpooling
Carpooling is a simple way for individuals to share their commute with others, save money and reduce their environmental impact. Plus you have someone to chat with about the events you watched earlier in the day! Pair up with friends or family heading to the games or log on to GoManitoba to find others interested in carpooling. GoManitoba is a free online platform which matches you with drivers and/or riders who are looking for someone to share their daily commute or one time trip with.
Driving Alone
Casual parking is available at several locations on campus. Visit the University of Manitoba Parking Services website for more information.
Visit the Office of Sustainability's Transportation page for a complete listing of commuting methods and tips.