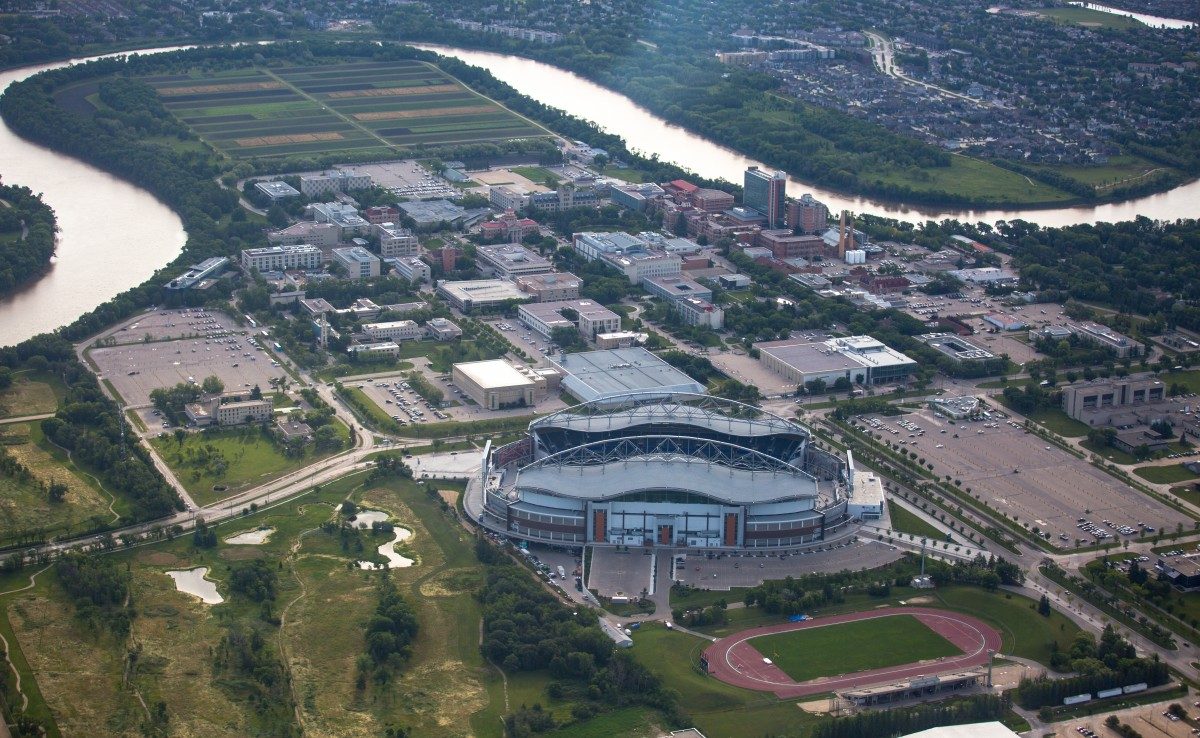 Victories from the Games
U of M pulled together during Canada Summer Games
August 25, 2017 —
Hosting 4,000 athletes on campus has its challenges, but you'd never know it from how smoothly Physical Plant – Operations & Maintenance, Ancillary Services and Conference and Catering Services staff met and handled the snags during the two weeks of the Canada Summer Games.
From feeding athletes the nutritious food needed to compete to setting up the Athletes' Village and making sure the campus was tidy and beautiful, staff played a major role in the overall success of the Games.
But they weren't the only ones, says Andrew Konowalchuk, associate vice-president (administration). He notes that there were many campus members involved in various aspects of planning, communications, hands-on set up and ongoing activities over the duration of the Games.
"I would like to acknowledge everyone involved from the planning committee to communications to the hands-on crews — including the Physical Plant, Conference and Catering and Ancillaries staff — who came together to support the Canada Summer Games Athletes Village and venues at the U of M," he said. The U of M Canada Summer Games Planning Committee started working together on October 23, 2014.
"There was really impressive, exceptional work from all involved, with everything throughout managed smoothly and calmly — a tremendous group accomplishment."
There were some real challenges throughout. Days prior to the athletes arriving on campus, there was a major power outage in University Centre, where the athletes' cafeteria and food services were located. Conference and Catering Services staff came up with a contingency plan to feed the athletes while staff at the electrical shop came up with a plan and restored power quickly; communications were managed smoothly. A water main break also kept crews busy during the Games but they managed to fix it without any disruption to buildings or the parkade.
When entire teams tested the capacity of elevators and got unexpectedly stuck, crews came to their rescue fast enough to ensure that no one was hurt or missed their scheduled games.
Staff kept the campus clean, turned over 900 rooms for and fed 2,000 athletes during the holiday weekend, stayed on-call and accommodated a number of smaller requests to help make the Summer Games extra successful.
"This was a full-shop effort and we celebrate our success on a job well done!" says Steve Cumpsty, director, operations & maintenance.
"A sincere and heartfelt thank you to everyone involved in the preparations and planning for the games, the work during the games, and the cleanup after," adds Konowalchuk.
Do you know someone on campus who put in extra effort at the Canada Summer Games? Leave a comment below to tell us about those shining stars that went above and beyond.
U of M Canada Summer Games Planning Committee
Andrew Konowalchuk – Chair, AV-P (Administration)
Vanessa Shaff – Director, External Relations
Tannis Campbell – Manager, Office of the AVP (Admin.)
Naomi Andrew – Legal Counsel
Andrea Edmunds – Director, Ancillary Services
Barry Stone – Director, Student Residences
Cameron Neufeld – Manager, Parking Services
Dean Duff – General Manager, Dining Services
Steve Cumpsty – Director, Operations & Maintenance
Lyle Morin – Manager, Grounds & General Services
Rick Jansen – Director, Security Services
Simon Wang – Director of Facilities, KRM
Gene Muller – Director, Active Living
Murray Elfenbaum – Administrative Coordinator, Ancillary Services
Doug Brown – Dean, KRM
Janice Bailey – Area Coordinator, Extended Education
Jaret Klymchuk – Director, Architectural & Engineering Services
Kevin Slippert – Analyst, Registrar's Office
K-L Holter – Director, IST