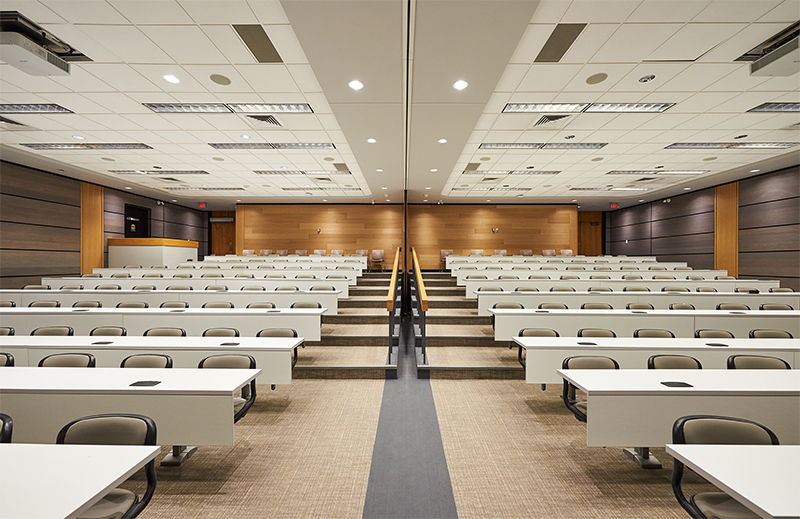 Getting through Law School exams during a pandemic
A rough guide
May 13, 2020 —
Having provided a high standard of legal education for the past 106 years throughout two world wars, the Great Depression, several epidemics including the 1918 Spanish Flu and the early 20th century's deadly and debilitating poliovirus, the University of Manitoba's Faculty of Law was not easily deterred in its mission when faced with the global COVID-19 (coronavirus) pandemic this spring.
As the novel coronavirus gained a foothold in Manitoba and the University Campus was forced to shut down at the end of March, the faculty immediately organized ways to help professors and instructors finish teaching the last three weeks of classes, and ensure the writing and marking of exams, all through online and remote means.
How this happened was through a major team effort, quick thinking, and adaptability on the part of support staff, professors, instructors and students.
Step One: Moving classes online
"There is a Chinese proverb that roughly translated reads "may you live in interesting times." These are certainly interesting times."
– Wayne Onchulenko [LL.B./84], Practicing Professional
When word first came that the University would have to close, the first thing the Faculty of Law did was organize, record and distribute a video of a seminar for professors and instructors presented by Dr. Virginia Torrie. An Assistant Professor at the Faculty of Law, Torrie is a past winner of the Barney Sneiderman Award for Teaching Excellence (2017), and has collaborated regularly with the Centre for the Advancement of Teaching and Learning (the Centre).
"It was very much a team effort in terms of delivery," said Dr. Bruce Curran, Associate Dean of the Juris Doctor program at Robson Hall. "We got the information to all of our instructors fairly quickly. Virginia advised keeping it simple and not using more technology than you need because we had to move to this online environment quite abruptly, and I think that was quite wise."
Dr. Jennifer Schulz [LL.B./94], a Professor at Robson Hall and another past recipient of the Sneiderman award (2019), described her experience switching from an interactive to a virtual classroom as a bit of a challenge. "The professors had to switch to online teaching in a matter of days," she said, "which was quite stress-inducing because many of us, myself included, had never taught online before."
Technology failure was the biggest concern with the university's server occasionally crashing from more users than normal. "Fortunately for us," she said, "we only had to teach online for a month. Even more fortunately, it meant the students only had to cope with us online for a month!"
Schulz gave her students high praise for their patience as she grew accustomed to this new format of teaching. "I teach first year Torts in a Socratic fashion, which means students don't just hear me, they hear each other making interesting legal arguments in every class. When I switched my Torts teaching online, it was only me, droning on as the students patiently listened at home – they deserve so much credit for that!"
Robson Hall alumnus Wayne Onchulenko [LL.B./84] is a managing director and partner at Levene Tadman Golub Law Corporation in Winnipeg where he carries on a general litigation practice and teaches Torts at the Faculty of Law. "The administration at the law school has been and continues to be great in terms of providing information on how to proceed early enough that I rarely had to ask for help," he said, adding, "I now have apps for Zoom, WebEx, Teams, and Go to webinar. All products that I had not used before 2020."
"Teaching and practicing is hectic but rewarding. It is great to see new lawyers grasp new concepts and test out how they might be used in the future. I think the future is in good hands."
– Wayne Onchulenko
From the student perspective, adapting was a matter of necessity. Victoria Truong, outgoing president of the Manitoba Law Students Association (MLSA), said that as a member of the Law Faculty's graduating J.D. class of 2020, it was difficult for her and her classmates at first "to absorb the truth that how we had envisioned finishing our last year of law school was no longer a reality."
"As the dust settled a bit," she said, "it was clear how accommodating and understanding the professors were to students to allow us to finish the term in the best way that we could."
Incoming MLSA president Nick Noonan agreed. "Our professors and sessional lecturers deserve commendation for being so incredibly accommodating, with most going out of their way to be accessible and provide superlative instruction despite the disruption to all of our lives."
Truong said students appreciated online lessons which allowed students the freedom to access and re-watch lectures on their own time and be able to understand the material better. "Final papers and assignments were submitted online as usual," she said, "and final presentations were done via video calls."
Noonan, who was the student representative on the faculty's Academic Affairs Committee, had an up-close perspective of the steps taken by the faculty to navigate socially-distant final exams. "It was definitely a challenge," he said, "but one that represented an opportunity for law students to re-evaluate their study habits, lean on their friends in times of need, and to forge a new bond through shared difficulty."
Students had to re-adjust to the idea that things were not going to be "normal" for a while. "Law students demonstrated tremendous resilience in both their willingness and ability to adapt," said Noonan. "Instead of studying together in the library, we studied together over Zoom video chats. Instead of celebrating the end of exams or law school together at the bar, students celebrated over video chat, dropped gifts off at each other's houses, or ordered food as a surprise to their friend's houses."
Step Two: Writing and marking exams
"I'm very proud that we were able to help out with accommodations for not only time changes but something very important for single moms or single dads. They have kids running around, they have no support, how are they going to write an exam? So we were able to say, ok, you put your kids to bed, and then you can write your exam."
– Rosa Muller, Academic Program Assistant
As Academic Program Assistant, Rosa Muller has coordinated the administration of exams at Robson Hall for many years, with over 300 law students writing up to five exams each during the two-week exam period. This year, exams continued as originally scheduled in mid-April, only completely online.
"The support staff was marvelous," said Muller. "Everybody worked together making sure everything would run smoothly, getting the exams to the instructors, zipping the files, printing them. Everybody worked really, really hard."
Some staff made multiple trips to campus to print hundreds of exams for professors and instructors who relied on paper copies to mark.
"It was a big undertaking in that we were trying something totally new that we've never done before," said Muller. "We did it through UMLearn. We had to not only look at our students, but we had to look at our students as mothers, single parents, caregivers, students who had gone back home, time changes, students who already had accommodations through SAS (Student Accessibility Services). All these things had to be taken into consideration and looked after."
"Someone that helped tremendously to set this up was Debra Illsley," Muller said. "I worked with her quite closely in getting out these instructions to all the support staff, how we were going to set up these exams on UMLearn without anyone seeing it until it opened up, and all the accommodations were addressed, and how to get the exams to the instructors for marking."
Despite "maybe not even a handful of problems" with some students uploading exams, Muller was relieved that their fears of the internet getting overwhelmed never really happened.
"I'm very pleased that we almost thought of everything. If we have to do it again, there's a couple things I would maybe change but you know what, for putting it together so quickly, it went very well."
– Rosa Muller
Schulz was impressed with how well law students handled exams. "The students must really be commended," she said. "They had to do their work at home, often with many other stressors impinging upon them. Instead of coming in to Robson Hall to write their Torts exam, my first-year students had to complete a take home exam. My upper year ADR [Alternative Dispute Resolution] students had to do what should have been in-class presentations over the phone or via Zoom. Throughout, the students handled it with grace. I very much look forward to seeing them in September, hopefully in in-person classes!"
Like Schulz, Onchulenko felt that his last few online classes were not as good as in-person classes in many ways, but interestingly, they were better in others. "On the positive side," he explained, "more students asked more questions and the exam answers as a group were very good. There was a saving of time as I was able to teach from my office so there was no travel time and the take home exam meant I did not have to oversee the exam in person. On the down side, one begins to better understand how important it is to the quality of the communication and the experience to be in the same room."
"You can see when the students understand," he said. "It is like watching a judge begin to grasp the evidence as it is brought before them. If we have to stay on-line in September, it will be important to create an on-line version that is as close to the classroom as one possibly can."
"Law school finals season, at the best of times, is an extremely difficult and stressful time. Pair that with a global health pandemic, and it was an entirely new situation that was forced upon students at a time when our stress levels are normally at their peak."
– Victoria Truong
Truong has found that in a normal year, her peers typically manage multiple priorities, juggling heavy course loads, volunteering, jobs, caregiving responsibilities, hobbies, while trying to maintain good mental and physical health. "The pandemic has demonstrated that students are able to pull through any circumstance that comes their way," she said.
Noonan and Truong both expressed appreciation for the faculty's compassion towards students and its efforts to ensure accommodations were made, such as extensions of time limits that allowed students who had other responsibilities such as parenting or caregiving, time to complete their exams. "In the regular exam setting, law students are in one big silent room with invigilators," said Truong. "It is extremely stress-inducing, with strict rules and regulations, and silence so as to not disrupt anyone else writing their exams in the room."
Benefits of writing exams online, Truong noted, included having privacy to write exams in pyjamas with the freedom to get snacks or take washroom breaks without interrupting peers or invigilators. Professors made themselves available online or by phone to answer questions.
In contrast, Noonan found the experience of writing exams at home both a blessing and a curse. "When you're writing an exam in Robson Hall, you have no choice but to be focused," he said. "Writing exams at home is a completely different experience, as you are subject to a far more comfortable environment, but also face all of the distractions of home. If I am hungry in the middle of my exam, I am free to get up and make myself a sandwich," which can waste valuable exam-writing time. "Writing exams at home has certainly made me appreciate the serene atmosphere that writing an exam at Robson Hall represents."
Step Three: The pass/fail issue
One major change precipitated by the pandemic, and raised immediately by the Manitoba Association of Law Students (MLSA) upon campus closures, was the move from a letter-grade system to a pass/fail system. Curran noted that this decision was one that seemed to help the students get through the stress of the situation.
The Faculty's Academic Affairs Committee (AAC) made the decision in full consultation with the students who had been monitoring the situation through their connections with other law student groups across the country. Similarly, Curran had remained in communication with other Canadian law faculties' Associate Deans. The Faculty concluded that making the change was for the better. "Part of that was because letter grades assigned under our pre-existing grading system would be inherently unreliable," Curran explained. "Different individuals had different personal situations and resources with which to deal with the emergency. For example, a bunch of students had care-giving responsibilities for children or elderly parents. So that impacted their ability to learn. And some students do a better job of learning face to face than learning remotely as well, so certain learning styles were naturally better adapted to cope with the online learning environment."
"Quite frankly," Curran said, "I think it was the right call to go the pass/fail route and it allowed us to get a soft landing for everybody for the balance of the term."
Speaking as MLSA president, Truong confirmed Curran's thoughts. "As a result of [the MLSA student] survey," she said, "and because of the advocacy of the MLSA Executives, along with Academic Affairs Student Rep Nick Noonan and Senate Representative Evan Podaima, and the quick action of Associate Dean Curran, Dean Black-Branch and the faculty, Robson Hall was able to adopt a mandatory pass/fail model. Learning outside of a traditional classroom, paired with the pass/fail system made it easier on students to focus on the material according to their own schedules and the comfort of their own homes."
Step Four: Maintaining fairness
While the pass/fail system alleviated stress for students, the (AAC) and Muller had to determine how to distribute awards and prizes intended for students getting the top mark in a class. Curran, who is also the Chair of the AAC, explained that for determining the Dean's List for upper year students, the AAC made the difficult decision not to count the winter term. For first year students, however, whose classes spanned the whole year with final marks typically being heavily weighted on the final exams, Professors were asked to rank the top five students in their class with a point system creating a substitute GPA.
Next Steps
With convocation cancelled and the annual graduation dinner postponed to the fall, Truong said her classmates proved their resilience time and time again. "We were still able to adjust to online means of connecting, studying and celebrating the end of our law school careers," she said.
As incoming MLSA president, Noonan observed, "The general attitude of Robson Hall students during COVID-19 has been one of comraderie, community, compassion, and hard work despite the difficult circumstances. Though it wasn't the way any of us wanted the year to end, it has represented a challenge which the students, faculty, and administration rose to meet. This demonstrates the exceptional nature of the Robson Hall community. As the ancient stoics wrote, it is not the circumstances that befall us, but rather our reaction to them, that demonstrates our character."