Getting oriented in a modern-day law school
September 9, 2022 —
If members of the Faculty of Law's Class of 1925 had jumped into a time machine and attended the Juris Doctor Class of 2025 first year law orientation, they would be confounded at the difference in attitudes towards mental health, equality, diversity and inclusion, Indigenization of the Juris Doctor curriculum and a strong movement towards reconciliation.
The Class of 1925 would also be astonished to encounter the new cohort of Master of Human Rights (MHR) students experiencing their own orientation down the hall – the first class to do so in-person since 2020. Similarly, the MHR students were treated to introductions to Treaty and Indigenous rights, the National Centre for Truth and Reconciliation, Career Services and Counselling Services.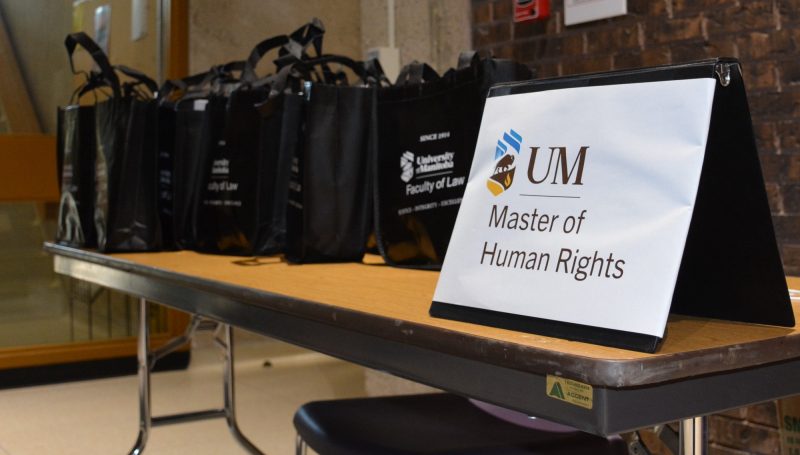 Greeted first thing on Tuesday morning by Dr. Richard Jochelson, Dean of Law, and new Elder-in-Residence, Wendy Whitecloud, law students heard about the importance of taking care of mental health and reaching out rather than struggling alone.
"A law student takes on the burden of professional ethical responsibility – law is a service profession. This entails civility, respect and honesty, but it comes with a duty to learn," said Dean Jochelson. "Part of learning law is learning about the grievous harms that Canada has caused and continues to cause to Indigenous peoples, and also that amelioration and remedy can be fostered through law (as well as through social transformation). However, as a prerequisite, the leaders of tomorrow must stay well and balanced. Our orientation is geared towards students understanding that these issues are interconnected, and that to best serve the public, self-care is vital."
Dr. Jennifer L. Schulz, Associate Dean, Juris Doctor program, brought home that yes, law school is hard, but yes, we are here to help. "We have made real efforts to create excellent student experiences and to generate a warm, inclusive, mental-health-supporting environment for our law students. We are so pleased to have them back in the building!" she said.
The Honorable Mr. Justice Richard Chartier, Chief Justice of the Manitoba Court of Appeal presided over his last annual Welcome Ceremony prior to his retirement this fall, wherein he handed out the Law Society of Manitoba's Code of Conduct to all first-year law students.
The Manitoba Bar Association and the Law Society of Manitoba welcomed the students with a champagne reception and invited them to take advantage of the benefits of MBA memberships which the law school pays for each student annually.
Wednesday began with an intimate and incredibly riveting visit from Senator Mary Jane McCallum, who shared her experiences with Residential Schools and impressed upon the students the important role all lawyers have in working towards furthering reconciliation.
Students then toured the National Centre for Truth and Reconciliation, followed by a lunch hosted by the Manitoba Indigenous Law Students Association. The afternoon included a special talk on mindfulness for lawyers given by Professor Thomas Telfer from Western University Law. Finally, David Ness from the University of Manitoba's Student Counselling Service introduced the students to the in-house counselling the Faculty of Law has put in place especially for all law students.
Then it was down to business with first years attending their first-ever law classes on Thursday. A tour of the Canadian Museum of Human Rights closed the week on Friday.