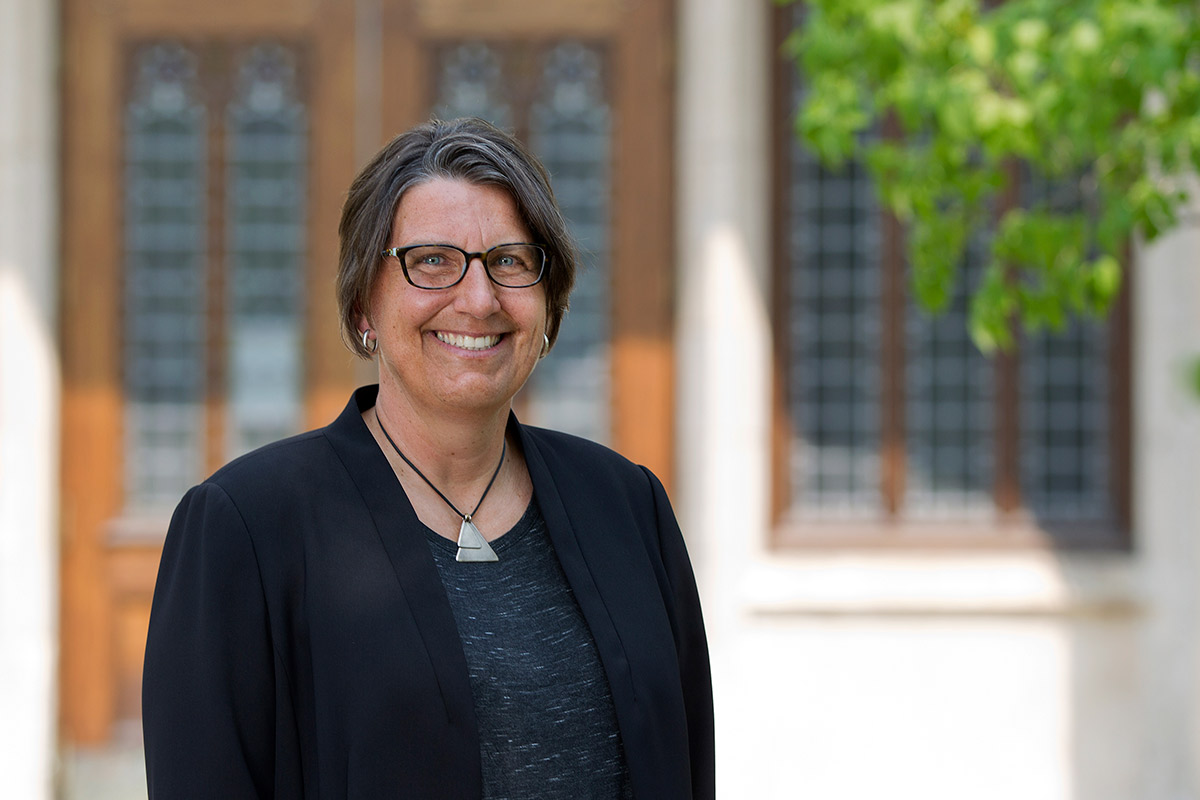 Get to know UM's new Vice-Provost (Academic Affairs), Dr. Tracey Peter
October 6, 2021 —
Dr. Tracey Peter began in the position of Vice-Provost (Academic Affairs) in July. We chatted with her about her history, goals, and what she likes to do in her downtime.
What excites you about working at the University of Manitoba?
Hands down – it is the people! It sounds cliché, but there are so many people who care about the University, and over the years I have had the pleasure of working with many dedicated students, faculty, staff, and administrators who unequivocally care about advancing the mission and vision of the University. This is/was reaffirmed during the pandemic as we had to adjust, very quickly, to ways of knowing and doing that none of us have had to experience in our lifetime. I have always maintained that the conviction of our character is revealed during difficult and challenging times, and there are so many people who have shown compassion, resiliency, leadership, and kindness – and do it day after day after day.
What do you hope to achieve at UM?
It is a long list! Ultimately, I want to leave the University better than it was yesteryear, and if I can play a part in achieving that, then that would be really cool. I was going to say that it would be really 'satisfying,' but that seems too individualistic because it is not about me. I like the Indigenous teaching regarding seven generations because it locates my responsibility within a series of relationships that connects me to the past, grounds me in the present, and provides clear instructions for the future.
What is your background, and how did you get to your position?
I am a professor of sociology and criminology and until assuming my new role as Vice-Provost (Academic Affairs) I was the acting Academic Director of the Centre for Social Science Research and Policy at UM. Within the discipline, my general research interests include mental health and well-being, EDI (equity, diversity and inclusion) in education and work, and issues pertaining to 2SLGBTQIA+ populations.
What's one piece of advice you have for new faculty members?
Stand in your own space and know you are here. There are important milestones ahead (tenure, promotion, continuing appointments, etc.), and these are important goals, but my advice is to take everything one day at a time. Set realistic short-term goals and the milestones will take care of themselves. AND embrace the UM community; take the time to be a part of all that the University has to offer, which by doing so will also have long-lasting benefits.
What's one piece of advice you have for students?
Carpe diem or seize the day! You will never get a second chance to be fully present in this moment. Get involved in campus life. Join a student group or club. Challenge yourself to step out of your comfort zone. Commit to making at least one new friend on campus who you did not know previously. I speak from the advantage of age when I say to students that, even though there is greatness ahead for all of you (however defined), being a university student is almost impossible to replicate, and think how harrowing it would be to look back with regret that you did not seize every possible opportunity presented in these moments!
What was your favorite subject when you were in school?
I was very good at gym! Honestly, I wasn't a very good student and only went to school so I could play sports. It wasn't until the end of my second year of university that I hit my academic stride (I went to university on a basketball scholarship – big surprise!). I often tell students this because there is this assumption that, as professors, we have always been great students. That certainly was not the case for me, but when I found my path, there was no stopping me!
What is your favourite place to travel?
Perpignan, France. We lived there for almost 7 months. In the winter, we went to Font Romeu to go skiing and snowboarding every weekend. My eldest son made the ski team, which was hilarious because he's a prairie boy who learned to ski at Stony Mountain and who had only been on an actual mountain once or twice before that. Being in the south of France meant that the weather was never too cold and when the day was done, we would hop on the bus down the mountain back to plus 10-15 temperatures. When the season ended, we turned our attention to the Mediterranean Sea and spent our weekends travelling up and down the coast to various villages for beach days or family hikes.
What's something that readers would be surprised to learn about you?
I fall asleep at night listening to documentaries! I have a hard time falling asleep in silence so I 'listen' to history-based documentaries. Sometimes it takes me a week to listen to an hour-long documentary because I fall asleep and then the next night I have to figure out when I fell asleep.
What do you like to read?
My favourite genre to read is historical fiction. I make a point of reading ever night. Right now, I am reading A Column of Fire by Ken Follett, which takes place in 16th century Western Europe when that region was literally ablaze due to religious intolerance, self-righteous monarchs, and greedy aristocrats. One of my favourite epic authors is Edward Rutherfurd who provides great historic overviews of cities such as New York, London, and Paris.