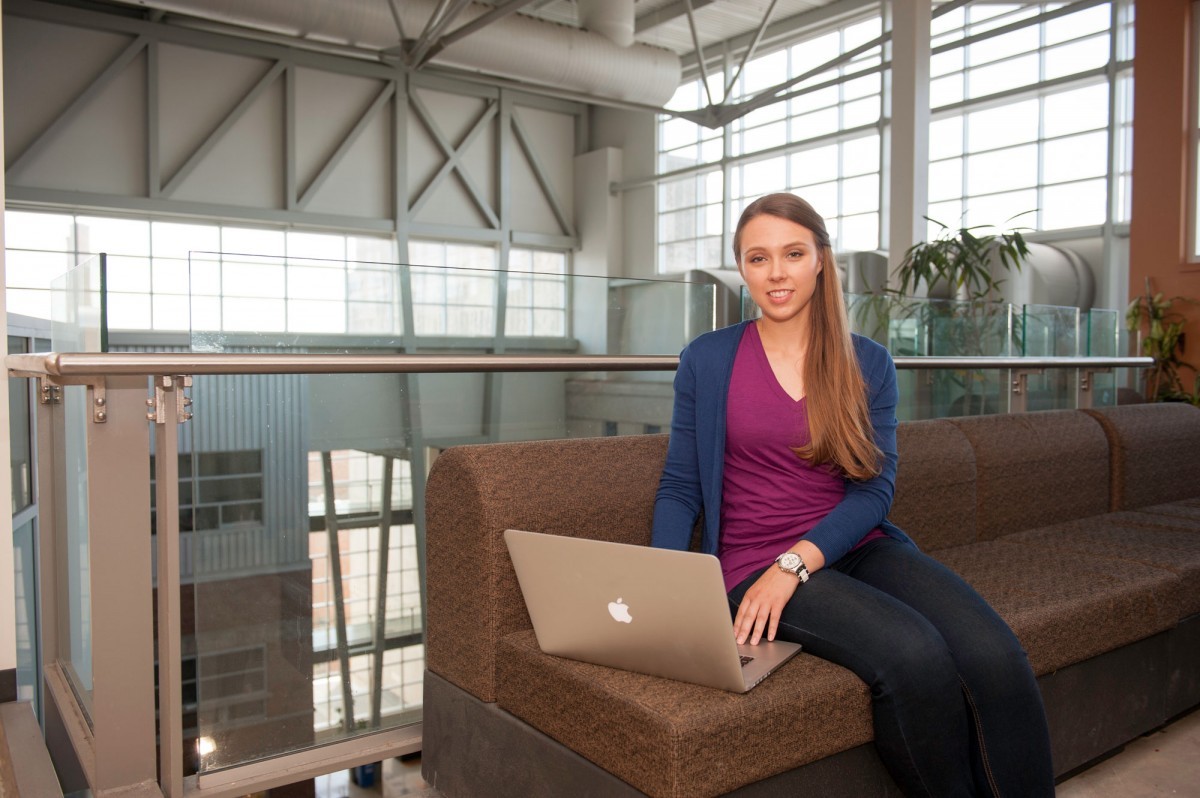 Get to know our Vanier Scholar
August 25, 2014 —
Electrical and computer engineering student Kathryn Marcynuk recently became the 13th University of Manitoba student to receive the prestigious Vanier Canada Graduate Scholarship. Marcynuk spoke to UM Today to provide a little more insight on her goals, her inspiration, and what she enjoys while taking a break from her groundbreaking research.
UMT: You're researching ways to separate background noises picked up during an electrocardiogram of a mother and her fetus. What inspired you to do this?
KM: I like looking for underlying patterns, taking something that looks messy and complicated and extracting the meaningful information. Fundamentally, that's how I think of this project – we're trying to accurately extract signals that have been obscured by noise. The fact that there is the potential for this project to have a positive real-world impact makes it even more exciting.
UMT: Who was the first person you told after finding out you received the Vanier Scholarship?
KM: My parents. They were excited when I told them.
UMT: What has been one of your most memorable experiences at the U of M so far?
KM: Meeting Dr. Neil deGrasse Tyson stands out among my top memories in university so far. At the Emerging Leaders dinner, I was originally seated beside Dr. Beddoes, the Dean of Engineering. He and I were the first two people at our table, and he took one look at the seating arrangement then swapped my place card with his so that I would be beside Dr. Tyson! I'll always remember two things about that evening: (1) Getting to sit beside Dr. Tyson and chat with him about science and research, and (2) that Dr. Beddoes, and the Faculty of Engineering, really do put their students first.
UMT: If your research could take you anywhere in the world, where would you like to go?
KM: California. Not just for the nice weather (although I'm sure I'll be wishing I was there in the winter) but also for the research opportunities.
UMT: What keeps you busy when you're not pursuing your research?
KM: Outside of school, I love to Ukrainian dance. I'm part of a really great group called the Verba Ukrainian Dance Company, and we have fun performing at cultural events, weddings and corporate parties. We just recently returned from dancing at Canada's National Ukrainian Festival, and we're now getting ready to perform at the Canadian Museum for Human Rights opening ceremonies. So, it's been busy, but it's great to take a break from the computer and get moving!