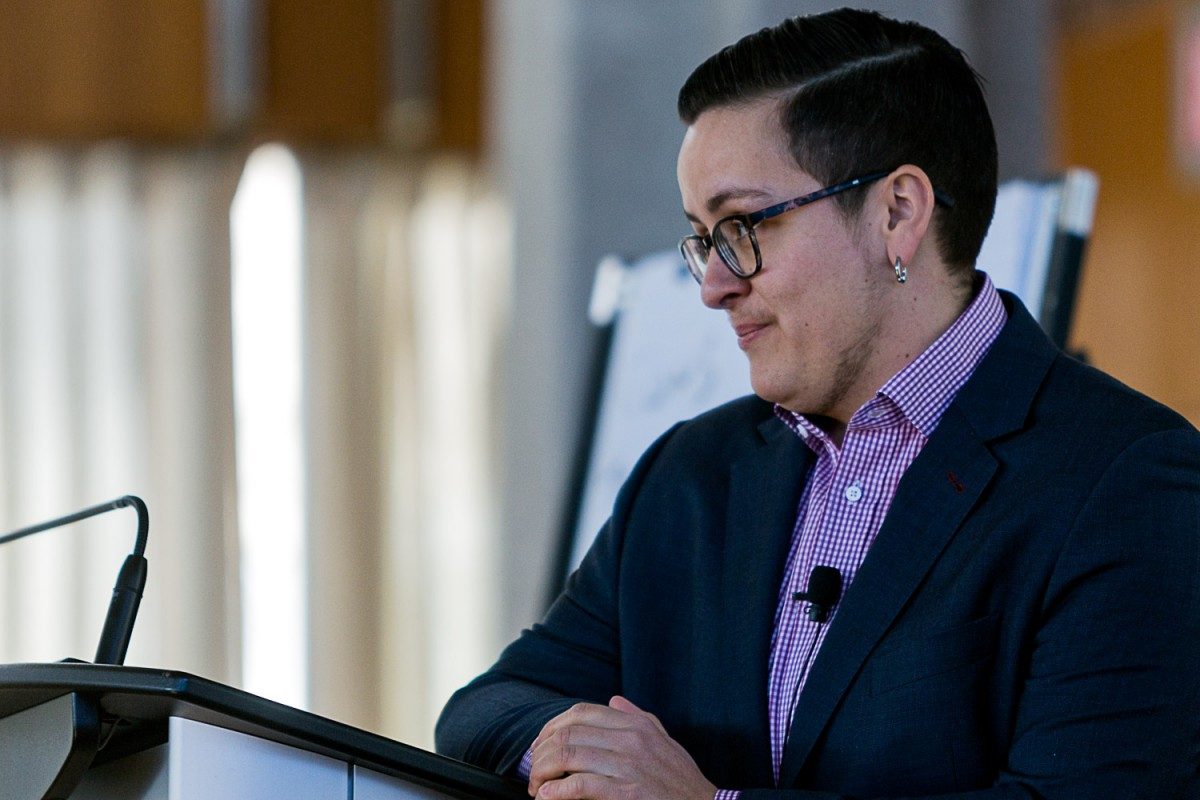 Ready for uncertainty
Prof. prepares teachers for gender diversity
January 8, 2018 —
Growing up best friends with Miss Popular in elementary school, a young Lee Airton learned a defining lesson that would guide their career path as an academic focused on making schools welcoming places for gender and sexual diversity.
Like some beautiful people, Airton's friend attracted popularity for the wrong reasons. She drew cat-calls in the street. In the schoolyard, classmates wrongly assumed that her glowing good looks somehow precluded her having a bright mind. In the hallways, a nattering gaggle of fair-weather friends whirled about her orbit, held in the gaze of angst-addled adolescent boys, biding their time, screwing up the courage to pursue their pubescent fantasy of landing a trophy girlfriend.
Through it all, Airton remained a loyal confidante, quietly drawing their own conclusions through the spectacle of it all.
"She shared with me all of the different struggles that she faced such a young age," Airton said during a pre-lecture interview. "I had a sense that navigating gender is actually not easy for many people, and that it actually causes all kinds of harm, difficulty and restriction for many different people."
From this childhood friendship, grew Airton's commitment to a gender-diversity project benefitting everyone.
"These are professional knowledge-based questions, and learning how to ask them and think with them is very important."
Now an assistant professor of Gender and Sexuality Studies in Education at Queen's University, Dr. Lee Airton has worked for 10 years with hundreds of teacher candidates to increase a sense of belonging and to encourage participation of students of all genders and sexualities. Airton's roles include researcher, blogger, advocate and a speaker. And by the way, as a non-binary transgender person, Airton prefers the singular pronoun they, founding They Is My Pronoun blog where the audience reads responses to questions posed about gender-neutral pronoun usage. In recognition of the No Big Deal Campaign, a social-media initiative supporting transgender peoples' pronoun-usage rights, Airton received a 2017 Youth Role Model of the Year Award from the Canadian Centre for Gender and Sexual Diversity.
At the Faculty of Education, after leading two workshops for some 460 teacher candidates, and talking about ways teachers can prepare teachers to encounter and welcome gender diversity in the classroom, Airton spoke to a standing-room only crowd of about 180 on the evening of Jan. 8.
Airton spoke with a disarming ease, drawing on a self-deprecating humour as they navigated the potentially difficult topic of gender discrimination and harassment.
"I don't self-identify. I walk into a classroom and we proceed," Airton said, laughs erupting from the crowd.
After walking the audience through the differences between harassment and discrimination and comparing the policy differences on gender in Ontario and Manitoba's human rights codes, Airton talked about skills that teacher candidates should develop during their preparation for the classroom, including:
Teachers need to know how to find trusted resources in their school and in their community where they teach, including names and phone numbers of people who they can call when they don't know what to do.
They need places they can send students where they know they are safe, and they need a list of online resources.
Teacher candidates need to know they will be called upon to use a gender-neutral pronoun for student or for a family member or for a colleague.
Teacher educators should "hedge" when referring to gender. For example, "Some boys do X, and many boys do Y. Some female learners do X, and some female learners do Y."
Teacher candidates need to be able to gauge the gender climate of their school. Airton said that after practicum, students should be able to return from their school able to share with professors how rigid the gender-boundary system is in their school and what it looks like. How swift are the punishments for not doing gender in the usual way? And what is that way? What is being a boy in that school?
"These are professional knowledge-based questions, and learning how to ask them and think with them is very important," Airton said.
And lastly, Airton said teacher education should prepare candidates by cultivating a disposition where teachers are comfortable with uncertainty.
"So, if they're caught off guard by someone's name, appearance or behaviour or pronoun or question about pronoun, they don't show it," Airton said. "That's a wonderful gift to have your surprise to deal with it, and just to proceed as if this is just totally cool. That is a wonderful gift to give someone like me."