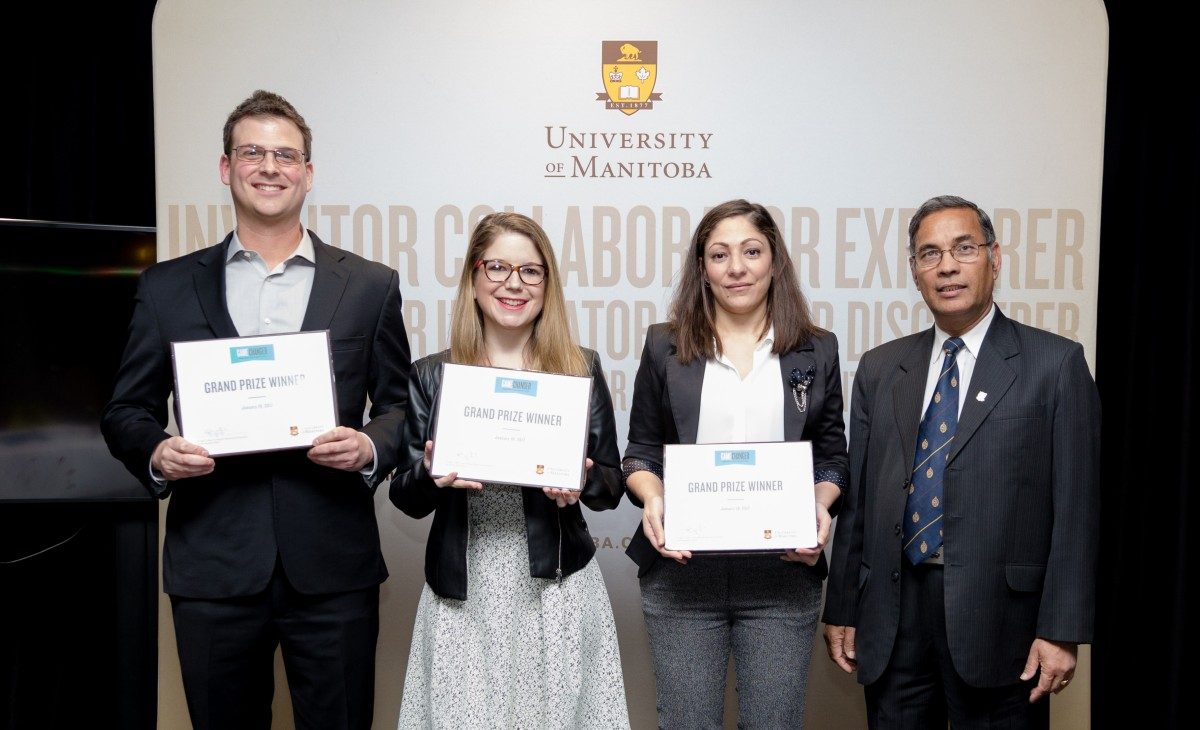 Game Changer competition winners announced
Nearly $20,000 awarded to four teams
January 20, 2017 —
Manitoba's idea competition concluded last night with innovative presentations from post-secondary students from across Manitoba.
The University of Manitoba, University of Winnipeg and Red River College were all represented in the four finalist teams who competed in last night's Game Changer.
"They were very good," says Nicole Fontaine, part of the panel of all-women judges. As a liaison officer with the World Trade Centre in Winnipeg, she helps aspiring entrepreneurs make their ideas a reality.
"Everybody was really into their topic and wanted to make their project worthwhile," she adds. "They were passionate and you could tell they were there to make a point and to move forward with their innovative solutions."
Though judges congratulated all four teams for their strong presentations, Team Loop won the first place prize of $10,000 for their solution to the problem of e-waste.
Their idea: a weekend-long event where people could have any type of electronic waste picked up at their curb free of charge.
The three members include Haneen Shouman and Michael Hall, students in the Asper School of Business MBA program, and Maria Sanchez who is studying marketing management through extended education at the University of Winnipeg.
"It's awesome. It was unexpected," says Shouman. "It started as just a project to make sure that we were keeping our brains going over the holidays but then it turned out to be a serious proposal and serious work put on."
Team Opes was runner-up, winning $4,000 with their presentation on how to improve financial literacy. The team also earned the people's choice award.
"Definitely valuable learning experience," says David Dang, an undergraduate student in the Asper School of Business. "I had a lot of fun working with my team."
Team Easy A(ctivity) was third place earning $2,000 for an idea that would help university students improve their physical activity.
Game Changer is a two-phase competition. For the first phase, 92 problems from five post-secondary schools (Assiniboine Community College, Brandon University, Red River College, University of Manitoba, University of Winnipeg) were submitted, with only five of them advancing to the next round.
For the second phase, students select a problem to tackle and identify practical, real-world solutions. Their ability to present a solution – to solve one of the challenges – with potential to enact positive change is essentially how the second phase is won.
Shouman says their team worked hard and took advantage of the time they had over the Christmas break. Now they hope to make their idea a reality.
"We were thinking a good exercise for us is to try to work on this event on the U of M campus first and then proceed to it fully outside with all of the commercialization that's possible," she explains. "We're glad we won."