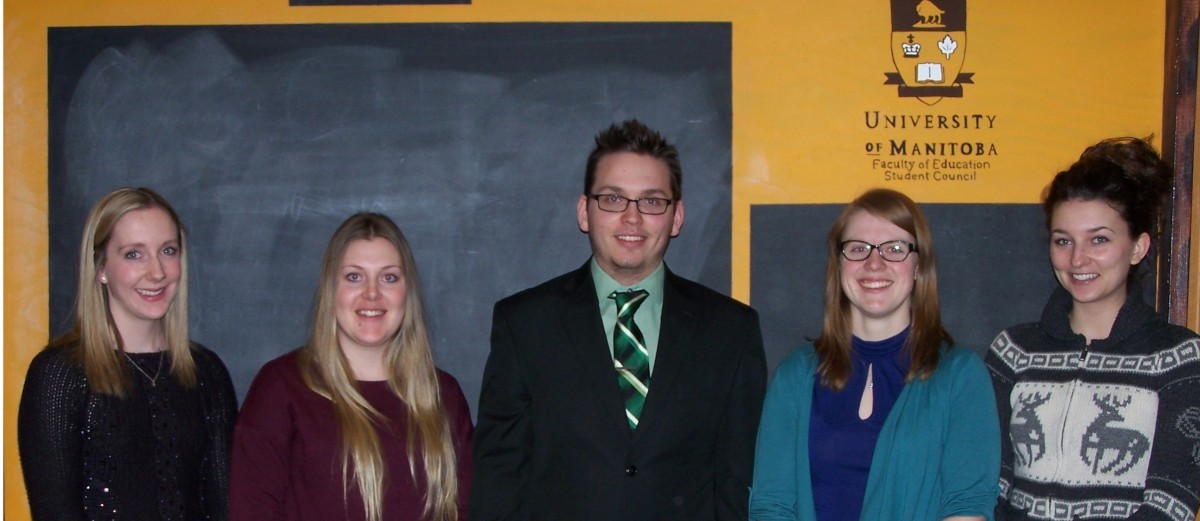 Fund the future recipients headed to France, northern Manitoba
Scholarships from Education Student Council help with funding for practicums and exchanges
March 9, 2015 —
Four Faculty of Education students were recently presented with Fund the Future scholarships by the Education Student Council.
The scholarships, presented to the teacher candidates on March 4, are set aside to help current Bachelor of Education students with various endeavours that take them outside of the city of Winnipeg.
Gabrielle Wiebe and Veronica Rondeau will use the funds to help offset some of the costs for their trip to Orleans, France, from May 10-June 6. The two teacher candidates hope to teach some lessons about Canada and Canadian culture to elementary students in French. Rondeau says she hopes they will gain confidence in their French-teaching abilities.
Both Wiebe and Rondeau hope to be teaching French immersion this coming fall after they graduate.
Wiebe says the experience of going to Orleans will help the two teacher candidates stand out in interviews.
Scholarship winner Bailey Park-Payne is returning to Churchill for the second portion of the northern practicum and Sarah Olshewski  to Norway House. They say the scholarship will help with the cost of transportation and food in the north.
Park-Payne says she will be taking on more of the teaching responsibility in the second portion of the northern practicum. She's also had the chance to become immersed in some of the northern culture in Churchill.
"It comes from being in the community–taking part in community events."
The northern practicum has helped them recognize the gap between northern-based and urban-based teaching. "It's been a good learning experience," says Olshewski.