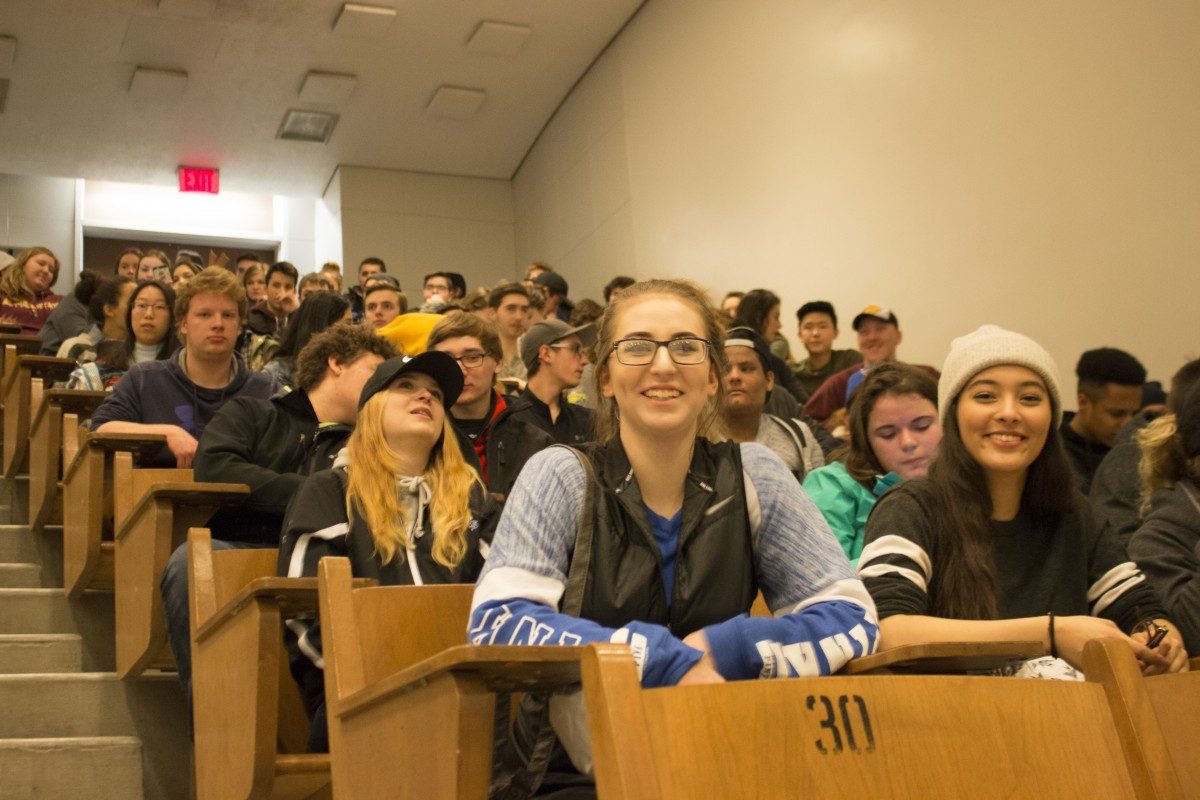 Full house at Open House
Thousands of high school students experience university life for one day
February 24, 2017 —
Nearly 3,000 students from across the province flooded the Fort Garry Campus as part of the University of Manitoba Open House on Thursday, Feb. 23. During the usual hush of reading week, the youthful energy and enthusiasm of this crowd was welcome.
Formally called Info Days, this annual event has been condensed into a single day. The daytime portion is directed at high school students interested in post-secondary education, while an evening program, primarily intended for parents of these same students, has filled a gap in information that families need.
"We know that making the decision to go to university in the first place is a pretty difficult one for a lot of high school students," says Kerri Gregoire, lead student recruitment officer at the U of M. "But also, once making the decision to go to post-secondary, students still ask, 'How am I going to choose the right university for me?'"
To help make that decision, high school students explored the Fort Garry Campus during guided tours, participated in mini-lectures and engaged with faculty members and current students at the info fair.
The event allowed high school students to experience what a day is like at the U of M. Gregoire says that the biggest benefit of Open House for high school students is being able to connect with current U of M students and faculty from all areas on campus. The event takes these eager young people, puts them in classrooms and labs and allows them to learn about all of the opportunities at the U of M, including co-op programs and paid work experience.
"We really appreciate those that are getting away from just presenting a bunch of information that can be found on a piece of paper. The chemistry magic show is a prime example," says Gregoire.
During that lecture, current U of M students performed exciting experiments, some including pyrotechnic effects. To say students were engaged in this presentation would be an understatement. "Chemistry is cool," one student exclaimed after watching the presentation in a lecture hall, overflowing with students.
Sarah Scott is a Grade 11 student at Kelvin High School. The bubbly teen is interested in studying at the Asper School of Business. She agrees that the hands-on, interactive nature of Open House is helpful for future students.
"It's pretty cool," she says. "It's very inviting. There's lots of different stuff at different booths that make it seem fun to be here as an actual student."
Scott says she really appreciated the opportunity to learn more about different courses by talking with faculty members and current U of M students.
"I really liked the booths at the info fair and getting to learn more about different courses," says Scott. "It actually shows us what's available. I came in thinking one thing and now that I'm here it's totally different than what I expected. The activities and the experience overall is a little bit more tangible and gives me a better sense of what's going on."
As a recruiter, Gregoire echoes what students like Scott are saying, adding that Open House opens windows for future students.
"University is more than just learning in a classroom, it's about the overall experience: meeting new people, joining student groups, taking advantage of exchange opportunities, service learning through student life and getting to see and feel what's really important for them."
Open House is an opportunity for high school students to get a sense and taste of this overall experience and everything the University of Manitoba has to offer.