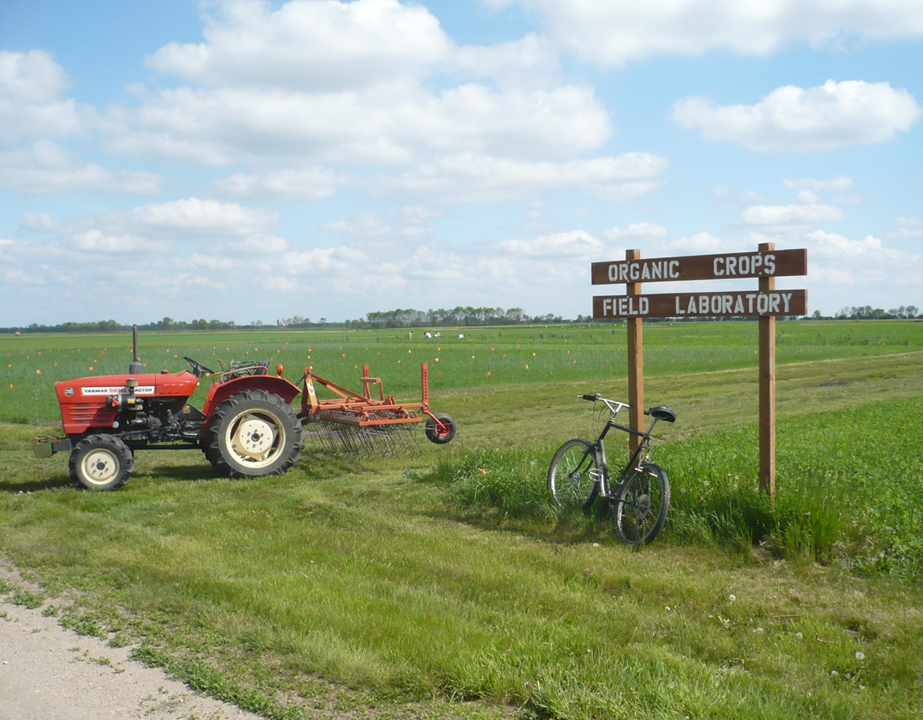 FSRG talk – A quarter century of organic & ecological research and teaching
January 16, 2019 —
The next Food Systems Research Group seminar takes place on January 30th. We invite you to join us and be a part of the discussion.
Our winter FSRG research knowledge sharing series begins with the seminar "Organic & ecological research and teaching at the University: Building on 27 years of exploration" by Dr. Martin Entz, professor, Department of Plant Science, Faculty of Agricultural and Food Sciences. Join us on Wednesday, January 30th at 3:00 pm in 130 Agriculture.
ABOUT THIS TALK
Elements of organic agriculture were represented in research and teaching during the early days of our faculty. For example, long-term field experiments, which occupied the space of today's Investors Group Stadium, were conducted between 1920 and 1960 for a better understanding of the role of crop rotation, manure management, and cover crops. During the period of intensive agricultural industrialization in the 1960s and beyond, little emphasis was placed on the ecology of farming. This changed in the late 1980s with fresh ideas about sustainable development (Our Common Future, 1987) and biodiversity conservation (Rio Earth Summit 1992). Organic field studies were once again established at the University in 1992 – the Glenlea long term organic study. The idea of studying and teaching organic agriculture was contested, but we have persevered, and today the University of Manitoba is credited with the top organic agriculture program in Canada. Increasingly, organic agriculture research is offering new solutions to mainstream agriculture.
This talk will provide a brief history of the program; discuss the challenges of paradigm shifts within a University setting (responding to Stanley Fish, 2008; who argued that University professors should "Save the world on their own time"); highlight the U of M's exciting research and educational programs; and discuss our efforts to integrate farmers and other citizens into the discovery process.
ABOUT MARTIN ENTZ
Martin Entz is a professor of Agronomy and Natural Systems Agriculture in the Department of Plant Science at the University of Manitoba and has 30 years' experience designing and evaluating ecologically intensive crop production systems in temperate and tropical agroecosystems. He founded the Glenlea study, Canada's oldest organic-conventional comparison study, which provides an unprecedented opportunity to study economic, environmental and food security questions of organic and ecological agriculture. Martin leads a national USC Canada–Agriculture and AgriFood Canada funded "Farmer participatory plant breeding" project that tests the role of farmer-breeders in genetic improvement of wheat, oat, and potato for organic production. Martin is grateful for a supportive family, his educational experiences, the abiding support of the Plant Science technical staff, his terrific and outstanding graduate students, and his many collaborators.
ABOUT THE KNOWLEDGE SHARING SERIES
Each month during the regular session we will hold a presentation and discussion session so that as a research community we can learn from each other about the breadth and diversity of food systems research happening across our campus. The location of the session will vary depending on the host Faculty. The session consists of a 30-minute presentation followed by 30 minutes of discussion which will begin at 3:00 unless otherwise noted.
UPCOMING SEMINARS
Feb 27 – An offering: Lakota Elders contributions to the future of food security– Mary Kate Dennis, Assistant Professor, Indigenous Knowledges Program (MSW-IK), Faculty of Social Work (409 Tier Building)
Mar 27 – Protecting Canada's crops using next-generation molecular fungicides– Mark Belmonte, Associate Professor, Biological Sciences, Faculty of Science (205 Armes)
The Food Systems Research Group – a joint initiative by Agriculture, Environment, Science, and Arts Faculties – is an umbrella group fostering the creation of multi/trans-disciplinary collaborative research to advance the UofM signature research theme of Safe, Healthy, Just, and Sustainable Food Systems.
Faculty and students are welcome to join the FSRG. Email foodsystems [at] umanitoba [dot] ca to join our mailing list to be informed of future events and activities of this diverse group.