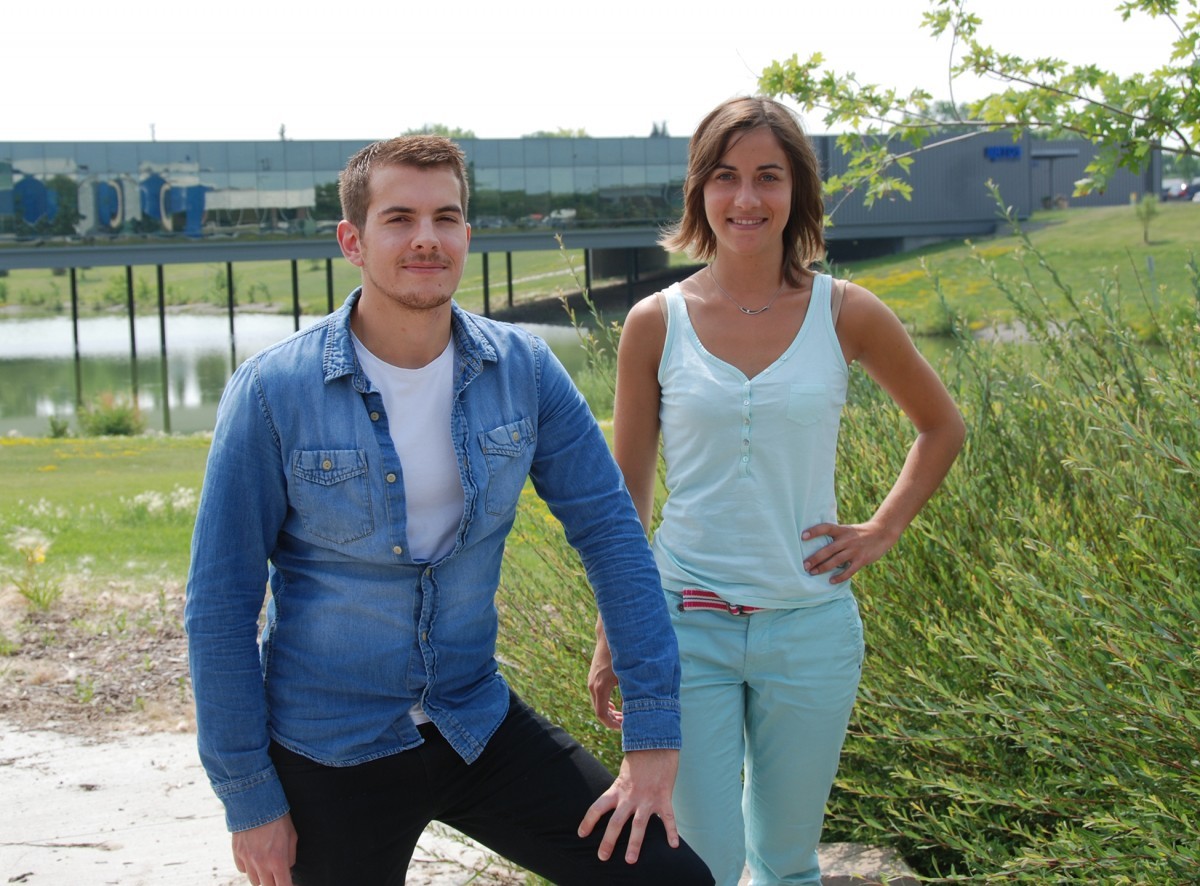 From the south of France to Canada's Richardson Centre
August 21, 2014 —
French students Anais Pereira (Dijon) and Camille Alnet (Cherbourg) are finding Canada a little different than expected. Then again, they were thinking they'd see bears and mountains.
The summer intern students came to the Richardson Centre for Functional Foods and Nutraceuticals (RCFFN) because of its reputation for research excellence in innovative foods and nutraceutical products. The two are doing research with Ramprasath Vanu Ramkumar, an adjunct professor in human nutritional sciences and a research associate at the centre. Both are in their fourth year of studies in food industries and food safety at Polytech Montpellier, located in the city of Montpellier in the south of France.
Peter Jones, director of RCFFN, says that these kinds of collaborations are typical: "It's part of the centre's uniqueness in having a strong international research program, as well as providing a range of activities at regional and national levels."
In fact, he adds, the French exchange has been going on for many years, and the centre also welcomes students from Africa, South America, Asia and elsewhere.
Both students commented on the multicultural composition of the university student population and its faculty — the RCFFN in particular, they say. While Alnet is living on campus, Pereira opted to stay with a Canadian family while here. "It's really nice; I really enjoy my time there," she says. "I wanted to live with Canadian people, to get a sense of the culture. It's been a good experience."
It was impossible for them to anticipate the large scale of the country, they laugh. "Everything's bigger — we get lost. If you don't have a car here, you're not going anywhere," says Alnet.
They have also noticed — perhaps because they're studying food — the preponderance of fast food outlets here. Along with their supervisor, they are working with a common French cooking method called sous-vide, in which food is cooked sealed in airtight plastic bags immersed in water or in a temperature-controlled steam environment. The technique was invented at the turn of the 18th century, revived in the 1960s and again in contemporary France, where it's used by many chefs in gourmet restaurants.
According to Vanu Ramkumar, the objective of the study they are working on is to evaluate the nutritional integrity and status of meat cooked with sous-vide method compared to traditional oven cooking. "Currently we are examining the nutritional status such as fatty acid profile, cholesterol and vitamins in chicken and beef before and after cooking with the two different methods," he says.
This project is being conducted in collaboration with Paterson GlobalFoods Institute and Red River College.
"No one did [a study like it] before," says Pereira. "It's the first."
Research at the University of Manitoba is partially supported by funding from the Government of Canada Research Support Fund.