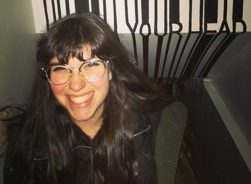 From science to the Desautels Faculty of Music
October 26, 2021 —
Keely McPeek started music in grade 2 when she joined the Pembina Trails Voices choir. Although pursuing music was always in the back of her mind, Keely never saw it as a real possibility. Even though she was always involved in music throughout her school years. Keely took violin in elementary school and was in jazz bands and choirs as she attended school.
Keely spent the first year out of high school in the science faculty at the4 University of Manitoba as she got ready to audition the following year for the Desautels Faculty of Music (DFOM) where she started her bachelor's degree in Vocal Performance. Always supported by her family after a big change of plans, "This must have been an adjustment since I had been planning to go into medicine since I was a kid!", explains Keely.
In the faculty
One of Keely's proudest moments as a DFOM student was when she was accepted into the faculty, "I remember I was on the bus on my home from a science lab when I got the email from Mel – I couldn't stop smiling!" Since then, she has participated in the Women's Chorus, University Singers and Musical Theatre Ensemble. With Women's Chorus she travelled to the Netherlands in 2018, "travelling and singing with Elroy, Monica, Cary, and all the choir members is one of my favorite memories", explains Keely.
As far as performances Keely says her favorite pieces were "Little Known Facts" and "Book Report" from You're a Good Man, Charlie Brown. The group preformed scenes in the 2019 Musical Theatre Ensemble show where she played Lucy. "My favorite set I performed for my fourth-year recital was my musical theatre set. I always love singing musical theatre and I was thrilled to have the opportunity to include these pieces." For her fourth-year recital Keely sang "Lying There" from Edges, "What's Gonna Happen" from Tootsie, and "I Really Really Love You (Stalker Song)"
During her time at the Desautels Faculty of Music, she was able to explore her Indigenous background through her performances especially during her credit recital where she sang "Ni mayagenimaak", an aria in Saulteaux from the new opera Li Keur: Riel's Heart of the North.
Faculty of Mentors
On her road to become an artist, Keely found a faculty full of people who helped her along the way, "Mel Braun, Monica Huisman, Katherine Twaddle, Elroy Friesen, Tracy Dahl, Laura Loewen, and all the other professors I have been so lucky to learn from during my time at the Faculty", explains Keely.
However, her biggest cheerleader and faculty mentor would have to be Donna Fletcher, "I always feel better leaving a lesson than I did when I walked in. Her confidence in me has helped me become confident in myself", Keely says. Pushed and inspired by Donna, through their lessons, Keely was able to grow as an artist and as a person during her time at the Desautels Faculty of Music, "I truly couldn't have done it without her."
She also made great friends to help her and cheer her on while she is being in school. First, "Cary Denby played for my audition for the faculty and has been my collaborative pianist for every final jury and recital. I've learned many things from her. I'd like to thank her for her calm and supportive presence in all our rehearsals and performances." To Celoris Miller who has been playing in all her festival classes since she began solo singing; "I'd like to thank her for being so much fun to work with and for providing an example of how to live authentically", explains Keely.
Future Plans
Keely's future plans include spending the year focusing on Indigenous Studies and development in opera and musical theatre as she works through her Post-Baccalaureate at the University of Manitoba. "After this year I will spend some time working and doing auditions. I also hope to explore some additional acting or musical theatre programs", explains Keely.
Focus on what you love
The biggest piece of advice Keely can pass on to any new DFOM students is "remember to focus on what you love and not let the other things get in the way!"